The Muck: Dario Sammartino Gets Heated During Controversial Ruling Deep in WSOP Main Event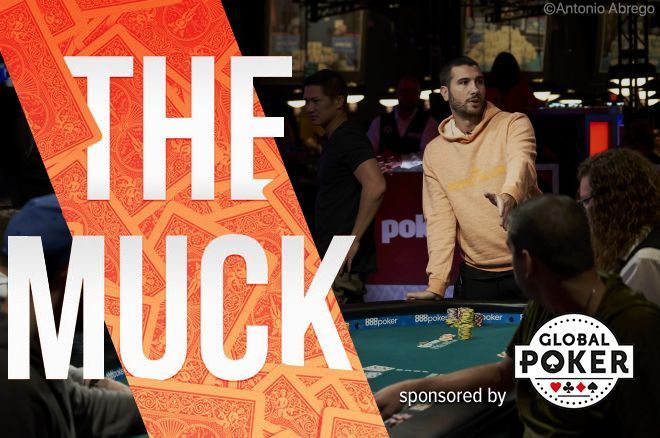 Editor's note: This article was updated on July 15, 2019.
Late on Day 7 of the World Series of Poker Main Event is one of the most exciting times in tournament poker. Chips stacks are in the millions, pay jumps are in the six-figures and understandably, tensions can run high.
For Italian poker pro Dario Sammartino, a small dealer mistake turned into a big issue for him, one that was escalated during the resolution.
The Scenario
Playing six-handed with 11 players left, one elimination away from the unofficial final table of the biggest tournament of the year, Sammartino picked up pocket tens under the gun plus one and raised to 1.7 million with blinds at 400,000/800,000 with a 800,000 big blind ante.
Nick Marchington moved all in for 22.2 million in the small blind and when Sammartino asked for a count, apparently the dealer counted his stack at 17 million and Sammartino rather quickly pushed out a stack of chips to indicate a call. The Italian high roller thought he was calling a shove for a bit more than 21 big blinds, but it turned out to be for just shy of 28 big blinds.
"It took a lot of time. It was so sick. But I made it. I cannot give up right now."
With huge money on the line and the unofficial final table looming, the mistake wasn't caught until it was too late. Sammartino called rather quickly after hearing the amount, failing to notice the discrepancy before his chips went forward.
It was caught at that point and the floor was called, ruling that the call for the full amount would stand per the "accepted action" rule, and the cards went on their backs. Sammartino, well behind with tens versus queens, naturally looked displeased in a frustrating situation.
Then, the flop went out but Sammartino protested further, demanding a higher ruling and proceedings were paused — though the clock was not.
The Ruling
Vice president of the WSOP Jack Effel arrived and eventually confirmed the floor's ruling but Sammartino persisted. "This is not my fault, for sure" he said.
Sammartino went on to explain that the difference in amounts could have affected his decision, saying sometimes he calls and sometimes he folds to that amount. While clearly an unfortunate situation, most people agree on the ruling, based on the WSOP's rule of accepted action which goes as follows:
Poker is a game of alert, continuous observation. It is the caller's responsibility to determine the correct amount of an opponent's bet before calling, regardless of what is stated by the dealer or participants. If a caller requests a count but receives incorrect information from the dealer or participants, then places that amount in the pot, the caller is assumed to accept the full correct action & is subject to the correct wager or all-in amount.
The TDA rule is based on the fact that poker is a visual game, one in which players have the responsibility to visually confirm the amount of an all-in before they agree to call.
While this ruling applied to the situation in question, some players including commentator Jamie Kerstetter thought the TDs could have shown more discretion given the magnitude of the context, perhaps only holding Sammartino to the call of 17 million. As it were, the call stood.
The Escalation
During the discussion with Effel, frustrations rose as Sammartino continued to argue his case, and Effel affirmed the 22.2 million-chip call stood.
"That is not fair for sure. This is not fair," was Sammartino's response.
Effel tried to put a stop to the conversation, saying "That's it!" After Sammartino repeated once again, "This is not fair for sure," Effel said, "Let's roll," trying to get the cards back in the air.
He followed that up with, "You're calling 17, you're calling 22" and that one did not sit well with the players, above all with Sammartino.
"You're calling 17, you're calling 22."
Alex Livingston can be heard in the clip saying, "He shouldn't say that" and Sammartino was incredulous: "He really say this? He say this? I call 17, I call 22? Oh my god guys. Oh my god, oh my god."
You can watch the moment play out in this clip posted by Joey Ingram:
Player Reactions
Players took to social media to express disapproval of the final comment made by Effel, which many perceived to be a form of needle to Sammartino. Many also pointed out that seven big blinds could theoretically make a difference in Sammartino's decision and pocket tens is not the clear-cut call for 28 big blinds that it is against a shove for 21 big blinds, especially with a $200,000 pay jump looming and the Main Event final table in sight.
While we will never know for sure whether Sammartino would have opted to fold or not given the actual all-in amount, for most players that was beside the point. Liv Boeree was one who spoke out on Twitter:
@Joeingram1 WTF I can't believe he said that - his dealer made an enormous error but ok shit happens and the ruling… https://t.co/bQzHIlwNHf

— Liv Boeree (@Liv_Boeree)
Livingston, who had a front-row seat to the whole ordeal, posted a lengthy analysis on twitter wherein he agreed with the ruling but deemed Effel's final comment to be out of line. He ended with: "Dario's a class act and I feel badly that this happened but dealer error is part of the game and like I say she's a great dealer. I wish I spotted the discrepancy a little sooner."
As Livingston and others have mentioned, this dealer is one of the best at her trade, as demonstrated in part by her selection to deal the final three tables of the Main Event. Her unfortunate mistake in a critical moment was easily forgivable, especially considering the large denomination chips in play that dealers and players aren't accustomed to, and no one faulted her for it.
Soon after the table moved on to the next hand, Henry Lu was eliminated over on the main feature table, and players were informed they had made the unofficial final table. By the end of the day, with only nine players still in contention for $10 million and WSOP glory, Sammartino had recovered and was focusing on moving forward to the important moments ahead.
"That hand was so sick," he told PokerNews. "It took a lot of time. It was so sick. But I made it. I cannot give up right now."
Update: At the end of the following day of play, Alex Livingston took to Twitter to share that Jack Effel had apologized to Sammartino and the other players and commended the WSOP staff for their hard work throughout the event.
Don't miss all of the World Series of Poker Main Event final table action as cards get in the air Sunday at 6:30 p.m. PT in Las Vegas on the Amazon main stage. You can follow the hand-for-hand coverage right here at PokerNews and watch the broadcast on a 30-minute delay on ESPN2. Join Global Poker now and play for real cash prizes!