Hand of the Week: Livingston Folds Queens Preflop at WSOP Main Event Final Table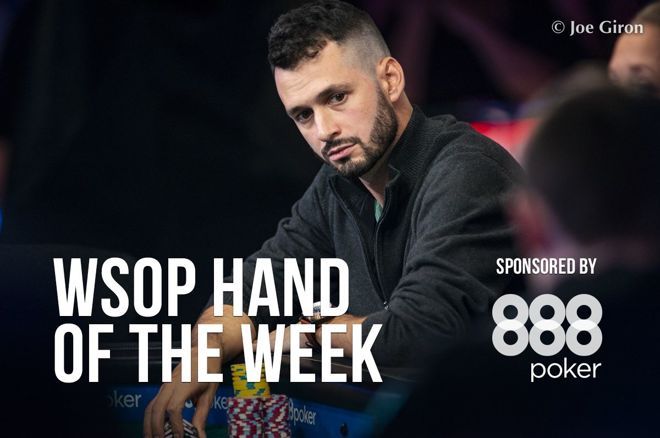 A big fold by Alex Livingston with six players remaining at the World Series of Poker Main Event final table on Sunday had the social media birds chirping with disapproval.
The Fold
With a stack of 50 million chips worth around 41 big blinds at the 600,000/1,200,000 with a 1,200,000 big blind ante level, Livingston sat third of the remaining six players. He opened under the gun to 2.8 million with pocket queens and got a call from Dario Sammartino with pocket eights in the cutoff. After folds from the button and small blind, Garry Gates looked down at pocket tens and three-bet to 13.3 million.
Sammartino was fifth in chips at the time and Gates was a big stack, second in chips. What happened next was a big surprise to many, but it didn't take Livingston long to send the ladies to the muck. Sammartino let his hand go too and Gates grew even stronger. You can watch the clip posted by Poker Central here:
Why Fold?
Several people posted their opinions on Twitter about how bad the fold was. Sprinkled in were points about ICM considerations and being up against a tight three-betting range from Gates in the big blind.
"Just because I ran into tens doesn't mean it was a bad fold."
Ultimately though, Livingston is the one running deep in the Main Event, and he decided not to go with queens in this spot with three shorter stacks still in and the potential loss of more than $2 million in equity when Gates has kings or aces. If he's flipping against ace-king, it would essentially be a flip for more than $2 million.
The following is a breakdown of the chip stacks at the time the hand played out, along with current positions, ICM value of their stacks, and the reserved payout for each spot.
| Position | Player | Chip Stack | ICM Value | Place Payout (USD) |
| --- | --- | --- | --- | --- |
| 1st | Hossein Ensan | 205,300,000 | $6,887,670 | $10,000,000 |
| 2nd | Garry Gates | 169,700,700 | $6,424,192 | $6,000,000 |
| 3rd | Alex Livingston | 50,000,000 | $3,973,056 | $4,000,000 |
| 4th | Kevin Maahs | 37,000,000 | $3,533,263 | $3,000,000 |
| 5th | Dario Sammartino | 28,900,000 | $3,221,098 | $2,200,000 |
| 6th | Zhen Cai | 23,900,000 | $3,010,721 | $1,850,000 |
Kevin Martin and others posted a tidbit from a hand Livingston played on Day 5 during his deep 2013 Main Event run in which he ran queens into kings. Before the hand ran out with a straight on the board for a chop, Livingston expressed that he probably should have folded — an interesting piece of information when looking at his Day 7 fold. You can watch that full hand in the clip below, posted in 2013 on YouTube by "bemml."
Livingston Responds
Livingston took to Twitter himself following the fold, not to engage the haters or the speculators, but to give a tongue-in-cheek comment: "Have fun discussing the queens fold."
Now, down to just three players after yet another day of play, Livingston is still in contention, heading into the final day second in chips with $4,000,000 now locked up and the $10 million first-place prize within sight. Livingston told PokerNews at the end of play the reasoning behind the queens fold:
"With ICM considerations, I really didn't like getting it in in that spot."
"Just because I ran into tens doesn't mean it was a bad fold. I put him on a range that consisted of tens-plus and ace-king for the most part. And with ICM considerations, I really didn't like getting it in in that spot. And I also feel like I'm a pretty strong postflop player and I wanted to preserve some flexibility with my stack."
Livingston was still happy with his fold, especially after getting confirmation from some good players who thought it was a good fold, so he doesn't seem too concerned about those who disagree. After all, those people are not in position with three players left to battle for $10 million and the 2019 WSOP Main Event title.
Follow the hand-for-hand coverage right here at PokerNews as the final three battle down to the 2019 WSOP Main Event winner on Tuesday, with cards in the air at 5:30 p.m. PT.