Faces in the Main Event Crowd: The Mom & Brother, the Wife, and the Work Colleague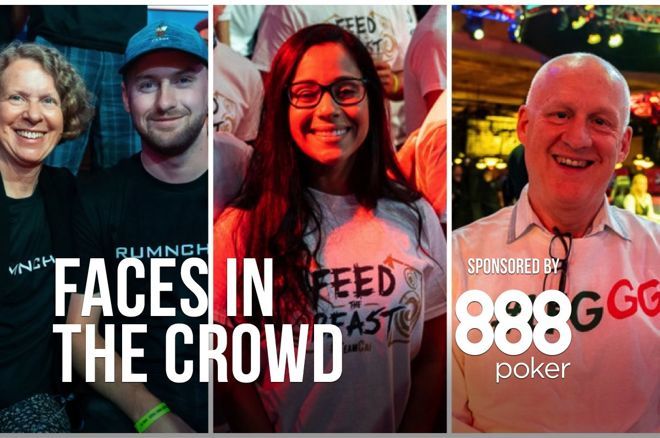 On Sunday night, the 2019 World Series of Poker (WSOP) Main Event final table got underway. For once, the halls of the Rio All-Suite Hotel & Casino were lined not with poker players waiting to register a tournament, but rather family and friends looking to get into the Amazon Room to support their respective man.
Throughout the summer, PokerNews has been profiling faces in the crowd. It's been a way to spotlight either unknown or up-and-coming players in the field, but for this special edition we're changing things up by finding some faces on the rail of the 2019 WSOP Main Event.
Mother & Brother Cheering on Alex Livingston
One of the biggest contingents on the rail is supporters of Alex Livingston, the 32-year-old from Halifax, Canada. They're all donning black t-shirts with Livingston's online moniker "rumnchess" across the chest.
"Alex has been playing chess since he was three years old, so that's where the chess part comes from," said Livingston's mother, who is seated next to her other son. "I'm not quite sure where the other part comes from."
His brother chimed in: "He drinks rum I guess, I don't know."
Both traveled more than 3,300 miles on an early morning flight after discovering Alex had made the final table the day before.
"Before I even had breakfast, before I even had coffee or tea I booked the flight."
"I'm excited," his mom said with a proud smile. "Yesterday morning we found out because we live in Halifax, about 6 a.m. we learned he was in the final nine. Before I even had breakfast, before I even had coffee or tea I booked the flight. I'm only here for today and have to leave tomorrow, but I just wanted to come to be a part of it."
When asked if they ever thought they'd watch Alex compete for $10 million, both Alex's mother and brother had different reactions.
"Absolutely not," the matriarch said. "I don't want to say not but it seemed like such a long shot to me."
As for his brother, he wasn't surprised: "I thought he had a chance. He's had some deep runs and he's really good."
One of those deeps runs actually happened in the same event back in 2013. That is when Livingston fell just shy of making the November Nine finishing in 13th place for $451,398. It was an exciting run for the Livingston clan, and little did they know they'd experience even more six years later.
"He was more of a mess then. He's way better this time," his mom said comparing both runs. "I think if he just keeps it together he's going to have a good chance to win."
Zhen Cai Doing It for His Wife and Son
Zhen Cai has quite the rail. Not only are his father, mother, and sister all cheering him on, so is his wife Jessica Rosado, who traveled cross country from Florida.
"On Friday, I noticed it was down to 39 players. I said that's it, I'm coming out," she told PokerNews. "As soon as I landed I knew it'd be down to 12 or 15 players, so it was perfect timing."
"He's cool, calm and collected. This is as confident as I've ever seen him."
She continued: "I'm shocked, super nervous, but I'm super excited to be here. Every day he was texting me his chips stacks. I never doubted that he wouldn't make it this far. Every day he told me he was bagging I thought there was just no way he wasn't going to make it to the final table. I wasn't worried."
While Jessica always believed in her man, did he have the same positive outlook?
"He's been saying he feels nothing, but he feels confident, happy, he's not nervous at all," she said when asked how Zhen has been. "He's not scared. He's in the zone. I know he's going to do well."
Tony Miles, who last year finished runner-up in the WSOP Main Event and is a good friend of Cai, echoed those sentiments: "He's cool, calm and collected. This is as confident as I've ever seen him."
Cai also has the support of his three-and-a-half-year-old son, Chance, who is back home with grandma watching his dad play on ESPN. Interestingly, Chance may even have contributed to his dad's success as the two squared off in a cute heads-up match back on Father's Day.
The Poker Industry Colleague
For eight years, poker industry veteran Lee Jones worked alongside Garry Gates at PokerStars. The two developed such a friendship that Jones, who is no longer with the company and semi-retired to California, felt compelled to hop an early flight from Oakland to come support his former co-worker.
"He's always been the hardest working, genuine, humble, gracious person that I've ever worked with," Jones said from the rail. "What I always loved about PokerStars was the loyalty everyone always showed each other, so it just felt like this is me doing what I need to do to support Garry."
"If you are called to this it's not just another vertical, it's what you live and breathe. Garry reflects that in everything he does."
Like many others working within the poker industry, Jones has been sweating Gates' run from early on. The deeper he went, the more intense it got.
"I tried to sleep Thursday night and I couldn't sleep," Jones admitted. "In the morning I saw that he was second in chips. I knew I had to make a plane reservation."
A Las Vegas local, the 37-year-old Gates is well-known to the vast majority of the high rolling poker community thanks to his role as senior manager of player relations. He's also a survivor of the Route 91 Harvest Festival shooting nearly two years ago, a tragic experience that taught him to cherish the moment. It's that appreciation that's endeared him to so many.
"Guys like Garry, you have to love the game to be involved in it like he is, right," said Jones. "Garry certainly puts in all those hours working for PokerStars, and then what does he do when he has some time off – he goes and plays poker. I think that pretty much sums it up. The best of us don't see poker as a business, it's a calling. If you are called to this it's not just another vertical, it's what you live and breathe. Garry reflects that in everything he does."
The winner of the 2019 WSOP Main Event will ultimately walk away with a $10 million top prize, lay claim to the coveted gold bracelet, and forever etch their name into poker history.