An Emotional Garry Gates Reflects on WSOP Main Event Journey to Fourth Place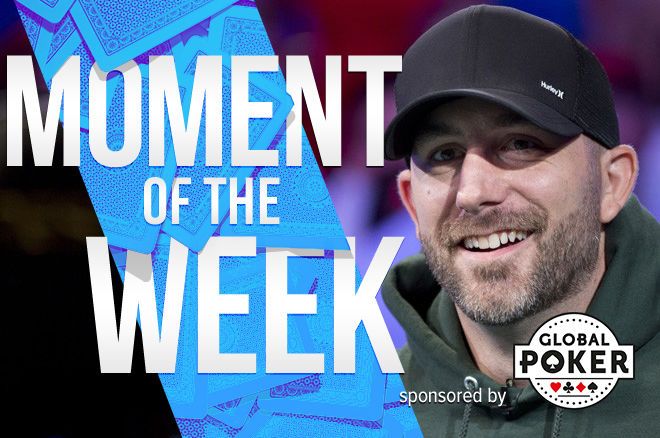 In 2008, Garry Gates was working for PokerNews running the live reporting team that brought the coverage of the World Series of Poker, including the Main Event. Eleven years later, he found himself on the other side of poker's biggest stage, playing at the final table for millions of dollars.
In his decade-plus in the poker industry, Gates has garnered countless friends and acquaintances. He's worked with hundreds of high roller poker players through his work as Senior Consultant of Player Affairs for PokerStars Live, and many of them became close friends of his.
"Just to get this far and have as much love and support as I've had along the way...I knew I had already won."
It was evident by his expansive and rowdy rail that Gates is a much-loved member of the poker community, and he got emotional in his elimination interview while expressing his appreciation for the outpouring of love and support he received throughout his run.
Garry Gates Reflects on Deep Run
After getting off to a great start at the final table, Gates went into five-handed play on Monday night with a healthy second-place stack. Nothing went his way on Day 9, though, and eventually, he became the short stack and moved in with pocket sixes in the small blind, only to run into the pocket queens of Alex Livingston in the big blind.
As his impressive run came to an end in fourth place, Gates had nothing but positive vibes flowing his way. Following his bust out, Gates couldn't help but tear up as he reflected on the entire emotional experience in an interview with poker media — more of his people.
"Those are some world-class poker players. I don't do this for a living. Just to get this far and have as much love and support as I've had along the way...I knew I had already won."
"My debt is gone. I can buy a house. I can buy a ring for my girlfriend. I can take care of my daughter...It's amazing."
Coming into the final five, second in chips, Gates admitted he hoped the result would be better, but he took nothing away from the fantastic run. "It's, on the one hand, a little disappointing, but on the other hand, I'm a lucky guy - this has changed my life."
Asked in what ways exactly it has changed things for him, Gates started with, "Yeah - I'm a millionaire now." He continued: "My debt is gone. I can buy a house. I can buy a ring for my girlfriend. I can take care of my daughter... It's amazing."
His daughter's excitement upon seeing dad playing on TV was just one of many highlights along the way for Gates.
I plan to write something longer about my experience this week and respond to every last message I received, but fo… https://t.co/sTBs6LiP5R

— Garry Gates (@GarryGates)
"I know I've said that it meant everything to me, but it really truly did," said an emotional Gates. "I just felt so much love from everywhere - every corner of the world and I don't know, it was something that, I'll just never forget that."
Mercier Wins Big on Gates, and a Dario Sweat
Five-time bracelet winner Jason Mercier is one of those high rollers that became good friends with Gates over the years, and he also believed in him. Though all the details haven't been made public, Gates mentioned in his interview that he'll be shipping $2 million over to Mercier, who watched the deep run from his home in Florida — though he planned to fly out for the final day had Gates made it through.
Even with Gates out, the Merciers still have a pretty big sweat left — and it involves the fate of the name of their second-born.
Go @GarryGates ### and Dario!!!!! Actually made a deal with Dario where if he wins we have to name the next baby Da… https://t.co/EXWMV9VfJC

— Natasha Mercier (@natasha_mercier)
Solid Main Event Record
It's no wonder that the sharp Jason Mercier invested in Gates. For someone who is not a professional poker player and doesn't play too many tournaments, Gates has quite the track record in the big one. Over the last nine years, Gates has cashed four times in the Main Event, three of which were top-250 finishes and of course, now a final table.
When Mike McDonald tweeted about this fact, several insiders clarified that he is actually four for seven, having skipped the event two of those years. Another said that one of the three years he played it and didn't cash, he stone bubbled. Here's a look at Gates' four Main Event finishes.
Garry Gates' Main Event Cashes
| Year | Place/Entries | Payout |
| --- | --- | --- |
| 2019 | 4/5,869 | $3,000,000 |
| 2017 | 898/7,221 | $16,024 |
| 2015 | 247/6,420 | $34,157 |
| 2011 | 173/6,865 | $47,107 |
You can watch Gates' full elimination interview with poker media here, and take in this week's Global Poker-sponsored WSOP Moment of the Week:
Join Global Poker now and play for real cash prizes!