888Poker Qualifier Dean Morrone Turns $100 Into a Dream in the WSOP Main Event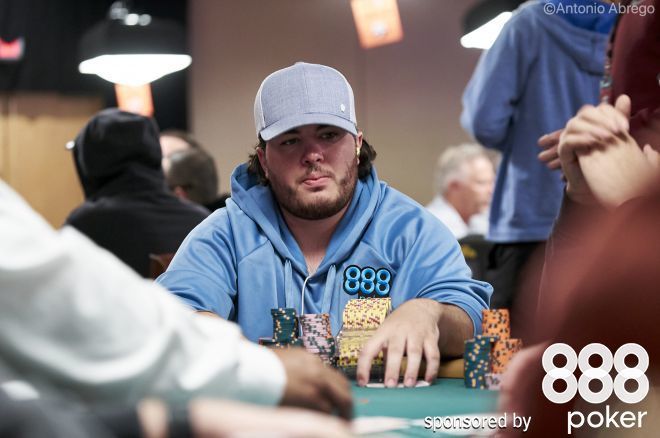 Qualifying for just $100 online for the mothership poker tournament - the $10,000 WSOP Main Event - is the dream for many an aspiring poker player. Going deep in the Main after qualifying online for one percent of the buy-in is even sweeter.
Just ask Canada's Dean Morrone, who entered Day 5 of the 50th annual World Series of Poker Main Event as the chip leader with just 354 players remaining after winning his seat on 888poker for $100. Here on Day 5, Morrone is still sitting with a healthy stack, already guaranteed more than $50,000 with under 200 players left to battle for the $10 million top prize.
Morrone let it sink in that he was the chip leader at the end of Day 4 when he told PokerNews live reporters: "It feels like an absolute simulation, I can't believe this is real life. I've watched this tournament on TV over the years, always just manifested me playing it, it's all coming into effect."
Mental Health and Focus
From a small town of just 12,000 people in Dawson Creek, British Columbia, Morrone had been going through some tough times and decided to move to Calgary, Alberta for a change. "I grew up in a really small town. Everybody knows each other. I couldn't do the small town city anymore - it was driving me crazy. There wasn't a poker room within 45 miles of my house," explained Morrone.
"I changed my life a little bit. Getting out of Dawson has changed everything. I was kinda in a dark spot before, and getting out of it feels amazing. It's crazy how one little change can affect your whole life."
Morrone recognizes that people deal with mental health issues on a daily basis, so he offers some advice on how to fight through.
"If I was to tell anyone out there, if you're in a dark place and feeling trapped and wanna get out, just make small adjustments. Just try your best just to change anything and that will spark something in the right direction."
"It feels like an absolute simulation."
Additionally, Morrone admitted he needed to put himself first before anything. "Something that helped me was not caring what other people had to think about my life. Just doing stuff that I wanted to do that made me happy in the moment has changed everything," said a passionate Morrone.
Being sober for a few years without relying "on a drug or alcohol to have a good time" has kept Morrone feeling great and focused on his goals. "Poker right now is all I care about. Studying, get better, win some money. It would be life-changing - it would be a dream come true."
Leaning on his family has been a big deal for Morrone, and now they are supporting him during his deep run and learning about the game. "I have the most supportive family in the world. They never really knew about poker until recently and they're just starting to kind of understand it and they've been all sitting at their phones, updating, on the TV," smiled Morrone.
A Big Hand on Day 5
Morrone came in to Day 5 with almost 5 million in chips, good for over 200 big blinds, and then quickly played a pot at the start of play to add another million in chips to his stack.
"It would be life-changing - it would be a dream come true."
According to the live updates, Henrik Hecklen raised it up from middle position and Morrone three-bet to 175,000 from the cutoff. Hecklen called and they saw a flop of



. Hecklen checked, Morrone bet 200,000 and Hecklen called.
The turn was the

and Hecklen check-called a bet of 350,000 this time. The dealer completed the board with the

on the river and both players checked. Hecklen revealed


for a pair of kings, but was no good against Morrone's


for a set of fours. He scooped the pot and padded his already-massive stack.
You can watch PokerNews' video interview with Morrone below:
You can check on Dean Morrone's progress and continue following the coverage of the 2019 World Series of Poker Main Event as updates are brought from the tournament floor right here at PokerNews.