2019 WSOP Player of the Year: Robert Campbell Still on Top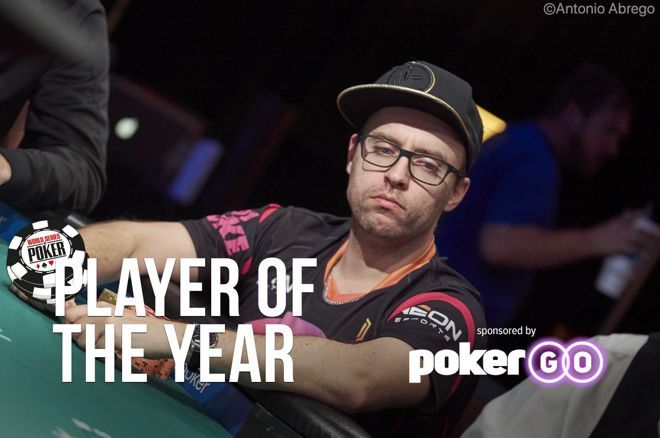 With six weeks of the 2019 World Series of Poker in the books, no less than 74 bracelets have already been awarded. But with more than a week left to go, there are still 16 more to be won. There are also still plenty of opportunities for players to accumulate 2019 WSOP Player of the Year points to make runs at the title.
After winning his second bracelet of the summer last week in the Event #67: $10,000 Seven-Card Stud Hi-Lo Championship, Robert Campbell swiftly catapulted from No. 11 to No. 1 in the POY rankings. A week later he's still on top, with Dan Zack (No. 2) and Phillip Hui (No. 3) also right where they were after Campbell passed them.
In fact, there hasn't been a great deal of change at the top of the leaderboard since our last update a week ago. Here's how the 2019 WSOP POY Top 10 looks as of this morning, Wednesday, July 10:
| Place | Player | 2019 WSOP POY Points |
| --- | --- | --- |
| 1 | Robert Campbell | 3,079.31 |
| 2 | Dan Zack | 2,966.85 |
| 3 | Phillip Hui | 2,830.68 |
| 4 | Shaun Deeb | 2,458.48 |
| 5 | Anthony Zinno | 2,443.22 |
| 6 | Chris Ferguson | 2,417.92 |
| 7 | Scott Clements | 2,368.02 |
| 8 | Jason Gooch | 2,333.00 |
| 9 | Rick Alvarado | 2,180.71 |
| 10 | Upeshka De Silva | 2,162.02 |
The 10 names on this list are the same as appeared last week, with eight of them sitting with the same number of POY points they had at last check. The start of the $10,000 No-Limit Hold'em Main Event has understandably occupied many players since late last week, with one effect being a momentary stabilizing of the POY rankings.
Dan Zack had been the one leading the way until Campbell's surge. Zack began the summer winning Event #6: $2,500 Mixed Triple Draw Lowball and has been collecting cashes ever since, including a 12th one last week to inch a little closer to Campbell.
Phillip Hui still sits just behind Zack at No. 3 thanks to points earned from his victory in the Event #58: $50,000 Poker Players Championship shown on PokerGO.
Meanwhile Shaun Deeb (No. 4) and Anthony Zinno (No. 5) are also right where they were last week. In fact the only movement in the entire Top 10 was made by Chris Ferguson who went from No. 10 to No. 6 after adding a couple more cashes — one in an online event, the other a min-cash in Event #75: $1,111 Little One for One Drop.
That makes 18 cashes for the summer for Ferguson, three more than anyone else at the moment and one more than the 17 he earned in Las Vegas at the WSOP two years ago. That year Ferguson set a record of 23 cashes total (after picking up six more at WSOP Europe).
Bracelet winners Scott Clements (No. 7), Jason Gooch (No. 8), Rick Alvarado (No. 9), and Upeskha De Silva (No. 10) all have the same number of POY points they had a week ago, and all kept their spots in the Top 10.
A look outside the Top 10 at the moment shows David "Bakes" Baker just outside the list at No. 11, something Baker himself has noticed as well. "I have an outside shot for the first time in a while LFG," Baker tweeted yesterday along with a screenshot of the POY list.
Indeed, for most of the remaining "post"-liminary events, a bracelet win would translate to more than 1,000 points, meaning anyone in the top 20 or so could vault to the top with a win. There are also significant points still to be earned in the Main Event, where the victor will get 1,731 POY points and everyone making the top 20 percent of cashers (the top 257 finishers overall) will pick up 346 points at minimum.
Sitting behind Baker at the moment are Ari Engel (No. 12), Ben Yu (No. 13), Daniel Strelitz (No. 14), Calvin Anderson (No. 15), and the other David Baker, David "ODB" Baker (No. 16).
About the 2019 WSOP Player of the Year
After changing the way POY points were calculated prior to last year, the WSOP has kept the same formula to determine this year's winner. The formula is "loosely based" on the one employed to calculate WSOP Circuit rankings, with modifiers based on buy-ins and field sizes.
At the time, the WSOP explained the changes had been made "to better reward bracelet winners and players who run deep, while still rewarding consistency." A couple of differences from the pre-2018 system include a bigger gap between points earned from first- and second-place finishes, and min-cashes being worth relatively less than was the case before.
Here's an information sheet provided by the WSOP that provides further details regarding the 2019 WSOP Player of the Year.
The 2019 WSOP POY race includes all of the "open" bracelet events from this summer's WSOP in Las Vegas as well as events from the 2019 World Series of Poker Europe series that will take place in Rozvadov, Czech Republic later this year (Oct. 15-Nov. 4). That means from the full schedule of bracelet events this summer, the following six events are excluded:
Event #1: $500 Casino Employees No-Limit Hold'em
Event #32: $1,000 Seniors No-Limit Hold'em
Event #39: $1,000 Super Seniors No-Limit Hold'em
Event #47: $1,000/$10,000 Ladies Event
Event #57: $1,000 Tag Team No-Limit Hold'em
Event #81: $1,500 Bracelet Winners Only No-Limit Hold'em
You might have heard also about how the WSOP added an extra bracelet event to this year's schedule — the $50,000 Final Fifty High Roller — which is now underway. That addition brought the total number of bracelets awarded in the 2019 WSOP to 90. Results in the "Final Fifty" will count toward the 2019 WSOP POY race, which means players can earn points in 84 of this summer's events.
We're performing a once-a-week check of the WSOP POY race here at PokerNews this summer. However, you can always consult the standings any time on the constantly updated WSOP Player of the Year page. There you also can find a "WSOP Point Calculator" to discover in advance how many points each event will award based on the number of entries.
Follow all of the action from the 2019 World Series of Poker and keep track of which players are challenging for the WSOP POY on PokerGO.