Mystery of the 1,286th Finisher in the 2019 WSOP Main Event Solved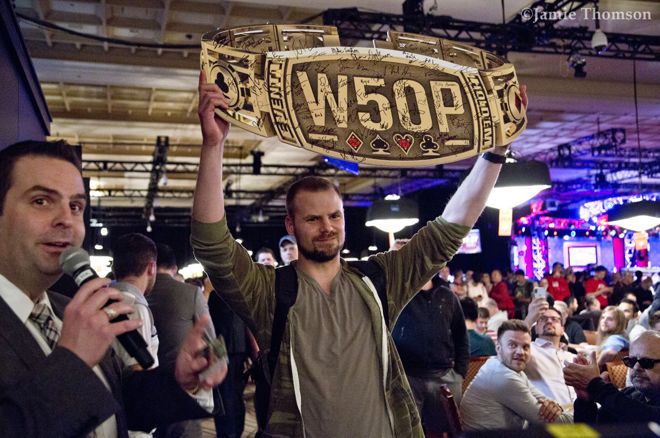 Editor's note: This article has been updated on July 16, 2019 with a quote from the bubble expressed on 2+2.
When the money was reached in the $10,000 World Series of Poker Main Event, there was some confusion across the vast sea of the 143 remaining tables spread across two rooms in the Rio Convention Center.
Just before they were set to go hand-for-hand on what was thought to be the stone bubble, Ryan Pochedly stood up, dejected after his top pair, top kicker was bested by rivered trips and he called off his remaining chips.
It was determined that he was the bubble boy and the field was in the money, and he was presented with an entry for next year's Main Event and a signed cardboard cutout of the Main Event bracelet.
Unraveling the 1,286th-Place Finisher Mystery
As the tournament continued on and players busted in the money from Day 4 onward, there was a glaring vacancy in the payouts. There was no player listed for 1,286th place, the first finisher in the money. With the money being reached at the end of Day 3, and everyone going into Day 4 being in the money, it seemed rather odd that someone would just fail to take their ticket to the payout desk upon being the first elimination of the day.
As it turned out, that was because the first elimination in the money actually happened at the end of Day 3, and it was Ryan Pochedly. WSOP officials told PokerNews:
"Information gathered from surveillance and the tournament staff determined a dealer error in alerting of an open seat at a table in the Amazon Orange section caused the count to be off one spot."
"After reviewing surveillance from the Main Event money bubble we have determined that Ryan Pochedly finished in 1,286 place, one spot ahead of what was previously thought. Instead of being the bubble boy, he will be recorded and paid $15,000 for finishing in the money, in 1,286th place."
Pochedly was of course happy to hear that rather than bubbling, he actually booked his second Main Event cash — the first being in 182nd place in 2012 — and made $5,000 in profit. WSOP officials explained to PokerNews that a dealer error led to the count being one off, which meant they were in the money when they thought they were on the stone bubble.
"Information gathered from surveillance and the tournament staff determined a dealer error in alerting of an open seat at a table in the Amazon Orange section caused the count to be off one spot. We regret the error but are pleased to have been able to rectify it correctly. We have notified Mr. Pochedly and are in the process of getting him his earned payout."
Pochedly took to poker forum 2+2 to express his displeasure:
Ultimately, I feel like I got screwed out of quite a bit of equity due to the mismanagement of the bubble by the WSOP staff, dealers, and management. As a seasoned mid-high stakes cash pro 62bb going into day 4 of the Main Event would have been a total dream.

I'm not here looking for sympathy or for NVGers to give me advice on how to play AKo on the bubble. I just want the poker community to be aware when problems like this occur so that we can police/force these poker rooms and tournament venues to improve their product.
True Bubble Boy
Before Pochedly's elimination, German poker pro Jonas Lauck busted and apparently another player before who wasn't accounted for had gotten them to the stone bubble just before that. As they were not yet hand-for-hand, Lauck was told that he did not make the money and he made his exit. As it turned out, Lauck, who won a bracelet earlier this summer in the $1,500 Turbo Bounty, was the bubble boy and would be getting a freeroll to next year's Main.
"I was super happy because it felt like i won $10,000 today that I did not expect!"
"I knew that it was really close to the money," Lauck told PokerNews. "I stone bubbled the Main already three or four years ago (I did not get a seat because I lost high card flip against the guy who busted at the same time) so I told my friends on break before that I don't want to bubble again and will chill untill we reach the money. But then I got kings with 20 big blinds and the chip leader of the table who was very active raised so I went all in and expected him to fold a lot but he had aces and they held. I knew it was like two or three off the money so I was hoping there are other bustouts but then floor told me 'You can go, you didn't make it.'"
About a week later, Lauck got some welcomed news, that rather than going away from the Main Event on the bubble empty-handed once again, he would at least get his money back in the form of a 2019 entry.
"I was contacted by Jack Effel and he explained me that there was a mistake and I became bubble boy instead of two off the money and I will get a seat next year," Lauck said. "Of course I was super happy because it felt like I won $10,000 today that I did not expect!"
Now, the payouts are complete up to the final five, who continue to battle Monday at 6:30 p.m. PT for the 2019 WSOP Main Event title and $10 million reserved for the winner. Follow the live updates with hand-for-hand coverage right here at PokerNews through the event's completion on Tuesday.
Reporting by Shirley Ang contributed to this article. This issue is also being discussed on poker forum 2+2 and pokerfraudalert.com.