PokerNews Family of Podcast Hangout Night Scheduled for July 8 at Planet Hollywood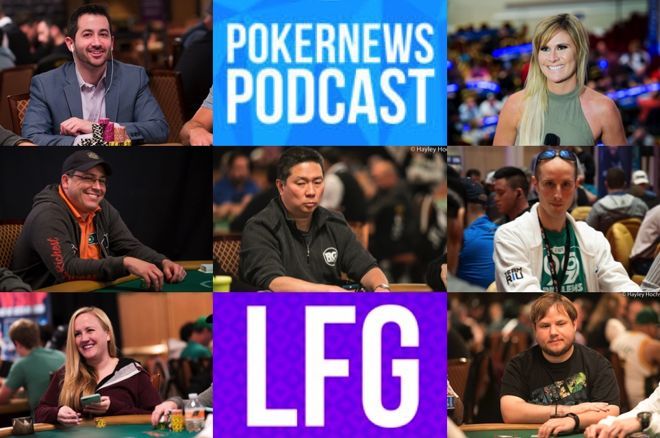 PokerNews is out in full force at the 2019 World Series of Poker. In addition to bringing you live updates, videos, and both feature and recap articles from the 50th Annual WSOP, the PokerNews Family of Podcasts is also releasing regular episodes.
The PokerNews Family of Podcast is comprised of two Global Poker Award nominated shows – the PokerNews Podcast (hosted by Sarah Herring and [Removed:139]) and the LFG Podcast (hosted by Jamie Kerstetter and Chad Holloway) – as well as the Top Pair Poker Home Game Podcast by Robbie Strazynski and Bruce Briggs, The Bernard Lee Poker Show, and ALL IN with Evan Jarvis.
"This is the event I am most looking forward to all summer."
What's more, all five shows are joining forces to host the PokerNews Family of Podcast Event at Planet Hollywood. The $120+$30 buy-in tournament has been added to their Goliath Phamous Poker Series schedule for Monday, July 8 at 7 p.m.
Tournament Details
The tournament, which is open to the public, features 15-minute levels and will start players with 12,000 in chips. Late registration and re-entry will be open until the start of Level 9 (approximately 9 p.m.) Not only will attendees get the chance to play with the various PN Family of Podcasts hosts, but they'll also get to play with other pros as former guests from each show will be invited to attend.
"I can't wait to play the PokerNews Podcast Family of Podcasts tournament," said Herring. "This is the event I am most looking forward to all summer. Plus, I always love to play at Planet Hollywood during their summer series. The staff is fantastic and they always make me feel like royalty."
Click the following links to check out the podcasts under the PokerNews umbrella:
Adding to the Podcast Family

Last summer, the LFG Podcast hosted its first hangout night at the now-shuttered poker room at Treasure Island (TI). That tournament attracted the likes of 2017 WSOP Main Event champ Scott Blumstein, David Tuchman, and Stacey Sullivan, while former editor of BLUFF Magazine and former PokerNews head honcho Matt Parvis ultimately took it down.
"Last year's LFG Podcast Hangout Night was a blast and we're excited that the rest of the podcasts have joined us for what's sure to be an even bigger and better event this summer," said Kerstetter, co-host of the LFG Podcast.
This year, Chris Gawlik and his staff kicked off its 2019 Phamous Poker Series GOLIATH at the end of May and it will run through July 11. The series is punctuated with a $1,700 Main Event. Click here for a look at the full schedule.
As for the PokerNews Family of Podcast tournament, here's a look at the structure:
Tournament Structure
| Level | BB Ante | Small Blind | Big Blind |
| --- | --- | --- | --- |
| 1 | - | 100 | 100 |
| 2 | - | 100 | 200 |
| 3 | 300 | 100 | 300 |
| 4 | 400 | 200 | 400 |
| 5 | 600 | 300 | 600 |
| 6 | 800 | 400 | 800 |
| 7 | 1,000 | 500 | 1,000 |
| 8 | 1,200 | 600 | 1,200 |
| 9 | 1,600 | 800 | 1,600 |
| 10 | 2,000 | 1,000 | 2,000 |
| 11 | 3,000 | 1,500 | 3,000 |
| 12 | 4,000 | 2,000 | 4,000 |
| 13 | 6,000 | 3,000 | 6,000 |
| 14 | 8,000 | 4,000 | 8,000 |
| 15 | 10,000 | 5,000 | 10,000 |
| 16 | 12,000 | 6,000 | 12,000 |
| 17 | 16,000 | 8,000 | 16,000 |
| 18 | 20,000 | 10,000 | 20,000 |
| 19 | 30,000 | 15,000 | 30,000 |
| 20 | 40,000 | 20,000 | 40,000 |
| 21 | 60,000 | 30,000 | 60,000 |
| 22 | 80,000 | 40,000 | 80,000 |
| 23 | 100,000 | 50,000 | 100,000 |