Five Pivotal Hands from 2019 WPT Baccarat Crystal Tournament of Champions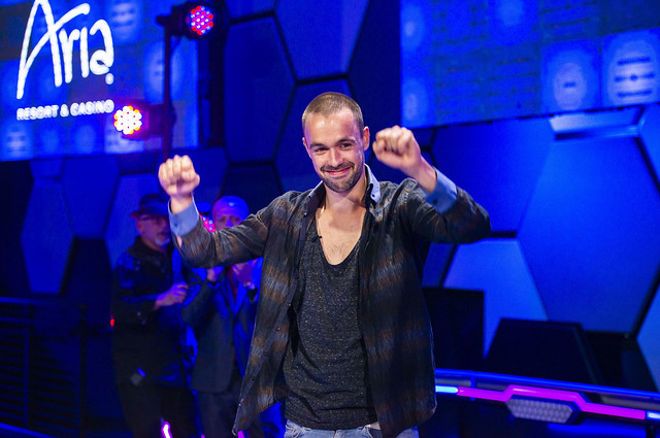 Any time you assemble 76 top poker players in one tournament, you're sure to have a star-studded final table lineup. That was surely the case in the Baccarat Crystal WPT Tournament of Champions final table that played out on Monday at the HyperX Esports Arena at Luxor in Las Vegas, where the level of play was nothing other than elite.
In the end, it was German high roller Ole Schemion lifting the trophy and adding his name to a limited roster of World Poker Tour champion of champions. Schemion had already solidified his place in poker with 18 tournament wins across eight different countries, including a WPT European Championship title from 2018, a high roller title and three super high roller wins.
"It was a tough final table."
Winning the TOC over such a talented field is yet another great accomplishment to add to his resume, along with the $440,395 top prize and other perks. Schemion's live earnings now sit over $15.8 million.
"It was a tough final table," he told WPT media. "It was a nice game – I enjoyed it."
After starting the final table with an overwhelming chip lead, Schemion lost most of those chips and was one card away from elimination with three players left. He managed to win that hand and go on to collect all of the chips. The $15,000 buy-in TOC drew 76 entries. Along with the $100,000 WPT added to the prize pool and an extra $50,000 to the winner, the total came to $1,290,000 with ten players making the money. Here's a look at the complete payouts:
2019 WPT Tournament of Champions Official Payouts
| Place | Player | Country | Prize |
| --- | --- | --- | --- |
| 1 | Ole Schemion | Germany | $440,395* |
| 2 | Tony Dunst | United States | $250,265 |
| 3 | Ryan Tosoc | United States | $166,845 |
| 4 | Simon Lam | United States | $115,945 |
| 5 | Griffin Paul | United States | $84,140 |
| 6 | Nick Schulman | United States | $63,890 |
| 7 | Aaron Mermelstein | United States | $50,870 |
| 8 | Dominik Nitsche | Germany | $42,570 |
| 9 | Jonathan Little | United States | $37,540 |
| 10 | Noah Schwartz | United States | $37,540 |
*Included $15,000 seat into the 2020 WPT Tournament of Champions.
In case you didn't get a chance to watch it play out on PokerGO with commentary by Jamie Kerstetter and Dave Farah, here are five key hands that you may want to go back and watch, presented in order played, with hand details provided by the WPT live updates.
Nick Schulman Plays a Stressful One (Hand #17)
After coming into the final six as the short stack with 30 big blinds, Schulman bled down a bit more and pretty soon found himself in a spot to go for a double-up. This hand may not be the most interesting in terms of the basic action and the hands held, but the emotion made it one to re-watch.
Nick Schulman is notorious for wearing his heart on his sleeve in big final table spots, and having his tournament life on the line with ace-jack preflop was cause for some real stress for the poker pro and award-winning commentator. While it's never fun to see such a nice guy seemingly in pain, a little emotion shown at the poker table is increasingly rare these days and for some, a breath of fresh air.
In what would be his last hand of the tournament, Schulman called from the cutoff with ace-jack after the other short stack, Simon Lam, raised from the hijack. Ryan Tosoc opted to put both players to the test by shoving from the big blind with a covering stack. Lam folded and Schulman looked physically uncomfortable as he considered a call. Two time bank chips later, he committed his stack and saw he was ahead, though Tosoc was live with king-queen.
Unlucky for Schulman, a queen on the flop had him right back to discomfort reducing him to just three outs, and anyone watching could feel his pain. The pair of queens held for Tosoc and Schulman was forced to the rail in sixth, the first to be eliminated from the streamed final table.
Ryan Tosoc Gives Credit Where Credit is Due (Hand #34)
Still early in the final table with five players remaining, Schemion min-raised to 20,000 under the gun and picked up calls from Tosoc on the button and Lam in the big blind. The flop came



and after Lam checked, Schemion continued for 40,000. Tosoc called and Lam got out of the way.
The turn was the

and Schemion bet 77,000. Tosoc called again to see the

complete the board. Both players had well over 100 big blinds as the two big stacks at the table, and Schemion fired out a third bet of 215,000. Tosoc studied his opponent and started tossing in one time bank at a time until he used three in total.
Those who watched the live stream know that Tosoc was in the tank with ace-king for aces up with the best possible kicker, a hand that many players would not fold in this spot. The commentators even seemed surprised that Tosoc was actually considering laying his hand down, but after thinking for nearly two minutes, that's exactly what he did.
Oh yeah - Schemion had ace-nine, for a better two pair.
Back-Raise Shove Works Out for Tony Dunst (Hand #62):
With a 50-big blind stack, WPT commentator Tony Dunst, who had to get a replacement for him in the booth for the TOC, was on the button. Tosoc raised to 30,000 first to act and Dunst just called with the


. Schemion looked down at


in the big blind and three-bet to around five-times the original raise.
Action folded back to Dunst and he went for the back-raise all-in shove for 50 big blinds total. Schemion used one time bank extension before calling and seemed rather surprised to see Dunst roll over a hand that had him dominated. Lucky for Dunst, he had the higher spade in his hand, as the board ran out with four spades to give both players a flush, and Dunst the big double. Watch the hand play out in the clip below:
Tosoc Gets Schemion on the Ropes (Hand #113)
In a pivotal hand, Schemion opened the button with


to 35,000 at 8,000/16,000/16,000. Tosoc three-bet to 125,000 with


from the small blind and Schemion called to see a flop of



. Tosoc check-called a bet of 65,000 from Schemion and the turn was the

, giving the German a spade draw to go with his gut-shot straight draw.
Tosoc checked his ace-king high again and Schemion moved all in for around 500,000. Tosoc went into the tank, using two time bank chips, and eventually called to see that he was ahead. Tosoc couldn't fade the 12 outs though as the

landed on the river to keep Schemion alive, evening out the two players' stacks with Dunst not far behind. You can watch the clip of the hand below from the PokerGO twitter page:
The right call, the wrong river. @RyanTosoc almost sends @OleSchemion to the #WPTBaccaratTOC rail! Watch LIVE:… https://t.co/cFZO8hrmCZ

— PokerGO (@PokerGO)
Schemion Flops Well to Close it Out
In the 17th hand of heads-up play, Schemion raised to 60,000 on the button with


at 10,000/25,000/25,000 and Dunst three-bet to 250,000 with king-five offsuit. Schemion peeled and flopped the second-nut straight on



, which also gave Dunst top pair. Dunst check-called 200,000 from Schemion and check-shoved the

turn.
Schemion snap-called and showed Dunst the bad news, that he was drawing dead to the river.
The Champion of Champions! # @OleSchemion beats @tonydunsttv heads up to win #WPTBaccaratTOC!

— PokerGO (@PokerGO)
With that, Schemion became the newest Tournament of Champions winner to collect the money, which had $50,000 added from WPT, along with a special edition Hublot watch, the crystal vase, a Baccarat Crystal Champagne Flute set, a custom-made BBO Poker Table, and a $15,000 seat into next season's TOC.
Coming off of a good win at the beginning of the summer is a dream for most, with all of the tournament action going on in Las Vegas at the moment, but Schemion is taking his spoils and splitting town soon.
"I'll just enjoy summer. Winter was way too long," he told WPT.
Images courtesy of WPT / Joe Giron.