$500K Alias Race Rewards partypoker Players For Forced Alias Change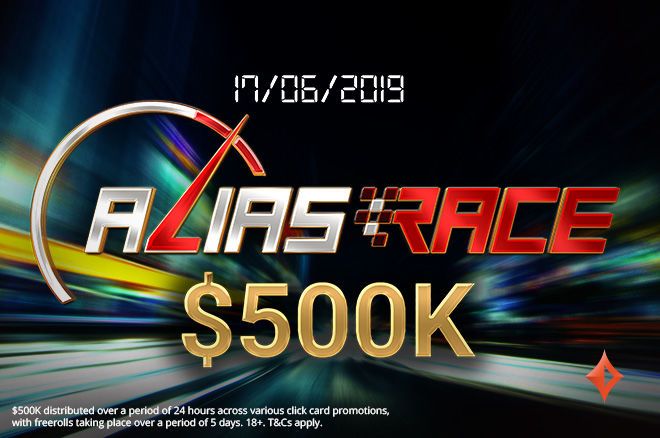 If you have ever wished that you could change your partypoker alias to something more apt for you, or perhaps a little less embarrassing, your wishes are coming true on Jun. 17 when the online poke giant rolls out its latest software update.
Every partypoker will be prompted to change their poker alias when they log into their account on Jun. 17. There is no way around this, you have to change your alias if you want to continue playing at partypoker. The forced alias change is part of something bigger with the partypoker website stating there will be a new hand replayer, changes to the rules on observing tables and some changes to the list of permitted third party software that can be used while playing on partypoker.
Screen names are available on a first come first served basis and are limited only by your imagination, although they are all subject to the usual rules regarding appropriate language. Your current alias will go on hold for six months, during which time nobody else will be able to use it, so there are no worries about someone logging in and trying to represent you at the tables.
$500,000 Alias Race
To celebrate the new software launch and to say thank you for being understanding about the forced screen name changes, partypoker is running a massive promotion on Jun. 17 that is giving away half a million dollars.
The $500,000 Alias Race is open to all partypoker.com players, except those from Sweden and the Czech Republic, and sees more than $80,000 awarded to players who log into their account on Jun. 17 and change their alias, an additional $50,000 worth of freerolls are planned, and there's almost $370,000 being given away in hourly click card drops.
$10,000 Freerolls
Five freerolls, each with a $10,000 prize pool, are open to those who win tickets via the login click cards and the hourly click cards. Registration opens 15 minutes before the freeroll kicks off, everyone starts with 5,000 chips and plays to five minute levels starting at 50/100.
| Date | Time (CET) |
| --- | --- |
| Tue 18 Jun | 8:00 p.m. |
| Wed 19 Jun | 01:00 a.m. |
| | 04:00 p.m. |
| | 6:00 p.m. |
| | 8:00 p.m. |
Login Click Cards
Everyone who logs into their account and chooses a new alias receives a free click card that guarantees a prize. You'll either win a $10,000 freeroll ticket, a $5 SPINS ticket or cash prizes ranging from $50 to $10,000.
$10,000 cash
$1,000 cash
$100 cash
$50 cash
$5 SPINS ticket
$10,000 freeroll ticket
Hourly Click Cards
Every hour from 10:00 a.m. CET on Jun. 17 to 10:00 a.m. CET on Jun. 18 sees between $10,000 and $40,000 given way via click cards. Generate a minimum of 0.10 in loyalty points, that's generate a minimum of $0.10 worth of rake, during the promotional window to receive a special click card that contains one of the following prizes:
$10,000 cash
$1,000 cash
$100 cash
$50 cash
$5 SPINS ticket
$10,000 freeroll ticket
Deposit £10 Receive £40 Worth of Tickets
There is a new partypoker welcome bonus for players from the United Kingdom, one that sees you bag £40 worth of SPINS and tournament tickets for only a £10 deposit. Download partypoker via PokerNews, deposit at least £10 into your account and partypoker will gift you the following tickets over the first six days of your time at the site.
Day 1: 5x $1 SPINS tickets
Day 2: 5 x $1 SPINS tickets
Day 3: 2x $5 SPINS $1M tickets
Day 4: 3x $5.50 MTT tickets
Day 5: 1x $10 SPINS ticket
Day 6: 2x $5 SPINS $1M ticket
SPINS are partypoker's take on jackpot sit & go tournaments, with the $5 buy-in SPINS games having a top prize of a massive $1 million.