Before the Game: Jeff Gross (Part Two)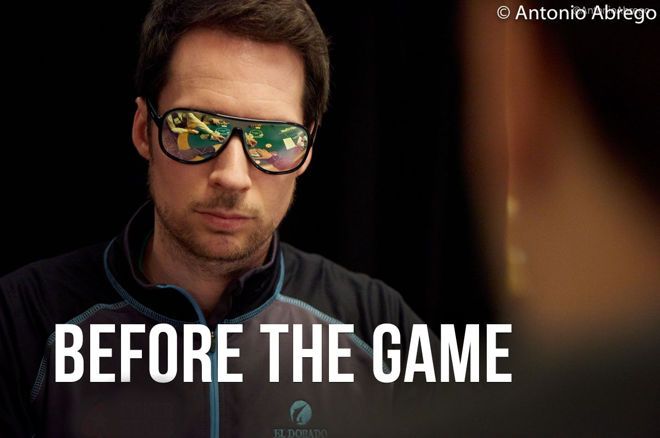 When we last spoke to Jeff Gross in Part One of Before the Game, he'd started to realize that full-time professional soccer might not happen for him. It was around the time he picked up a poker set and saw Chris Moneymaker win the World Series Main Event that he learned the game. The young Gross had a knack for games and problem-solving. He managed to fit poker in around soccer for a spell.
"I was playing on a travel soccer team called the Michigan Wolves," says Gross. "I was practicing or playing every other day, so I couldn't have a '9-5' job and go work at Dairy Queen. Poker was perfect for me; I could hop online."
Gross pitched up on partypoker and turned $25 into $800 in 12-hour sessions at the virtual felt, playing 'two or three' tables at a time. It was a different era to the one we know now.
"Guys were sitting down with $10,000 or $20,000, but I would sit with $600. Many times, I'd run it up to $5,000 or $10,000."
"It was crazy how soft it was back then, really amazing," Gross admits, understanding the importance of poker appealing to his 'always risk-averse' outlook. For him, poker wasn't a game to gamble in. It was a logical, feasible way of making money and enjoying a game he had fallen in love with more than soccer.
Playing up from $0.50/$1 to taking the odd shot at blinds of $5/$10, Gross was making money. Aged 19 in 2006, he found himself at a venue that was then called Casino Windsor and is now Caesars Windsor.
"I was playing $10/$20 no limit with a $600 buy-in. Guys were sitting down with $10,000 or $20,000, but I would sit with $600. Many times, I'd run it up to $5,000 or $10,000."
If he lost, Gross would lose the whole $600. Everyone had him covered the whole way. But playing under that pressure crystalized his decisions, honed his skills and got him to a level where he felt he could really compete.
"That's where I got experience playing live. I got a $500 tournament score around that time and I started developing my game. It was the right place at the right time."
While a sophomore at college and having found his passion, Gross would meet a man who had a positive influence on his life, namely Olympic swimming legend Michael Phelps. Phelps was living in Ann Arbor at the University of Michigan and Gross was home for the summer. The two guys would room together from 2008 until 2015 in Baltimore, Maryland.
"It was cool to see him go through his prime and we had a lot of fun. To see the habits and work ethic of one of the elite athletes of our time was great. We met at a poker table at Casino Windsor in 2006."
The two freshmen became close friends while in South Carolina. They had a lot in common, sharing interests, professional goals, and a tight group of friends.
"We weren't into drugs or partying, things like that. We had common interests and a competitive drive. It was an amazing time, we were both right out of college."
In 2011, Black Friday hit poker and changed how Gross would be able to play. Like every American who played online poker, he had to find an alternative route to the destination he was striving towards. But rather than it being a bad thing, he saw the positives.
"We weren't into drugs or partying, things like that. We had common interests and a competitive drive."
"When Black Friday hit, it was the best thing that could have happened to me. I started traveling more, I got into private games in Houston, and I started playing live poker. It got me off online poker and gave me more balance."
Many players didn't feel like that at the time, and it's true that Gross initially felt the same as them. He thought it was terrible that he couldn't play online poker in the United States.
"A year or two later, I looked back on it as the best thing that could have happened. That's an important lesson in life; things happen, it's how you react to them. There's a way to take positives from every situation."
Over the years, Gross' career would follow a parallel with his friend Phelps - both men were the embodiment of success, not just in their professional suits, but in catching the wave in other ways. Gross joined Twitch, and found a whole new fanbase.
"I think I'm pretty unique in poker and Twitch. If you look at the Twitch guys who do really well, the majority don't have live tournament results. I came along and I've been a hybrid by playing both online and live."
Gross watched Twitch players such as Jason Somerville, Jaime Staples, and Kevin Martin interacting with fans and players, and joined in. He loved the engagement side of broadcasting his play.
"It's been a great experience. Poker is not a team game, but you're on more of a team when people are supporting you on Twitch or buying pieces of you. You have to hold it together when you win or lose. You're on all the time."
Gross sees the current period of poker as being highly important to its future. The game is always changing but perhaps never more so than right now.
"It's an important time in poker; they're thinking of getting rid of some software and HUDs. People have obviously got a lot better with programs like Raise Your Edge and other courses. But you look at the numbers and live poker is up everywhere."
Gross sees poker's future as incredibly positive, and while we may never have another 'Moneymaker moment', that could be down to the current popularity of poker never dipping below a threshold where any surge in popularity would look revolutionary. So many people already love the game.
"Poker is timeless. For years, people have been playing seven card stud, five card draw, limit, no limit, pot limit Omaha, and now short deck. People enjoy the mixture of skill and luck and the competitive aspect of it."
While poker will obviously endure and Gross' role within it seems assured, it's not simply by playing poker that the Michigan man would like to leave his mark.
"I met most of my friends playing poker. You can learn a lot about people playing the game."
"My big goal is to promote poker in a positive light, not to have negative connotations like it's had in the past. I met most of my friends playing poker. You can learn a lot about people playing the game."
While he elucidates on the subject of positivity in poker, Gross doesn't believe it should be the ambition of every player to 'go pro'. He always had an eye on protecting himself from risk, having done affiliate programs since college. He'd never tell someone to simply quit their job and play poker instead.
"Poker is a great game, and it's something you can do as a side income or just to have fun. It's a hard way to make an easy living, but to do so, you need the right personality type to have balance and be able to suffer adversity."
Positivity is a huge watch-word in Gross' life. That outlook he took from his father's words when he was a small boy and nurtured through years of little league and state soccer stardom still resonates today.
"The world could be changed in a day if everyone was more positive. There are a lot of things to be positive about and choosing to be upbeat says a lot about someone. I'm a big believer in positive energy and always seeing the glass as half full."
Looking back on his years as a soccer player, Gross can see now that the disciplines he had, such as preparing for games and resting between them have been the vital checkpoints between his poker successes.
"I see a lot of parallels to soccer. You can apply a lot of skills in poker that you can apply anywhere in life."
On April 22nd, Jeff Gross and his wife Emilia became the parents of Joseph Sobreira Gross. Gross is about to discover the joys of parenthood, the biggest and most exciting challenge in his life so far. For the man who always knew how to prepare, he's heading into unchartered territory but is determined to do his best as he always has. Just as with his soccer team and in his achievements in poker, he counts every challenge as a blessing, and that's always been the case for Jeff Gross since... Before the Game.