'Expect the Unexpected' at the Malta Poker Championships May 13-19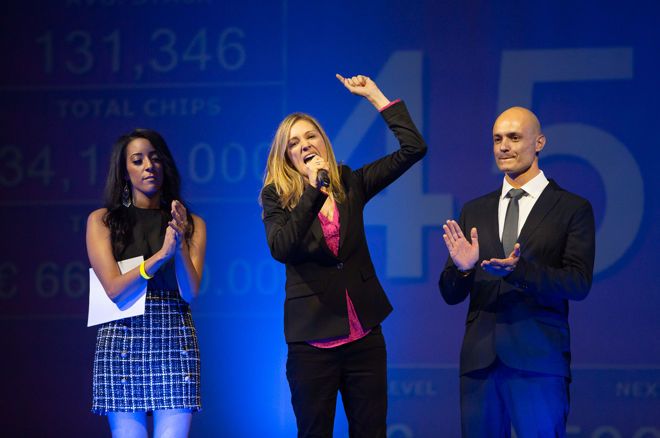 The inaugural Malta Poker Championships (MPC) is about to hit Portomaso Casino on May 13-19. Players will be able to enjoy a full slate of tournaments and play cash games around the clock thanks to the event partnering with the Cash Game Festival (CGF).
The festival builds on the successful first Malta Poker Festival that took place at the same casino in November of last year.
MPC Founder Ivonne Montealegre (center in the lead photo) and Cash Game Festival COO Mauritz Altikardes sat with PokerNews for an exclusive interview about the festival and their commitment to delivering a VIP experience for everyone that attends.
Montealegre shared that the concept of the MPC and its partnership with the CGF all began in January.
"Our schedule and plans are the result of love."
"The MPC concept started with love in January," said Montealegre. "I fell in love with cash games, and I am a tournament player. In January I went to Los Angeles, and I experienced what it means to be a cash game professional. I learned the freedom a cash game player has versus the scheduled commitments I as a tournament player have. Then it hit me, why not do something with the partners I always wanted to have for the last decade in the Cash Game Festival. I am ready and only do things when I am invested. And I am invested in terms of what we can bring to the poker players and the community."
Altikardes believes the MPC and the CGF collaborating will bring a unique and exciting experience.
"As a poker player, I'd be really excited to see what this unique collaboration between the CGF and the MPC can deliver as a whole," said Altikardes. "Two concepts targeting poker players from different perspectives and angles."
The schedule is affordable to everyone with buy-ins ranging from €30 to €300 for the Betsson One Bullet along with televised cash games and side games running around the clock.
"Everyone seems to be obsessed with the €500-mark for tournament buy-ins," said Montealegre. "I want to break from that. You can play at 1 p.m., you can play tournaments, you can play cash, and you can play different buyins. Our schedule and plans are the result of a love story."
While the €300 buy-in for the biggest event could be affordable to many poker players, others will have a chance to win a seat through plenty of satellites both online at Betsson and live at the Portomaso Casino. Montealegre wound up winning a live satellite but will not play in her own event. This won't stop her from trying to grind for more seats.
"I just won a satellite on Tuesday night at Portomaso," said Montealegre. "Since I can't play, I have given it to my boyfriend. I am converting him from a cash player to a tournament player. I will keep grinding the live satellites and the next ticket I win I will give to someone that shows me love and shares about the event on their page."
Montealegre went on to explain that the local players are excited about the MPC and that the MPC wants to show the world why this week of poker will be the best. One of the unique aspects about the MPC will be exclusive shows during the event; "I am going to blow the mind of the players especially for the final tables taking place at Club Level 22," shared Montealegre. "Expect a show. Expect the unexpected!"
This is not all, as Montealegre plans to treat everyone that comes to Portomaso Casino as a VIP. Players can feast off her experiences of living on the majestic island of Malta for a dozen years as well as her many connections.
"I will be the players' concierge," said Montealegre. "I will have a dedicated desk where I will be at 24/7 for poker players, their partners, and their friends. I have led an interesting life, and I know what a concierge desk is. I will let them know where to go, what to do, and give discounts to them. I want to fight for the players. I am talking to the restaurant owners and getting discounts for my players. I am giving everything more than any other project, and this festival is really going to jaw drop."
"Poker players will ask me what they want, and I will sort it out," Montealegre continued. "I might ask them 'What do you want? Do you want sushi? I have seven options.' I am here to provide value for the players. Anyone showing up at Portomaso during the Malta Poker Festival will get personal value from me. Expect discounts, expect the best sushi you can eat, the best speakeasies, or anything else; we will make it happen. Everyone that steps into Portomaso is a VIP. The VIP experience is of unmeasurable value, and I will make sure all of my players experience my current home. Expect this to be the best time of your life."
"expect something special during the shuffle up and deal. It is going to be like a Super Bowl performance."
The Cash Game Festival is well-known for bringing poker players unique experiences and a poker holiday as well. Altikardes believes that the festival has found its perfect match in Montealegre.
"The CGF aims to give cash game players unique experiences, on and off the felt. It has found this perfect match in a well-experienced tournament organizer such as Ivonne," said Altikardes. "A charismatic, strong individual who has an incredible track record from the tournament spectrum. On top of all the extraordinary value, they can bring to the table, imagine doing that in a great venue such as Portomaso and on the beautiful island of Malta where you have limitless off-casino activities."
There may not be enough time in the day for Montealegre as at the same time she is already working hard on the second version of the Malta Poker Festival running Oct. 30 to November 4.
"I am also busy planning the Malta Poker Festival," said Montealegre. "The big bang! There will be a lot of special stuff. My staff and I are working around the clock. There will be so many tournaments around it. Keep in mind what we already built with the Malta Poker Festival. We had The Hendon Mob Championship that is now all over Europe. They were built on the Malta Poker Festival. So we are looking at these kinds of adventures with new partners. We have the APAT, The Hendon Mob, and a new Chinese operator that wants to do an open-face Chinese tournament. Halloween will be during the Malta Poker Festival as well, and I already have my costume."
Montealegre wrapped things up by saying everyone will be a rockstar at her party the MPC.
"I am working around the clock on bringing the players the most amazing poker experience," said Montealegre. "It's my party! Expect the unexpected for the Malta Poker Championships. Everyone is a rock star, and everyone is a VIP."
Malta Poker Championship Schedule
| Date | Time (CET) | Tournament | Buy-in | Guarantee | Stacks | Blinds | Late Registration | Reentry |
| --- | --- | --- | --- | --- | --- | --- | --- | --- |
| May 13 | 2 p.m. | Cash Game Festival begins | | | | | | |
| | 8 p.m. | Triple Stack Warm-up | €40 | €1,500 | 10K/10K/10K | 20 min. | 8 levels | |
| May 14 | 2 p.m. | Cash Game Festival begins | | | | | | |
| | 8 p.m. | Satellite to Betsson One Bullet | €40 | Three Seats | 20,000 | 20 min. | 8 levels | |
| May 15 | 2 p.m. | Cash Game Festival begins | | | | | | |
| | 7 p.m. | Satellite to the Betsson One Bullet | €40 | | 20,000 | 20 min. | 8 levels | 1 reentry |
| May 16 | 2 p.m. | Cash Game Festival begins | | | | | | |
| | 3 p.m. | Bounty Knockout Championship | €170 | | 20,000 | 20 min. | 8 levels | Unlimited reentries through Level 10 |
| | 7 p.m. | Satellite to the Betsson One Bullet | €110 | | 20,000 | 20 min. | 8 levels | 1 reentry |
| May 17 | 2 p.m. | Cash Game Festival begins | | | | | | |
| | 3 p.m. | Betsson One Bullet Flight 1 | €300 | €15,000 | 40,000 | 60 min. | Second level on Day 2 | Freezeout |
| | 7 p.m. | Satellite to Betsson One Bullet Flight 2 | €300 | €15,000 | 40,000 | 60 min. | Second level on Day 2 | Freezeout |
| May 18 | 2 p.m. | Cash Game Festival begins | | | | | | |
| | 3 p.m. | Betsson One Bullet Day 2 | €300 | €15,000 | 40,000 | 60 min. | Second level on Day 2 | Freezeout |
| | 6 p.m. | PLO Championship | €220 | €3,000 | 25,000 | 20 min. | 8 levels | Unlimited reentries |
| | 8 p.m. | Deepstack Championship | €120 | €3,000 | 45,000 | 20 min. | 8 levels | |
| May 19 | 2 p.m. | Cash Game Festival begins | | | | | | |
| | 3 p.m. | PLO Championship, Betsson One Bullet, Bounty Knockout and Hendon Mob Short Deck Final Tables | | | | | Club Level 22 | |
| | 3 p.m. | Hendon Mob Short Deck | €150 | | | | 20 min. | 8 levels |
| | 4 p.m. | Last Chance Sunday | €80 | €3,000 | 100,000 | 20 min. | Level 8 | |