Johnnie "JohnnieVibes" Moreno Completes 30-Day #EmbraceTheGrind Challenge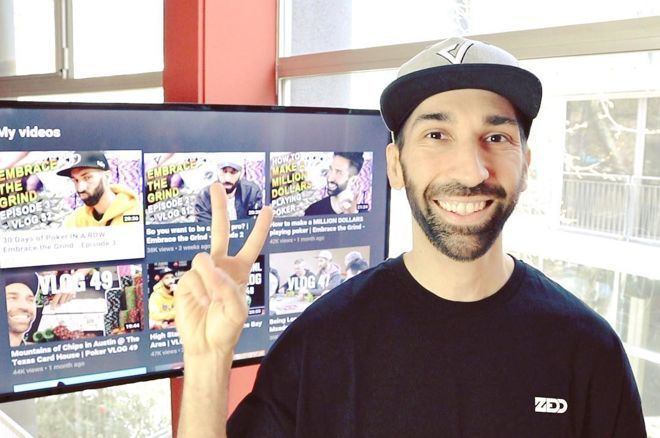 Johnnie "JohnnieVibes" Moreno started making vlogs about his poker adventures in October 2017 and after almost 1.5 years, he's up to over 25,000 subscribers on his YouTube channel.
In his short bio, he tells who he is: "Cash game pro for the last 10 years based out of Vegas and San Diego. My primary game is $5/10NLHE but I have dabbled up to $25/50/100NLHE. I travel often, produce music and videos, and generate content for my brand DeepVibes."
#EmbraceTheGrind Challenge
Recently, Moreno embarked on an #EmbraceTheGrind Challenge, which he explained for his viewers: "30 Days in a row of grinding mid-stakes No limit Hold-em poker. I put my 12 years of professional poker playing experience to the test as I set out on a goal to grind 150 hours while capturing the day to day emotion of life on the grind."
In the first episode of this series, he lays out everything you need to know about the challenge:
After that, four more episodes were released, which you can check out here:
In the final episode, he wrapped up the challenge and recapped his journey, also discussing what he thinks a poker grinder playing at the $5 big blind stakes can make in 2019. This week, PokerNews talked with Moreno to find out more about the challenge and his experiences throughout.
Interview with Johnnie "JohnnieVibes" Moreno
What was the most difficult period of your challenge?
Johnnie Moreno: About four days in I had a disaster session where I lost $4.2K. Peeling myself away from the table so I could go home and record my thoughts, and start organizing a video was the last thing I wanted to do. Having already released video one and declaring my challenge to the internet, I knew there was no turning back. Having that level of accountability was huge for me completing the challenge. I knew a lot of people were counting on me. However, the most difficult period was without a doubt the final week.
"About four days in I had a disaster session where I lost $4.2K."
Not only was I playing poker every day, but I was also filming all the content, and attempting to produce the episode in my mind's eye. Curating 10 days worth of play down to a 25-minute episode poses quite the creative challenge. My vlog is a little bit different than most. I'm not just documenting and splicing together the clips chronologically. My goal is to create reality television. Every story has a hero, conflict, a resolution to the conflict and learning. That's what I try to accomplish in my videos.
In the last week, I was not only losing, but I was also struggling creatively. I had all but given up on being creative and just started documenting. After the challenge was over I took a few days to decompress and the creative juices started flowing again. I'm really happy with how the final episode came together.
What was the best moment/experience during your challenge?
Moreno: So many people started reaching out to me telling me that I was inspiring them. I started seeing social media posts daily about people declaring a 30-day challenge. The really cool thing was that it wasn't always poker related. People every day told me that I was inspiring them to grind harder in their respective careers. Reading these messages created so many "wow" moments for me.
What do you think are the best hours to grind these stakes?
Moreno: The "best" hours to grind mid-stakes poker are the hours that allow you to maintain healthy relationships. I believe that the quality of your relationships is directly proportional to the quality of your life. Sure there are times when you might need to grind out extra hours, but constantly neglecting your relationships is a recipe for unhappiness.
When moving into the high stakes with uncapped buy-ins, it may take some compromise with your relationships to succeed at the highest levels, but the mid-stakes games aren't going anywhere. When you come in tomorrow the player pool will be similar and the amount of money on the table will be roughly the same.
Are you satisfied with the results of your challenge?
Moreno: I'm most satisfied with the content I was able to produce. Playing poker in the mid-stakes is something that I've done for a long time. It's not particularly a tough grind for me. If I made $0, I wouldn't have been upset as long as I produced compelling content that showed the journey to that $0. If I would have run super hot and ran up a bunch of money I don't think I would have had the opportunity to show the inevitable downs associated with the grind. So, yes, I'm happy that the results yielded an hourly that I would consider sustainable, and allowed me to tell a great story. The variance of poker doesn't always cooperate as all grinders know.
Do you have any tips for low-mid stakes grinders?
Moreno: I talk about this all the time in my videos, but my biggest piece of advice is to "let the game come to you." The blinds aren't going up. There's no reason to five-bet with ace-six button vs blind because you have a blocker. People that watch my vlog will know the hand I'm talking about (he laughs).
Do you have any advice for players that are looking to do a similar challenge after being inspired by yours?
Moreno: My number one piece of advice is to declare it out loud. Not just to yourself, but at least 3-5 of your closest relationships. People that will follow up with you and ask how your challenge is progressing. It's sad but undoubtedly true that people are so much more willing to let themselves down, before letting their friends or family down. When others are counting on you, it a fosters a heightened level of grit.
"My number one piece of advice is to declare it out loud."
Do you have any plans for another challenge like this in the near future?
Moreno: I'm always looking for a new challenge. Whenever I get outside my comfort zone, there's always profound learning for me. I feel so energized when I'm learning and growing. I'm pretty sure I've come up with my next challenge (storyline for the vlog) and I'll be declaring it shortly over on my YouTube channel.
Follow "JohnnieVibes"
If you're interested in his next challenge, we recommend you to follow him on his several social media accounts which you can find below:
Lead image courtesy of Johnnie Moreno via Instagram.