Top 10 Stories of 2018, #5: Jake Cody Puts it All on Black, Goes Viral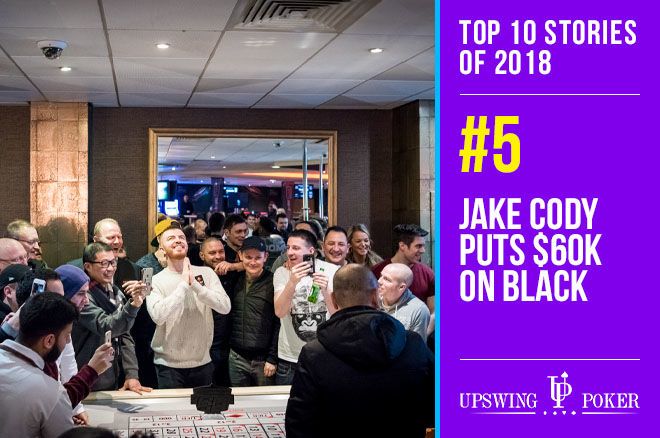 This year's Top Stories are brought to you by Upswing Poker. If you want to improve your skills and confidence at the table, look no further than the free resources and premium training courses on upswingpoker.com.
---
Chris Brice may have won the UK Poker Championships Main Event in February, taking home £187,500 ($262,881). But it was the ebullient Jake Cody who once again proved that his poker career is really just a feelgood movie we all happening to be playing bit parts in.
One of our most popular stories this year wasn't so much about a poker victory as a single spin of a silver ball on the roulette table. When the person for whom the money was on the line is PokerStars Team Pro Jake Cody, however, there's always more to the story.
After taking down the UK Poker Championships £2,200 High Roller event back in February, Cody decided that his £42,000 winnings (a few cents short of $60k) weren't going directly into his bankroll. Instead, he fancied risking the entire winner's payout - and the trophy itself - in an all-or-nothing bet with Dusk Till Dawn owner Rob Yong.
"It was kind of a one-off," he told PokerNews shortly after the event. "People that know me, know I play a bit of table games – blackjack, a bit of craps – but I'm not some wild gambler. In general, I want to gamble with an edge. I want to play poker, have some sportsbetting friends I'll follow if I think there's a good bet with an edge."
There was no edge this time. Having won the largest slice of a £200,000 guarantee, all of Cody's winning were at risk as he allowed club owner Yong to spin the ball and set his fate. With cameraphone's whirring, Cody's 'roulette rail' stood with their man, cheering him on.
There were several people filming the action on their phone. Antonius Samuel uploaded the following video to Facebook:
"It was insane," Cody said. "It just landed on black perfectly, too. It just stopped dead, it looked a little bit rigged actually."
Black 22. Cue pandemonium and a viral video that went around the world and was viewed almost a million times.
"It was completely absurd," he said. "I couldn't believe how big it got, it was crazy."
Rob Yong was a graceful 'loser' on the night, if there was a loser. Cody thought it all worked out well for both the venue and his own popularity.
"The fact I won and it gained so much social media attention too, it honestly couldn't have worked out too much better," he said.
In a year where Jake Cody cashed just three times, his epic attempt to adapt PokerStars' 'spin-and-go' idea to live tournament celebrations was admirable, if a little crazy. It represented the moment of the year for fans of the popular poker player from Rochdale.
---
Upswing Poker gives you access to the tactics and strategies that world-class pros wish they could teach their younger selves. Check out the free resources and articles on upswingpoker.com to level-up your skills without spending a dime.
---