Three Great Live Reported Hands: Mucking When All In, Blind Prize, and a Crucial Double Up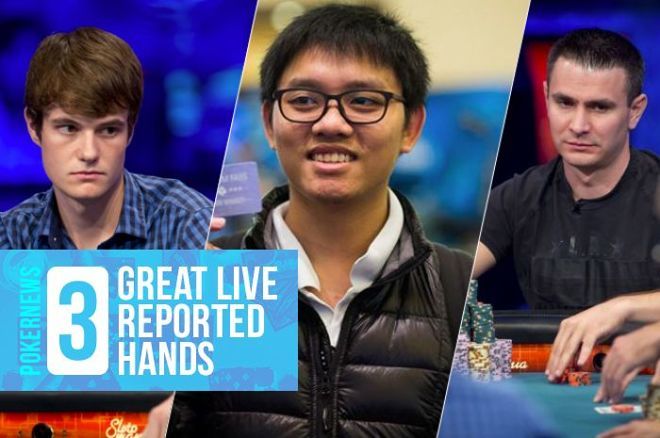 This is Volume 5 of an ongoing series in which PokerNews looks back on some of the most memorable hands recorded in the long history of live reporting on this site. To read more about the concept and which hands make the cut, check out Volume 1.
---
All In But Card-Less
| | |
| --- | --- |
| Original title: | Koroknai Moves All In, Then Mucks |
| Date: | 07-15-2012 |
| Reporter: | Rich Ryan |
| Tournament | WSOP 2012 $10,000 Main Event |
| Players involved: | Andras Koroknai, Gaelle Baumann, Gavin Smith |
Everyone who has ever played more than a few hours of live poker has had "a moment." A moment where he or she loses track of something at the table, be it the action, their own cards, or something else. What results is usually out of turn action or a fundamental playing error, and these can be quite costly.
Having such a moment occur in the World Series of Poker Main Event is the nightmare scenario, and that's exactly what happened to Andras Koroknai deep in the 2012 Main.
With fewer than 100 players left out of 6,598, Andras Koroknai moved all in from the small blind for 2 million at 15,000/30,000/4,000. Big blind Gavin Smith mucked his holding and Koroknai flung his cards to the dealer and prepared to rake in the pot.
Only one problem: unbeknown to Koroknai, Gaelle Baumann had actually opened the pot under the gun for 60,000. Koroknai attempted to retrieve his cards, but only one could be fished out for certain. Smith chuckled at the absurd scenario after the tournament director arrived, but things were deadly serious for Koroknai as he had committed his whole stack but mucked his hand.
Fortunately for Koroknai, the TD determined he'd only have to forfeit 60,000. Baumann asked for a clarification and a phone call to Jack Effel affirmed the ruling, as the "integrity of the tournament" took precedence over Koroknai's mistake.
Koroknai got lucky in more ways than one. Not only did he dodge what could have been an epic disaster, but he also avoided playing a pot against Baumann, who Smith said showed pocket kings.
While Gaelle Baumann would eventually bubble the final table that year ($590,442), Andras Koroknai went on to finish sixth for $1,640,902. Canada's Gavin Smith finished 96th for $62,021.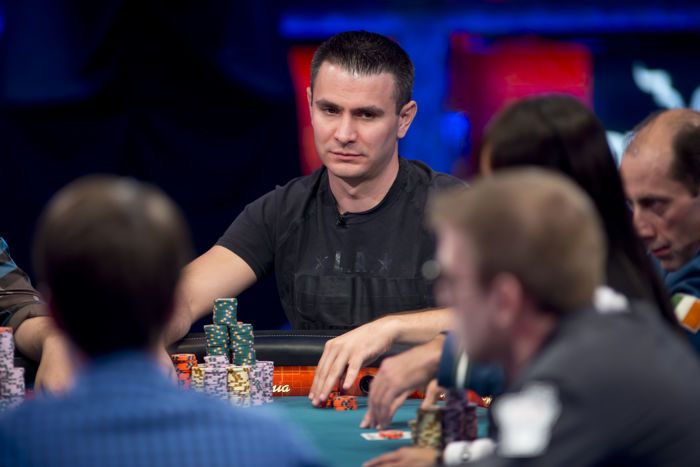 ---
Eight-Deuce Offsuit Binks for $30K
| | |
| --- | --- |
| Original title: | $30,000 Platinum Pass Awarded to Thai Ha in Blind Hand |
| Date: | 01-10-2018 |
| Reporter: | Chad Holloway |
| Tournament | 2018 PokerStars Caribbean Adventure $10,300 Main Event |
| Players involved: | Thai Ha, Jahangir Nazemian, Mike Leah, Jonathan West, Mei Siu, Pavel Ignatov, Joseph Drory |
The oldest trick in the poker player's book for passing the time, mindlessly gambling or paying out those odd dollars in home games, is running out hands and seeing who wins. PokerStars decided to take that to the next level in one of their first $30,000 Platinum Pass giveaways. They selected a random table on Day 2 of the 2018 PokerStars Caribbean Adventure in which the players would participate in a blind hand, with the winner claiming a Pass.
Table 34 was drawn and the staff honed in on the lucky locale. Six of the seven players were present, with only Thai Ha still missing. Nonetheless, he was dealt a hand along with his neighbors and everyone flipped over a card after the



flop was spread:
| | | | |
| --- | --- | --- | --- |
| Seat 1 | Jahangir Nazemian | United States | |
| Seat 2 | Mike Leah | Canada | |
| Seat 3 | Jonathan West | United States | |
| Seat 4 | Thai Ha | United States | |
| Seat 5 | Mei Siu | United States | |
| Seat 6 | Pavel Ignatov | Russia | |
| Seat 7 | Joseph Drory | United States | |
Top pair for Mike Leah, middle pair for Joseph Drory and a combo draw for Pavel Ignatov.
The

turn didn't change much of anything but the

river made things interesting as it paired the board.
Jahangir Nazemian revealed he missed as he had a worthless


. Likewise Jonathan West with


, Mei Siu with


, Ignatov with


, and Joseph Drory with


. Leah didn't improve but still held the winner with


. However, Ha's card was revealed to be the

, good for trips and the Platinum Pass.
A disbelieving Ha showed up and probably needed to pinch himself. Walking into a poker room and being told you've won a Platinum Pass is the epitome of running good, and Ha has locked up positive equity for the rest of his life in flipouts. Ha will be able to redeem the pass for an entry ticket into the upcoming PokerStars Players No-Limit Hold'em Championship in January of 2019.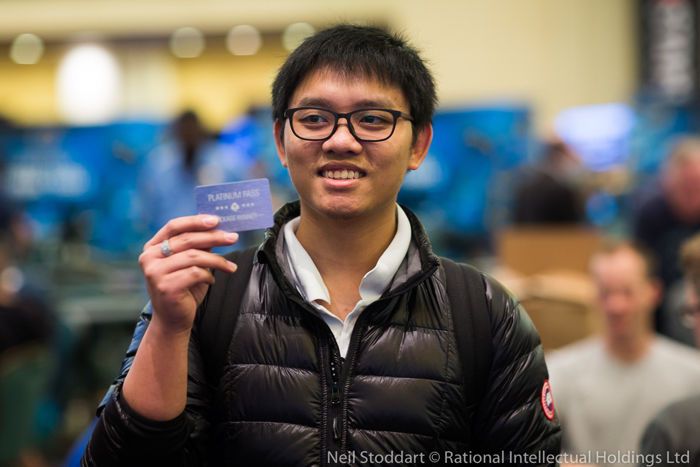 ---
Balsiger Keeps the Marathon Going
| | |
| --- | --- |
| Original title: | Balsiger Doubles Again |
| Date: | 10-31-2012 |
| Reporter: | Rich Ryan |
| Tournament | 2012 WSOP $10,000 Main Event |
| Players involved: | Jake Balsiger, Jesse Sylvia |
The 2012 WSOP Main Event infamously lasted longer than nearly any other WSOP Main Event final table up to that point. It set a record for the longest stretch of play without an elimination, when three-handed play between Jesse Sylvia, Greg Merson, and Jake Balsiger went on for about 11 hours across 247 hands.
The journey there was a long one, requiring numerous doubles as Sylvia and Balsiger mostly chased Merson, who came in with the chip lead. However, it could have been done much sooner than it was if not for a stroke of luck saving Balsiger on the 289th hand of the final table.
At 600,000/1,200,000/200,000, Sylvia raised to 2.4 million on the button. Balsiger, on a stack of just 17 million, shoved from the small blind. Merson mucked but Sylvia called after some thought.
Sylvia:



Balsiger:


Balsiger needed help or the Main Event was about to be heads up. No waiting as the



brought him a big lead on the flop and the

sealed it on the turn.
Had Sylvia won the hand, he would have gone into heads-up play with Merson on very deep stacks and not far behind in chips with about 92 million against 106 million. Instead, the three-handed war lasted about four more hours, with Balsiger even moving into the chip lead at one point. However, he'd eventually bust in third (worth $3,799,073) nonetheless, leaving Merson up 117 million to 80 million at 1,000,000/2,000,000/300,000.
Would a different result here have changed the course of poker history and ended with Sylvia being crowned Main Event champion? Nobody will ever know, but everyone — players and staff — certainly had to buckle down and settle in for five more hours of grinding in what turned out to be a marathon of a final day.
---