The 2018 PokerNews Holiday Gift Guide: Best Gifts for Poker Players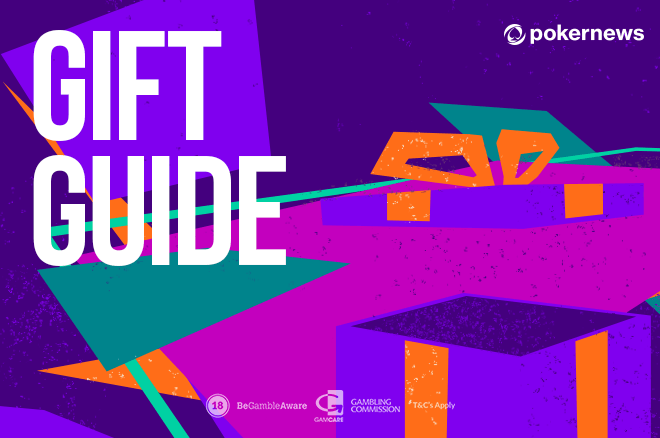 Holiday season is officially underway! Do you have a loved one that is into poker? Can't come up with anything to buy him or her? You've come to the right place because we got you covered!
PokerNews' 2018 Holiday Gift Guide is coming to the rescue as we bring you everything a poker player or poker fan might like. Whatever holiday you celebrate, you can't go wrong with these gifts.
Here's our Top 10 Holiday Gifts that will have poker players and aficionados thanking you for the next year.
---
Over the past few years, D&B Poker has firmly established itself as the leading poker book, ebook, and audiobook publisher in the world. With over 40 poker books in print, many others in production, and ten audiobooks, D&B is where poker players go when they want the highest quality content, written by the most respected authors in the poker world.
Want to be able to exploit typical mistakes made by your opponents in live play? Exploitative Play in Live Poker by Alex Fitzgerald explains what live players do wrong and how to react.
Want to know what drives the most successful poker players to reach the top? Fifty of them share their secrets in The Pursuit of Poker Success by Lance Bradley.
Want the warts-and-all autobiography of the greatest player of all-time? Poker Brat by Phil Hellmuth the "Brat" charts the ups and downs of his extraordinary career.
Want the autobiography by one of the most respected and admired people in poker? Life's a Gamble by Mike Sexton recounts the life story of someone who knows all the poker superstars.
Want to know how the most successful online player of all-time thinks at the table? Moorman by Chris Moorman is the book for you.
Want to know how Qui Nguyen crushed numerous pros at the 2016 Main Event final table? From Vietnam to Vegas by Qui Nguyen and Steve Blay will show you how it happened.
Want to know the most effective way to counter recreational players at the low stakes tables? Mastering Small Stakes No Limit Hold 'Em by Jonathan Little will have you crushing the games in no time.
---
Let's face it… Custom poker chips are perfect for everyone. Whether it's for that "Professional" tournament in your living room, a special event, the company you work for or your favorite poker player – personalized poker chips are a fun way to show you care!
ThePokerDepot.com allows you to browse hundreds of pre-designed poker chips, design your own from scratch, or request a professional design – and their free online customization allows you to personalize poker chip templates in under 60 seconds with your own images and custom text.
When you order Custom Clay Poker Chips on ThePokerDepot.com, or Custom Playing Cards you will save 25% when you checkout with Promo Code: POKERNEWS2018
For more information or to redeem this offer, go to ThePokerDepot.com.
* Must meet minimum order size requirements for promotion. Cannot be combined with any other offer. While supplies last.
---
Gripsed Poker Training has helped make some of the best players in the world. Charlie Carrel, who now has over 6 million in tournament earnings, started off by learning with Gripsed.
www.Gripsed.com is not like other poker training sites. They understand that being a champion player is about so much more than just knowing the cards. They take a holistic approach that helps improve all areas of a player's game.
Gripsed's popular MTT Video Guide, a 10-part series that takes players through every step of mastering tournament play, makes a fantastic gift.
Gripsed offers content from renowned poker coaches like Evan Jarvis, Ali Imsirovic, Charlie Carrel, & Alex Fitzgerald. New training products are released every month and may be found in the Gripsed store.
---
What's the fastest way to become a winning PLO player? That's easy… Start with the numbers! If you know someone who's in love with the game of PLO, this is the gift you want to give.
PLO QuickStats includes 91 pages of equity simulations chosen for the purpose of making it as easy as possible to learn the PLO math fundamentals that make you money – so you can build a solid foundation to build on throughout your PLO career.
PLO QuickStats is perfect for players who don't want to spend WEEKS learning how to use advanced poker software to run equity simulations. All you have to do is flip through the pages and read about the important takeaways gleaned from more than 10 years of grinding and the trials and tribulations of the company's students.
There's no chance you won't be able to find something in these 91 pages that won't pay for itself instantly in your next session. Click here to claim your FREE copy now.
---
PokerGO offers poker players and fans the highest quality and most exciting poker viewing available. With exclusive streamed action from the biggest tournaments including the World Series of Poker, the Super High Roller Bowl, the US Poker Open, and the Poker Masters, as well as original shows like Poker After Dark, Real Talk, and Beyond the Rail, PokerGO should easily satisfy your poker appetite.
You can hook up your poker-playing friends with a PokerGO subscription for just $10 per month or $99 for a whole year's worth of live and on demand poker content.
With a PokerGO subscription to use with their favorite device or media player, your friends will never be too far from the poker action.
---
Gorilla Gaming's 45"x85" Home Game Table is the perfect size for self-dealt games and comfortably seats eight to 10 players. Made in the USA with the highest quality materials, this table is built for strength and portability. The $699 base price includes shipping, and the table can be customized with cup holders, heavy duty Gorilla legs, your choice of felt and vinyl colors, and your own artwork. To see all of Gorilla Gaming's great tables, check them out here.
---
There's no bigger brand in poker than the World Series of Poker. The WSOP in Las Vegas is the biggest poker tournament in the world, and the WSOP Europe is growing every year.
If you know someone enthusiast about poker, he or she will definitely appreciate some WSOP branded apparel. Let your loved one look the part with a WSOP cap, t-shirt, or hoodie! At the WSOP Shop, they have more than you can think of, all WSOP branded for the true poker fan.
Give the gift of swag this holiday season by arming your favorite poker players with gear from the most prestigious series out there, the World Series of Poker.
---
If a player you know is a fan of five-star experiences, give them the ability to plan a perfect stay in Las Vegas. Wynn Gift Cards offer a world of possibilities: blissful massages, cocktails overlooking the Lake of Dreams, dinner for two at Sinatra, or prime seats at the Encore Theater. Wynn Gift Cards are available in any denomination and can be used throughout their resorts for Wynn-owned dining, shopping, entertainment, spa and salon services, and much more. A Wynn Gift Card is more than a present; it's the entrée to amazing memories.
---
MasterClass offers online classes taught by the best in the world and now includes one from six-time World Series of Poker champ Daniel Negreanu. In over seven hours of high-quality video lessons, Negreanu teaches tournament and cash game strategy, advanced betting tactics and theory. He gives exclusive insights into the mental side of the game, including how to read players, identifying tells, and hiding tells. And he covers bankroll management, off-felt training, life as a poker player, and much more. Daniel Negreanu Teaches Poker is available as a single class for $90 or an all-access gift pass is available for just $180 per year.
---
GTRacing's Pro Gaming Series has a racing car seat appearance with smooth contours and an adjustable backrest for all-day comfort. The ergonomic design, removable headrest pillow and lumbar cushion make it an ideal seat of choice for gaming. The chairs feature armrest and seat-height adjustment plus a 360-degree swivel. Made with easy-to-clean artificial leather, these chairs have a metal frame and five-point base built with heavy duty and smooth-rolling casters. All GTRacing chairs are easy to assemble and come with a one-year limited warranty. Prices start at $149.99.
---