Disguises and Costumes: Bringing the Halloween Spirit to Poker

Mo Nuwwarah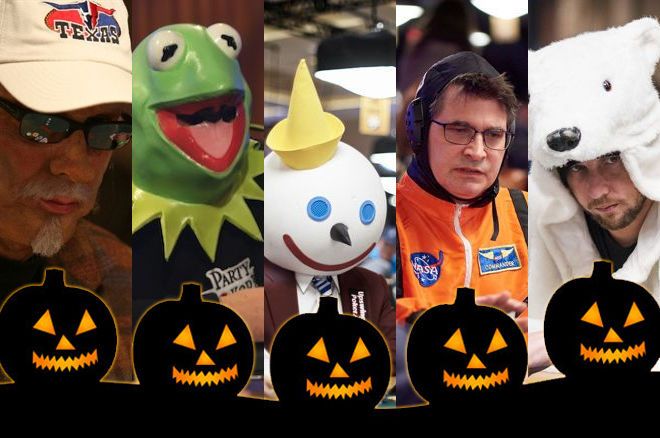 In his ground-breaking work "The Theory of Poker," David Sklansky famously laid out what he called the fundamental theorem of poker:
"Every time you play a hand differently from the way you would have played it if you could see all your opponents' cards, they gain; and every time you play your hand the same way you would have played it if you could see all their cards, they lose. Conversely, every time opponents play their hands differently from the way they would have if they could see all your cards, you gain; and every time they play their hands the same way they would have played if they could see all your cards, you lose."
Seems obvious enough and self-explanatory, and thinking about its application leads to a basic tenet behind the game of poker, no matter the variant: deception plays a critical role in the game. Poker is essentially the art of deception, playing in such a way as to induce mistakes from opponents, mistakes that increase the expected value of the hero.
Deception is also front and center in an upcoming American holiday. Halloween, of course, is here, and with it will be millions of people across the country doing their best to deceive — or just impress at the local bars — by dressing up in costumes to celebrate.
Here at PokerNews, we're celebrating Halloween by looking at some of the disguises worn in poker and some of the ways poker and Halloween have overlapped over the years.
Taking Deception to the Max
Deception's role in poker is the most obvious and most applicable when it comes to the cards. As Sklansky laid out, disguising your holding from opponents is the key to eventually making them pay off your value bets and folds to your bluffs. After all, if a player knows you're strong, they won't call with a weaker holding, and if they know you're weak, they won't fold a holding with good equity.
However, some players have taken the art of deception and disguise at the table to the extreme, by disguising themselves.
Perhaps the most famous example is Phil Laak.
At the 2008 World Series of Poker Main Event, Laak famously donned an extremely intricate disguise, masking himself as an old, mustachioed man:
"If they see something's funny they don't know it's me, so it's huge," Laak told a reporter from the Seattle Post-Intelligencer. "I got a lot more tools."
The get-up didn't wind up doing him any good, as Laak failed to cash the event.
Nonetheless, the WSOP brass took notice of the ruse and didn't take kindly to the idea of players participating in events undercover. The very next year, they amended to official rules to specifically forbid the practice. They added rule No. 55:
WSOP Rule Book (PDF): "Participants may not cover or conceal their facial identity. Tournament officials must be able to distinguish the identity of each Participant at all times and may instruct Participants to remove any material that inhibits their identification or is a distraction to other Participants or Tournament officials. Participants may wear sunglasses and sweat shirts with hoods, but may be asked to remove them if Tournament officials cannot identify them."
the WSOP is "pro-fun" but has to above all else ensure the honesty and integrity of the game.

Seth Palansky, vice president of corporate communications for the WSOP, said the WSOP is "pro-fun" but has to above all else ensure the honesty and integrity of the game.
"People do dress up for the Main Event, maybe not as much as in previous years," he said. "I recall a Jack in the Box head and some Batman/Robin costumes with masks, etc.
"We judge each situation differently. We verify who the player is. We required the guy in the Jack in the Box to take it off after a few minutes."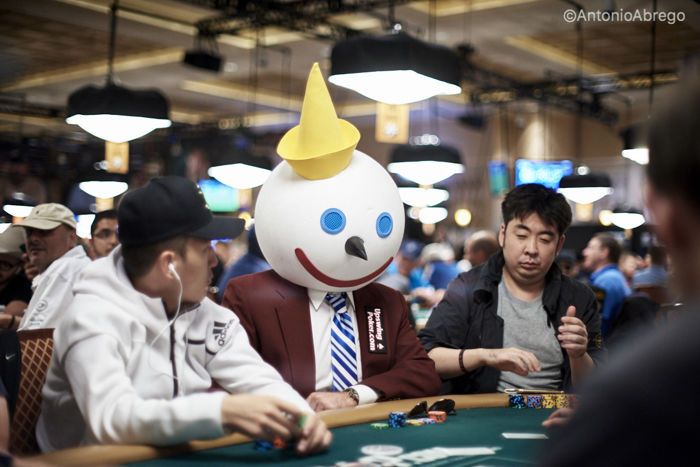 Palansky added that since the rules were changed, he's had no issues.
Matt Savage, executive tour director of the World Poker Tour, largely echoed the sentiments of Palansky:
"I am totally fine with costumes or masks to be worn one day a year, on Halloween," he said. "I do not allow people's faces to be covered as it is usually casino policy not to allow it."
Matt Savage: "I do not allow people's faces to be covered as it is usually casino policy not to allow it."
Nonetheless, some players have refused to heed this policy. One in particular has garnered some headlines in recent months, going by the moniker "Black Widow" and the pen name "Sia Layta."
After years of playing normally, Layta made it her mission to experience poker life as a man. She designed her own disguise and did just that, writing a book about the experience. While her true identity remains unknown, she did discuss the experience in a feature here on PokerNews.
"There is gender bias at the tables, and every woman I've ever spoken to for the book has agreed," she said. "There is bullying, and there is enormous male ego at play. I hope the book brings some of these issues into the light. When a woman has to dress up as a man with a full beard in order to get a fair shake at the poker table, that's just unacceptable."
Just for Fun
While Laak and Layta may have gone to the extreme — and outside the spirit of the game — in fully immersing themselves in disguise, other players have been more light-hearted in their costumes. Much in the same way Kyle Miholich donned the aforementioned Jack in the Box outfit, some have drawn stares and laughs at the WSOP and other tournaments with goofy get-ups.
Remember that time back in 2010 Kermit the Frog and Darthvader showed up at a partypoker Premier League event?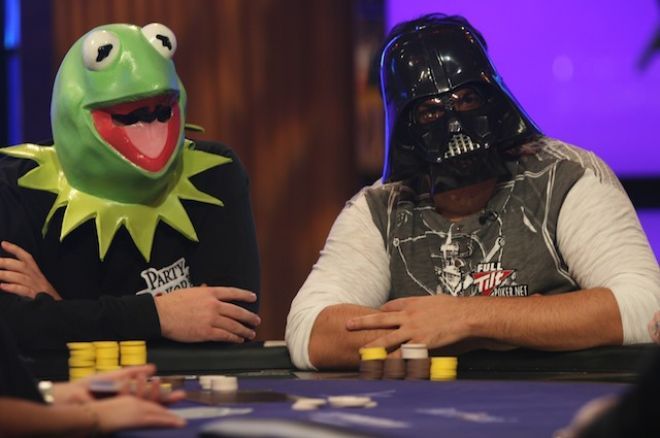 Or take Brandon Shack-Harris. Winner of two WSOP bracelets and millions in live tournaments alone, as well as a regular in some high-stakes live mixed games, Shack-Harris knows how to take things seriously at the table. However, like clockwork, he always shows up at least once a year at the WSOP in a polar bear costume.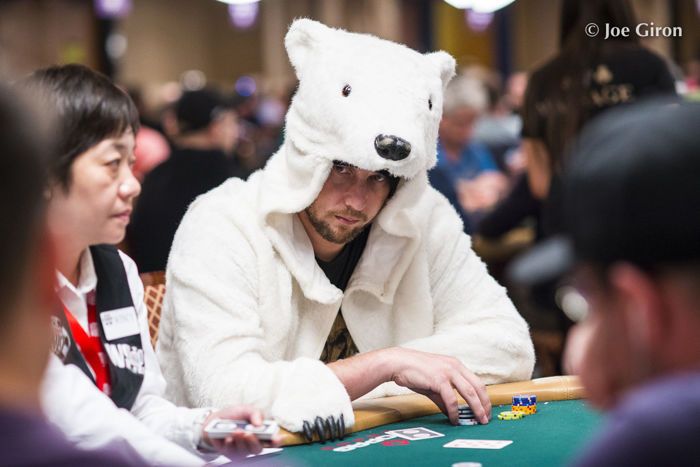 This past summer, Shack-Harris and his buddies coordinated a group costume party wherein all dressed up as astronauts in the $1,500 Omaha Hi-Low.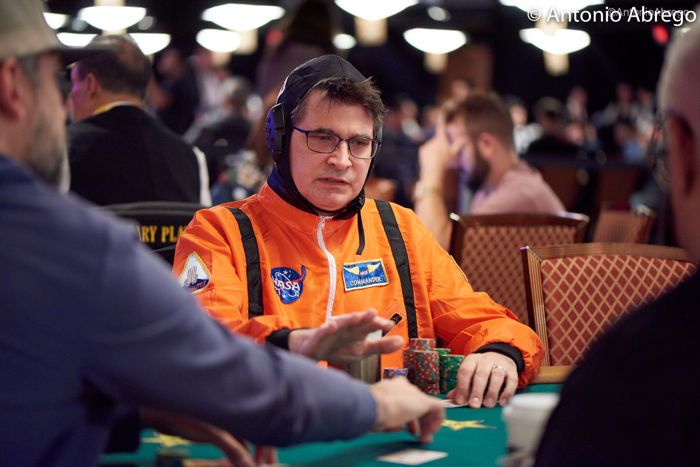 This year, even Europe is getting into the Halloween spirit. PokerNews' own Sarah Herring documented the Halloween-themed gala at WSOP Europe at King's Casino in Rozvadov:
It wasn't her first time partying it up for Halloween at a poker event, either: