Emanuele Onnis Wins the Malta Poker Festival Grand Event for €150,000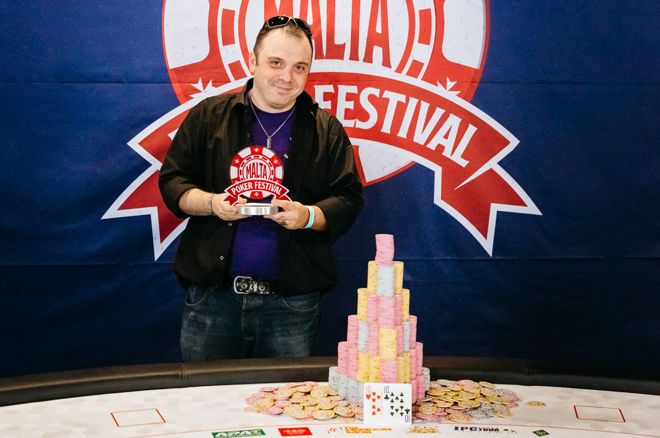 The €550 Grand Event of the Malta Poker Festival has come to an end after less than six hours on the final day and Italy's Emanuele Onnis was crowned the winner. Onnis walked away with the first-place prize of €150,000, the inaugural title, and the pretty MPF Grand Event trophy after defeating Fabian Gumz heads up.
The Grand Event attracted 1,366 entries in total which crushed the €500,000 guaranteed prize pool, creating a total prize pool of €662,510. The biggest chunk of that went to Onnis for what is his biggest live cash ever, his previous highest live tournament cash being €5,800. Onnis was overjoyed with the win as he was interviewed in Italian but the emotion could clearly be read from his face.
The final table also included Nicolaj D'Antoni, Henning Andre, Giovanni Salvatore, Espen Uhlen Jorstad, Borge Dypvik, and Steven Iglesias, all pictured below.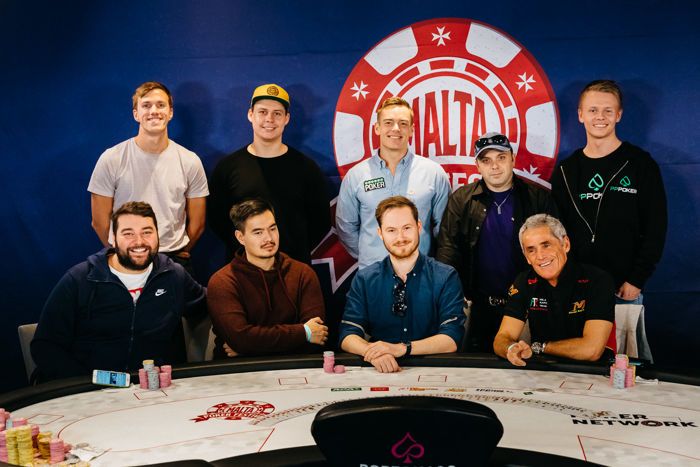 2018 Malta Poker Festival Grand Event Final Table Results
| Place | Player | Country | Prize in EUR | Prize in USD |
| --- | --- | --- | --- | --- |
| 1 | Emanuele Onnis | Italy | 150,000 | 170,798 |
| 2 | Fabian Gumz | Germany | 85,000 | 96,785 |
| 3 | Nicolaj D'Antoni | Italy | 50,000 | 56,933 |
| 4 | Henning Andre | Sweden | 40,000 | 45,546 |
| 5 | Giovanni Salvatore | Italy | 34,000 | 38,714 |
| 6 | Espen Uhlen Jorstad | Norway | 28,000 | 31,882 |
| 7 | Borge Dypvik | Norway | 20,600 | 23,456 |
| 8 | Steven Iglesias | Norway | 14,710 | 16,750 |
Malta Poker Festival Grand Event Final Table Action
At around 2:15 PM local time, the final table kicked off with the live stream on a 30-minute delay as the hole cards would be shown. After a mere fifteen minutes, the short stack Iglesias, playing with the sighted guide assistance of Daniel Grytten, was eliminated by D'Antoni when D'Antoni put Iglesias all-in from the small blind and Iglesias called in the big blind with nine-eight. D'Antoni's ace-ten of diamonds found a flush on the flop immediately to leave Iglesias drawing dead.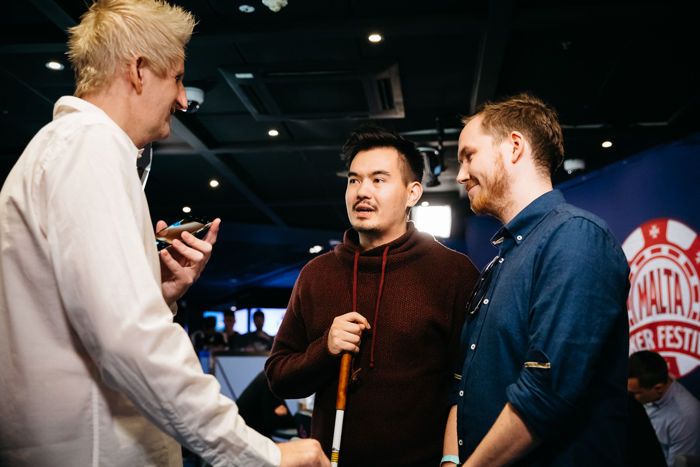 Almost 30 minutes later, the Day 2 chip leader, Dypvik, fell victim to Gumz when he ran his pocket sixes into the jacks of Gumz and got no help of the board at all. The hand after, Jorstad crashed with pocket nines against the pocket aces of D'Antoni for €28,000. Salvatore shoved from under the gun with ace-queen and got called by Onnis who held ace-king. The board ran out low for Onnis' kicker to come into play to eliminate Salvatore in fifth place.
The remaining players then went for a break with 47 minutes left in the level and Gumz with more than half of all the chips in play. Shortly after the players restarted, Andre who came into the final table as the second lowest stack managed to pick up a few pay jumps but had to leave the stage in fourth place for €40,000. Andre shoved his last ten big blinds with ace-seven into the ace-eight of Gumz. Twenty minutes later, the player with the biggest rail, D'Antoni failed to win his all-in with ace-king against the ace-queen of Gumz who flopped the queen to eliminate D'Antoni to go heads-up against Onnis.
But before they continued to play, Gumz and Onnis went for an unscheduled break with Gumz holding a 3 to 1 chip lead. After about half an hour, they resumed the heads-up battle. Onnis shoved with jack-eight on the king-ten-nine flop as he had a straight and was called by Gumz who had top pair with kind-queen. Gumz turned two pair but couldn't find another king or queen to put an end to the tournament.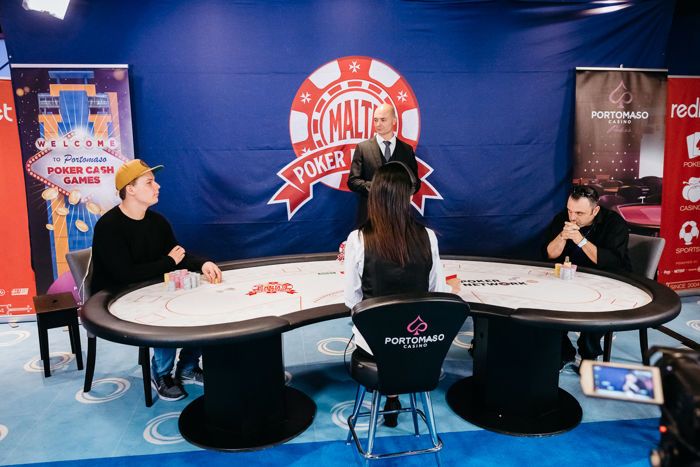 Gumz then doubled up with queens against the king-nine of Onnis. It all went in on the six-jack-nine-four board and Gumz held on. Onnis managed to double up after that to take the chip lead back again with king-jack while Gumz had ace-queen. Gumz hit top pair on the ten-ace-seven flop but Onnis hit runner-runner jacks on the turn and river to score.
Shortly after, Onnis dealt Gumz the final blow when Onnis put Gumz at risk with pocket tens and Gumz called with ace-jack. The flop came ten-jack-ace which meant Gumz hit two pair but Onnis had a set. The ace or jack Gumz was looking for didn't come on the turn or river as he was eliminated in second place.
The rail erupted as they all shouted "ITALY! ITALY! ITALY!" and the applause could be heard all over the casino to show the respect they had for Onnis for coming back from such a huge chip deficit.
This concludes the PokerNews coverage of the first-ever Grand Event of the Malta Poker Festival here at the Portomaso Casino. Thank you for following the updates and see you at the next one!