Platinum Pass Update: Recent Winners, Moneymaker Tour & More Chances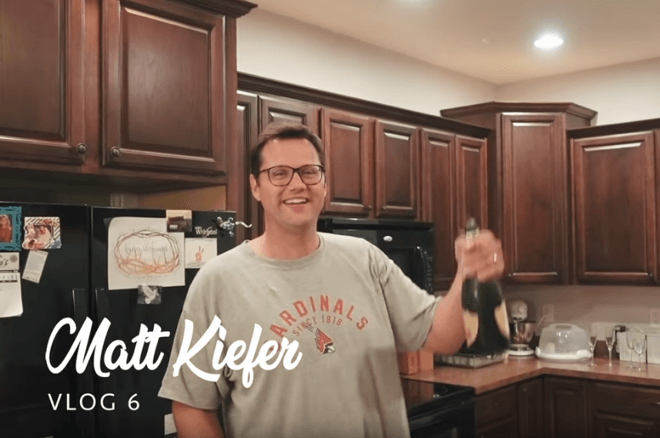 Thus far, around two-thirds of the $30,000 Platinum Passes that PokerStars has pledged to give out have been shipped, while another 100+ are to be determined. While we have covered many of the winners to date here at PokerNews, here's the latest on the promotion, including some recent winners, some new opportunities to win a pass, and a Moneymaker Tour update that includes two new stops.
Platinum Pass Stats to Date
As can be seen in the infographic released earlier this week, there is still more than $3 million in value up for grabs in the form of $30,000 Platinum Passes, with around a third of the passes still available.
The passes are ensuring a diverse field for the PSPC as six Irish players have banked passes, 15 Brazilians have won one, 16 have gone to the French, and Russia leads the pack with 23 players heading to the PSPC with a Platinum Pass.
The age range of winners is also wide, from 20 on up to 76 years old. In addition, seven women have collected a pass, including Maria Konnikova and Maria Lampropulos.
Lex Veldhuis Awards a Pass
One of Twitch Poker's top streamers of the day, Lex Veldhuis, has finalized his Platinum Pass giveaway which was centered on charity. Entitled #PSPCitFWD, Veldhuis tasked his fans with a challenge of coming up with a way to do some good, and put in 20 hours of work for the cause. Recently graduated General Practitioner Benjamin Alvarado from Ecuador used his gifts - and his hair - to help two foundations that benefit children with cancer and to visit oncology patients.
Alvarado donated his long locks to Fundacion Dibuja una Sonrisa, an organization that makes real-hair wigs for cancer patients, and participated in a ceremony where wigs were distributed. He also donated his clothes to Young People Against Cancer Foundation and spent time visiting patients at the hospital where he previously worked.
Not only is Alvarado now going to the Bahamas in January armed with a $25,000 poker freeroll, he has pledged to continue to forward the good by donating 50% of any PSPC winnings to the foundations he has helped.
You can watch Alvarado's submission below, and watch Veldhuis' Platinum Pass winner announcement here on YouTube.
Vlogger Challenge Complete
Jeff Gross and Andrew Neeme announced their Platinum Pass winners on Wednesday. Their challenge was called #VloggerInParadise, and 81 people stepped up to the plate to give it a go. Ultimately, the three judges — Gross, Neeme and Bill Perkins — couldn't pick just one, and Stars agreed to throw in another pass so they could choose two.
About vlogger challenge winner Matt Kiefer, Gross had this to say: "He had the dry humor, cinematography, creativity, love for family, friends, fun poker. Just kind of from the beginning I just really thought stuff was super special, and that was my choice."
You can check out Kiefer's channel here and watch his first vlog submission below.
It was so hard for them to choose among the top five, that Neeme announced a second winner via Twitter, and it was Oliver Biles.
"Your creativity was absolutely through the roof throughout this challenge," Neeme told Biles in his announcement. "All five videos were fantastic, and we're looking forward to seeing you put that creativity to work down in the Bahamas."
You can see the first Vlogger in Paradise vlog from Biles below, and follow his channel here.
Human Lie Detector
There are still plenty more chances at a Platinum Pass before the January PokerStars Players No-Limit Hold'em Championship gets underway in the Bahamas, including the upcoming PokerStars Human Lie Detector that will be followed by a freeroll Nov. 11 for those who can detect which of three statements from a team pro is a bluff.
Watch Daniel Negreanu ask three questions, correctly spot the bluff, and tweet your answer to PokerStars using the hashtag #HumanLieDetector, along with your Stars ID. If you get it right, you will gain entry into a freeroll that will award a $30,000 Platinum Pass as well as $3,000 in additional prizes. Here's a look at the first lie detector test and reveal, with PokerStars Team Pro Andre Akkari. The next lie detector challenge will be posted on PokerStars' Twitter on Tuesday.
Three questions, one bluff. Did @RealKidPoker live up to his #HumanLieDetector billing and see through @aakkari's s… https://t.co/doLkQnJXdG

— PokerStars (@PokerStars)
Watch 2018 PCA, Find Clues, Win Pass
The latest path to a Platinum Pass announced by PokerStars is a challenge that begins with watching some 2018 PCA coverage. From Oct. 18 to Nov. 8, you can watch six episodes of PCA action, including three Super High Roller episodes and the first three episodes of the Main Event. Each week, some hints will be provided in the form of part of the password, a date, or a time, and savvy players can use the clues to lead them to an exclusive Platinum Pass freeroll on PokerStars.
The episodes can be found on PokerStars' YouTube channel, or on PokerStars.tv. Once you get the clues you need, you will just have to find a little luck to get through the freeroll field and lock up a seat in the Bahamas.
Moneymaker Tour Update
The Moneymaker PSPC Tour has awarded six $30,000 Platinum Passes to date, the most recent being Arthur White who took down the $86 buy-in event held at Mohegan Sun in Uncasville, Connecticut. You can read up on White's win on the PokerStars blog.
The tour is currently at Maryland Live! in Hanover, and then heads to Run it Up Reno before flying south to Talking Stick in Scottsdale, Arizona. Right after that, and this was just announced today, the tour will be stopping at the WinStar World Casino and Resort in Thackerville, Oklahoma near the Texas border, from Nov. 2-4 with two Day 1's. Read on to hear about the final stop, also recently added.
Add Florida to the Schedule
The Moneymaker PSPC Tour has also added a grand finale at Seminole Hard Rock in Hollywood, teaming up with the Florida venue where not one, but three Platinum Passes will be handed out in November.
The first pass will go to the winner of the $86 buy-in Moneymaker PSPC tournament that will run from Nov. 9-11. Two starting flights on Nov. 9 and 10 will begin at 10 a.m., with the final day kicking off Sunday, Nov. 11 at noon.
"Bringing the Moneymaker PSPC Tour to Hollywood was a no-brainer."
PokerStars Ambassador Chris Moneymaker is also getting involved in SHR Hollywood's second annual Feeding South Florida Charity Tournament. The event, which last year raised more than $66,000 for relief efforts following Hurricane Irma, will cost $300 to enter and will kick off at 7 p.m. on Tuesday, Nov. 13 following a player pre-party at 6 p.m. Re-entry will be open during the first two hours and the prize pool will include more than $50,000 in cash and prizes that includes a PSPC Platinum Pass.
The third and final $30K pass will go to the winner of a drawing that follows Seminole Hard Rock's Rock 'N' Roll Poker Open, which runs Nov. 14-27. Players will receive an entry into the drawing for each entry or re-entry they buy into events throughout the series. The drawing for this pass is planned for Nov. 28.
"With multiple major series throughout the year, as well as some of the best cash action in the region, Seminole Hard Rock has really made a name for itself as one of the Meccas of the poker world," said Moneymaker. "Bringing the Moneymaker PSPC Tour to Hollywood was a no-brainer and we're eager to change the life of one of the property's players by awarding him or her a $30,000 Platinum Pass for only an $86 buy-in. I will be on site and in the field for this can't-miss event."
The remaining tour schedule is as follows:
| Date | Venue | Location |
| --- | --- | --- |
| Oct. 10-14 | Maryland Live! | Baltimore, Maryland |
| Oct. 23 | Run It Up Reno - Peppermill | Reno, Nevada |
| Oct. 31 - Nov. 2 | Talking Stick | Phoenix, Arizona |
| Nov. 2-4 | WinStar | Thackerville, Oklahoma |
| Nov. 9-11 | Seminole Hard Rock | Hollywood, Florida |
For even more chances to win one of more than 100 remaining Platinum Passes, head to PokerStars to check out satellites running for as little as $1.10.
The Stars Group owns a majority shareholding in iBus Media.