Off the Felt: Drinking at Octoberfest & Enjoying Nature

Eric Mertens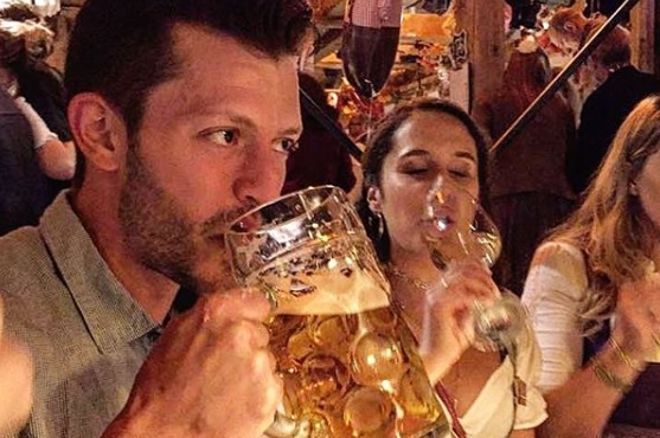 In the last edition of Off the Felt, we saw Patrik Antonius recovering from his surgery and many players who took some time off to relax.
Today's edition features Matthew Waxman and Jay Farber enjoying the great atmosphere of the Octoberfest in Munich, while other players took time to enjoy some of the most beautiful places in nature. And, of course, yet another player is getting in the best shape of their life.
Beers At The Octoberfest!
The Octoberfest is a yearly tradition in Munich, Germany, where thousands of people gather around to party in Lederhosen. Some poker players traveled there and enjoyed some beers and bratwursts. Matthew Waxman looked like he had a great time:
It wasn't all partying in Germany for Waxman, he also took some walks in Berlin where he visited the Berlin Wall:
Former WSOP Main Event runner-up Jay Farber went to Munich for some beers and food:
Enjoying The Beautiful Nature
Erik Seidel is one of the best poker players around, but the American took some time off the felt to enjoy nature. Seidel made some great pics while he visited Portland, Maine:
Not only Seidel took some time off, but Maria Ho is also currently visiting beautiful places. This time, she is in South Africa where she enjoyed an amazing sunset in the savannah. And we have to admit: it looks 'wow'.
Sam Grafton, Toby Lewis, and friends got together for a boys trip and by the looks of things, it was pretty epic. We even get to see 'SquidPoker' in a dance-off... and it was magical.
Leather Weather
The weather is great in Las Vegas, Nevada and there is no reason to skip the latest post by Samantha Abernathy who is enjoying the beautiful weather:
Transformation
These days, more and more poker players are busy with their health and fitness to get in their best shape. Ryan Feldman, owner and producer of Live at the Bike, is no different, and he posted an amazing picture to show his transformation. Great job, Ryan!