Newly Rebranded Malta Poker Festival Nov. 1-6 is All About the Players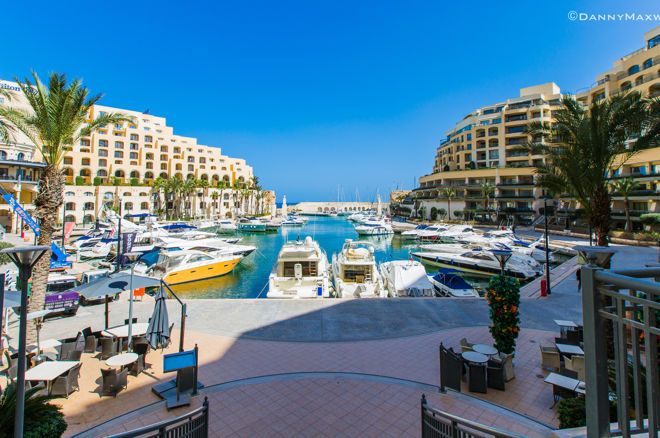 The Malta Poker Festival is just around the corner for six days of action on Nov. 1-6 at the Portomaso Casino in Malta's vibrant hotspot St. Julian's.
The Malta Poker Festival has been founded by the former organisers of the Battle of Malta, who parted ways to create something new and exciting. Last year's Battle of Malta Main Event attracted 2,074 and Event Director of the Malta Poker Festival Ivonne Montealegre believes many of the loyal players will be back for the first Malta Poker Festival.
Inaugural Malta Poker Festival Main Event
The highlight of the Malta Poker Festival, of course, is the €550 Malta Poker Festival Grand Event which will run Nov. 1-6 featuring three opening flights and a massive €500,000 guaranteed prize pool. The event will be covered from start to finish by the PokerNews Live Reporting Team.
The Malta Poker Festival Grand Event allows for just one re-entry per flight. In order to meet the guarantee, the event will need to attract 1,000 entries. Montealegre shared with PokerNews that this is already in the bag.
"I expect a thousand players easily of course," Montealegre shared in an exclusive interview with PokerNews. "We have been working very hard on satelliting a bunch of players. Keep in mind, I have been doing this for seven years in the same casino and handling the same business; I know my numbers pretty well. So by September, I already knew I was covered. Easy game."
"I expect a thousand players easily of course."
Unlike other festivals where satellites are usually held on just one site or network, Montealegre isn't tied down to one sponsor and has partnered with multiple online partners including RedBet, VideoSlots, and Intertops.
"The Hendon Mob is also a fantastic partner," Montealegre said. "We are also working with the Let's Go Poker Facebook group and in general it is very grassroots marketing. But in 2019, I expect many more online operators."
The Main Event is just one of many events on the schedule. Montealegre highlighted to PokerNews that each side event has its own significance. Some of those events include a €100 Ladies Event on Nov. 3, the €1,320 NLH Grandmaster High-Roller on Nov. 3-4, the €250 Hendon Mob Championship No-Limit Hold'em on Nov. 4-5, and the €275 Israeli Poker Championship Tour on Nov. 5.
"Every event we are making its own flavor," Montealegre said. "There are no second chance tournaments. Every event is important on its own."
Ethics First
The main reason that Montealegre parted from her previous endeavour in Malta for something new this year was to create a festival that is "independent and ethical." Montealegre also highlighted that the Malta Poker Festival is about the players and that players at any time can speak with her about anything related to the festival.
"It is a beautiful thing that we are not tied up to a sponsor and this really guarantees a good ethical system."
"I wanted to re-calibrate," she said when asked about the creation of the Malta Poker Festival. "For example, the Malta Poker Festival is absolutely independent. There isn't an affiliate owning it which was a big conflict of interest in the past. They would start charging CPAs to the operators, which is ethically compromising in many ways for the sponsoring operators.
"So for the Malta Poker Festival, I think I corrected these things and it is a pure brick and mortar operation that caters to online operators," Montealegre continued. "I want to make the Malta Poker Festival the tournament where every operator wants to be in and not one particular network like others are doing, thus catering to the network's demands. It has zero ethical compromises and is a highly ethical situation to catering to everyone in the poker world, most importantly the players. It is a beautiful thing that we are not tied up to a sponsor and this really guarantees a good ethical system."
From Psychology to Poker Events
Montealegre's path to becoming a poker event organizer is unique, and she shared some of her history with PokerNews.
"I am actually a licensed psychologist with a masters degree in psychology," explained Montealegre. "If you would have asked me in high school what I wanted to be when I grew up, this wouldn't have been my answer. I would have never imagined it, so life is full of surprises."
Although Montealegre is a great listener, the work wasn't what she wanted and she began to explore something new.
"I was a licensed psychologist and the work was too heavy, too personal, and I wanted another lifestyle," shared Montealegre. "My mom got me a job at the time at the biggest sportsbook in the world back in the early 2000's and then I started doing their events and so on."
"I think you really have to believe in your ideas and be very stubborn - which I am."
Montealegre moved onto the poker world but the timing wasn't perfect.
"I moved on to Paradise Poker and then Black Friday hit us," said Montealegre. "I just got the job of my dreams as a marketing director for them and Black Friday came along. So we had to restructure the plan."
Plans quickly changed for Montealegre and the Costa Rican moved to Stockholm for something new.
"After Black Friday, I met that a man that used to work in poker at Ongame and he always told me 'I need someone like you but I can't afford you,'" said Montealegre. "Then one year he said, now I can afford you. Then I moved to Stockholm for awhile to do that but Stockholm was very cruel on me. The weather is super hairy, it was an expensive city, and I didn't have my family."
Montealegre then moved onto warmer climates in Malta as well as the Caribbean.
"I told them Stockholm was a tough city to live in all alone, so we were able to do it in Malta," said Montealegre. "So now we are talking about 15 years of my life and I left Malta and built a huge tournament in the Caribbean in the Punta Cana Poker Classic."
After that, Montealegre was involved in projects across the globe before once again returning to Malta where she now lives.
"I have done minor projects in Las Vegas, in Costa Rica, and so on," Montealegre said. "And Malta was fantastic. I came to this island again. I thought then I could do what I did in Malta. I ended up building the biggest in Malta. Everyone thought I was crazy. Even the trophies I designed, everyone was laughing at them since they were unusual. Now everyone loves them. I think you really have to believe in your ideas and be very stubborn - which I am."