Ryan Riess Rises to Monster Lead on Day 3 of the 2018 WSOPE Main Event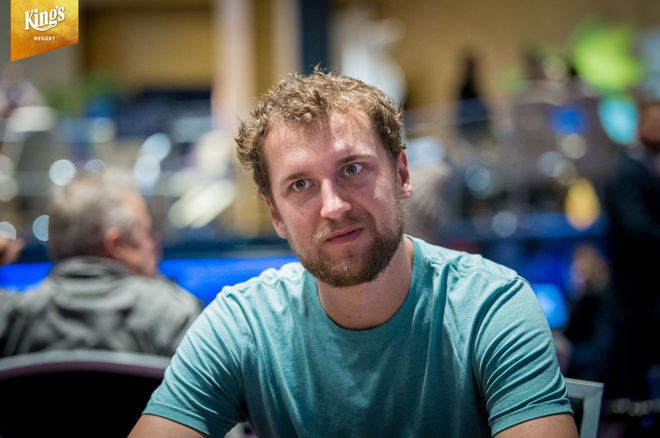 The halfway mark of the 2018 World Series of Poker Europe Main Event has been reached, and an all-too-familiar name sits lonely at the top: Ryan Riess. The 2013 WSOP Main Event champion is towering above the 50 remaining players with 4,233,000 in chips, miles ahead of his nearest challenger Ivan Gabrieli (2,412,000). Riess could become the second player in history to win both the WSOP and WSOPE Main Event after Phil Hellmuth (1989 and 2012).
"Today was great," Riess unsurprisingly said shortly after bagging up for the night. "It started really badly; I had 150,000 at 3,000/6,000, and then this guy moved to my right with just a ton of chips, and I got really lucky against him. I doubled through him a lot, and it was just a good day."
"It's actually a lot different than Vegas. But it's still the same tournament, it's still the same old Main Event."
On a day that saw former WSOPE Main Event champion Adrian Mateos bust, Riess is the last former WSOP Main Event standing – either in Vegas or in Europe.
"The WSOP is a little bit different here than it is in Vegas. It's actually a lot different than Vegas. But it's still the same tournament, it's still the same old Main Event. The buzz is different around it here in Rozvadov, but it's still a very prestigious tournament," Riess explained.
Any €10,000 tournament in Europe is going to be packed full of top players, and the WSOPE Main Event is no exception, with Riess coming up against some of Europe's top players including two Brits which he felt warranted special mentions.
"I thought Ben Heath played amazing; he always plays great. I'm really impressed by him. Jack Salter is also always really hard to play against because he limps a lot; there's just been a lot of really tough players."
And how does the prospect of dual – WSOP and WSOPE – Main Event champion sound to Riess?
"I want to win - I hope so! I'm going to try my best!"
Viktor Taranenko: From €0,01 to Bubble Boy
While Riess was making waves on the flip side, a heartbreaking story popped up among those that were trying to scramble their way into the money. Viktor Taranenko was living the ultimate recreational poker player's dream: the Russian had qualified online on partypoker by spinning a €0,01 (!) satellite all the way up to a WSOPE Main Event seat worth €10,350.
The Cinderella-story lasted nearly three days, but on the stone-cold bubble, Taranenko was forced all in from the big blind with ten-four and had to outrun Gary Hasson's ace-king. Poker can be a cruel mistress at times, and for Taranenko, there was no miracle waiting in the cards.
Visibly upset, Taranenko made his exit from the tournament area while all remaining players were guaranteed at least €15,074 for their efforts. The Russian was left with only a fireplace-story about that one time when he almost turned one cent into 15k.
WSOPE Main Event Day 3 at a Glance
165 players returned for another six levels of 90 minutes with a clear goal in mind: reaching the money. Maria Lampropulos, Tobias Ziegler, Ludovic Geilich, Viktor Blom, Alex Foxen, and former WSOPE champion Adrian Mateos all received nothing to show for their efforts despite reaching Day 3.
After Taranenko's bubble bustout, mincashes were awarded to the likes of Ben Heath (80th - €15,074), Mustapha Kanit (78th - €15,074), Will Givens (76th - €15,074), Jan-Eric Schwippert (67th - €15,700), Dietrich Fast (59th - €16,723), Tobias Peters (53rd - €18,210), and Rainer Kempe (52nd - €18,210).
Ryan Riess was seated at the feature table after the bubble had burst and played a key hand that propelled him to his massive end-of-day lead. Holding ace-jack of spades, Riess flopped the nut flush and saw Piotr Nurzynski already commit his final chips on the flop. On a blank turn, the rest of Riess' stack went in against Robert Skopalik, who had flopped a lower flush. Nurzynski had two pair and the river brought another blank to ship the nearly 4M pot to Riess.
Notables that bagged include Igor Kurganov (2,000,000), Day 2 chipleader Dario Sammartino (1,503,000), Niall Farrell (1,350,000), Andy Black (1,214,000), Jack Sinclair (1,202,000), Jack Salter (445,000), and Julian Thomas (221,000).
There was also good news for all fans of "The Chainsaw", Allen Kessler. Despite already having a storied poker career with over $3,5M in lifetime winnings, there was one achievement that was surprisingly missing on his poker resumé: cashing in a World Series of Poker Main Event. The monkey is finally off his back as Kessler, after 15 failed attempts in Las Vegas and 4 in Europe, bagged 628,000 to make it to Day 4.
On Wednesday, cards will be back in the air at noon local time in King's Casino in Rozvadov, where the 50 players will play another scheduled six levels of 90 minutes each. Blinds will resume in level 20 with a small blind of 10,000, a big blind of 20,000 and a big blind ante also of 20,000. PokerNews will be right back on the floor to capture all the excitement as the 2018 World Series of Poker Main Event rolls on.