David Peters Leads After Low Turnout in Poker Masters $100K Main Event

Mo Nuwwarah
After a week of strong high roller action at 2018 Poker Masters at PokerGO Studio in Las Vegas, it seems the appetite for a $100,000 Main Event was a little muted.
Fields throughout the week at Poker Masters regularly numbered in the 40s through 60s for events at even the $50,000 price point, but just 15 entries were logged in what proved to be a slow Day 1 of the Main Event. Slow purely in terms of entries, that is. As for the action, there was plenty of that as half of the field busted out by the time five levels were played out, with 10 levels originally scheduled in the day.
When nine players were left and it looked unlikely anyone else would be buying in, the tournament director made the decision to pause the clock and discuss the situation with the remaining grinders. Everyone seemed to agree that following the original schedule would be problematic as there would be very few players left if the tournament played out the 10 full one-hour levels.
When registration is scheduled to be open until the start of Day 2, that presents a thorny problem. The integrity of the tournament would be in question if, as Justin Bonomo put it, players could register in a scenario where more than 50 percent of the remaining runners would make the money.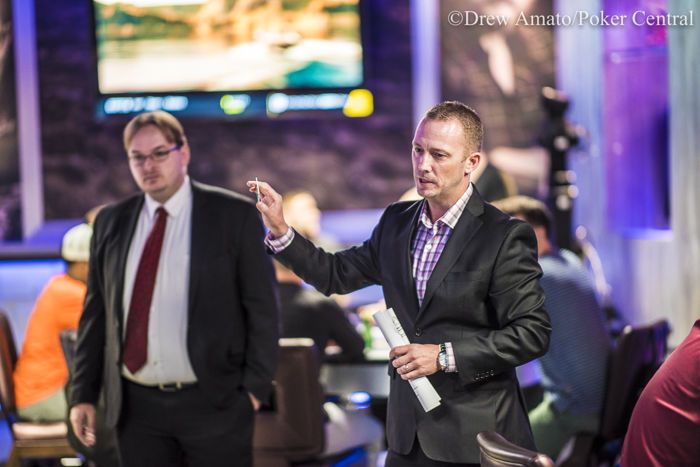 Thus, it was decided that the tournament would wrap after 13 more minutes — to reach the 15-minute mark — plus a randomly drawn number of hands. That proved enough time to lose one more player, Isaac Haxton.
So, just eight players put chips in bags, led by David Peters. Peters got off to a fantastic start at Poker Masters by winning Event #1 but has since failed to record a cash, so he's out of the running in the Poker Masters Purple Jacket rankings. However, he likely wouldn't complain if he banks another win worth several hundred thousand dollars to go with the $193,200 he won in the $10K opener.
Peters roughly tripled his 200,000 starting stack to 620,500.
Following Peters: Bonomo (495,000), Seth Davies (466,500), Rainer Kempe (464,000), Ali Imsirovic (422,500), Christoph Vogelsang (250,500), Nick Petrangelo and Dominik Nitsche (124,000).
Imsirovic, who went back-to-back with a win in Event #6: $50,000 No-Limit Hold'em after his win in Event #5: $25,000 No-Limit Hold'em, leads the points standings and looks to be a strong favorite to claim the jacket. None of the players drawing live to catch him bagged, with Brandon Adams and Haxton busting, and Jake Schindler and Ben Yu never making appearances on Day 1.
The adjusted plan for Day 2 is to close registration at 1 p.m. local time, with the beginning of Level 6 (1,500/2,500/2,500) kicking off play. The single reentry option would be nixed at that point despite the structure originally calling for it to remain an option until Level 11, so it would be a freezeout for everyone still involved. The Day 2 field will be drawn into randomly selected seats just after that point, with everyone receiving a fresh bank of three time extensions.
If a large contingent of late-registering players shows up, the structure may be adjusted further in order to make sure the event continues on its scheduled pace.
Day 2 will also signal the beginning of a streaming table for PokerGO, set to begin on a delay one hour or so after the start of play. Tune in to PokerGO then to watch live and PokerNews to follow further coverage of the event.