Kevin Malone Lifts the Trophy at the Cash Game Festival Bulgaria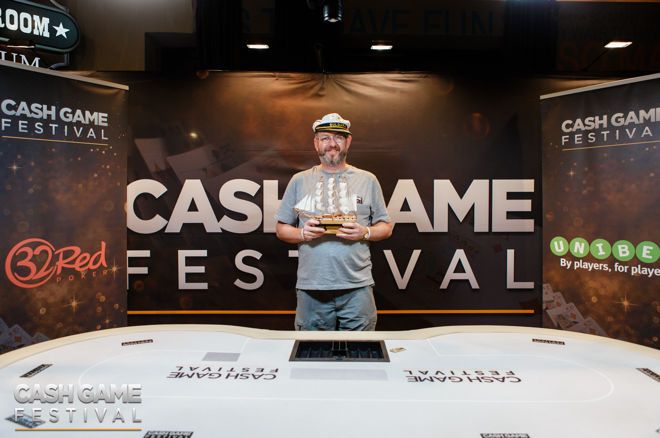 The 2018 Cash Game Festival Bulgaria at Platinum Casino, located steps away from the sand and surf of the Black Sea in Sunny Beach, has been a massive success with multiple records broken and tied.
The Cash Game Festival hosted televised feature tables twice per day, commentated on by Cash Game Festival Head of Media Henry Kilbane and PokerNews Editor Jason Glatzer.
Many guest hosts popped into the booth including Unibet Poker Ambassadors Ian Simpson and Rauno "Estonian Jesus" Tahvonen, Unibet Social Media Manager Simon Steedman, Aleksi Himanen, Jon Kyte, Carmen Elina-Vist, and Emma Simpson.
Kevin Malone found the most success at the feature table after winning €1,620 in €2/€2 pot-limit Omaha for 810 big blinds and walked away with the Cash Game Festival Bulgaria trophy. The trophy is awarded to the player that wins the most big blinds at any of the ten feature tables at the festival. Along with the trophy, Malone also won a package valued at €1,500 to the next Cash Game Festival in the Slovakian capital of Bratislava on Sept. 19-23.
It didn't appear likely Malone would walk away with the trophy as he didn't notch up his big win until the very last televised feature table.
Nikolay Bibov won €865 at a €2/€2 pot-limit Omaha feature table on Day 1 and the 432.5 big blinds in profit stood strong until the end. While Bibov didn't win a Cash Game Festival Bratislava package as part of the trophy competition, he will be in Slovakia anyway thanks to winning a package in another promotion involving playmoney roulette that took place on Day 2.
Malone was one of the many players hungry for the trophy. During dinner with Youness Barakat, who won the most on the feature table four times in Bulgaria, Malone shared he wasn't running well and didn't feel he would have a chance at the trophy. Barakat and Ian Simpson both appeared more optimistic about their chances heading into the final feature table battle.
Simpson bought in deep and immediately doubled up against Barakat to wind up with a €2,200 stack. He was in control of the table and it appeared that he would secure the trophy.
Germany's Maximus was able to chip up and wasn't too far behind Simpson midway through the feature table. Simpson shared afterward that he knew he would need to play a few more hands to have confidence that the trophy would wind up in his hands.
However, it was neither Simpson nor Maximus that would be the biggest winner of that table and the festival. Malone called a four-way all-in with a ten-high rundown and won a €3,700 pot after he hit a straight.
After that hand, many players congratulated Malone, knowing that the trophy would indeed be in his hands.
This marks the second time Malone has won the trophy. He previously claimed this honor at his very first Cash Game Festival in Dublin in October.
Two other players in Jon Kyte and Cash Game Festival Co-Founder Martin "Franke" von Zweigbergk also won two Cash Game Festival trophies in the past.
"Look out in Bratislava Franke and Jon," said Malone. "I am going at it hard to win my Cash Game Festival record third trophy in Bratislava."
Cash Game Festival Bulgaria Feature Table Winners
| Day | Player | Game | Profit | Big Blinds Won |
| --- | --- | --- | --- | --- |
| Day 1 | Youness Barakat | €1/€3 NLHE | €996 | 332.0 |
| Day 1 | Nikolay Bibov | €2/€2 PLO | €865 | 432.5 |
| Day 2 | Youness Barakat | €2/€2 PLO | €128 | 64.0 |
| Day 2 | Youness Barakat | €5/€5 NLHE | €931 | 186.2 |
| Day 3 | Yohannes McAllistair | €1/€3 NLHE | €423 | 141.0 |
| Day 3 | Kamen Marlinov | €5/€5 NLHE | €1,167 | 235.4 |
| Day 4 | Youness Barakat | €1/€3 NLHE | €791 | 263.7 |
| Day 4 | Reivo Nodapero | €5/€5 NLHE | €1,497 | 299.4 |
| Day 5 | Alexander Sirakov | €1/€3 NLHE | €513 | 171.0 |
| Day 5 | Kevin Malone | €2/€2 PLO | €1,620 | 810 |
The action was equally exciting away from the tables, especially for those with the hospitality package compliments to those who won a package at a previous festival or through the festival's partners 32Red Poker and Unibet Poker.
Organized activities including welcome drinks, beach sports, Brazilian dancing, a VIP dinner, a city tour, and two parties.
Don't Miss Bratislava
If you were unable to make it out to Sunny Beach, rest assured you will not have to wait too long to enjoy the next festival.
On Sept. 19-23, the Cash Game Festival heads back for the second time to the Slovakian capital of Bratislava at Banco Casino Bratislava for another five days of nonstop cash game action. The festival is expected to attract many players from around the globe, including many that just enjoyed their poker vacation in Bulgaria.
As usual, the PokerNews live reporting team will be on hand to report on all the events both on and away from the tables.
Photos courtesy of Natalie Black/Cash Game Festival.