Freguently Asked Poker Questions: A Guide for European Players Heading to the U.S.
Sean Chaffin
Frank Op de Woerd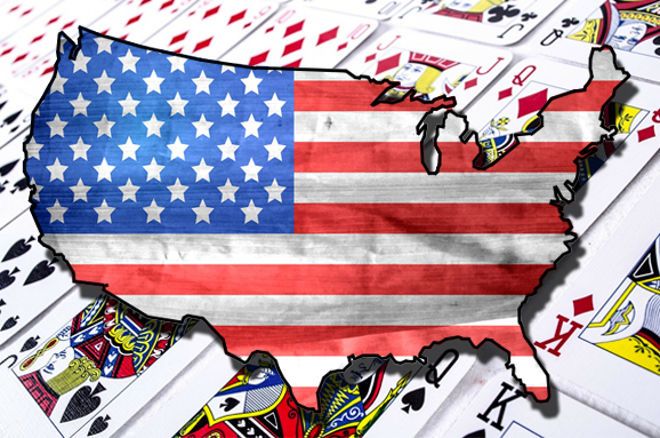 The 2018 World Series of Poker is in the books, but many from outside the United States may already be planning next year's trip. Or maybe you're heading to the States for a vacation and want to mix in some poker. For those new to the U.S. poker scene, we put together this Frequently Asked Poker Questions.
How Do I Get Enough Cash in the United States to Play Poker?
Those euros or pounds won't play at the tables in the U.S. and they usually won't be accepted at hotels or stores – or even Starbucks. The best idea for exchanging them to USD is to avoid the airport, which will probably have the worst rates.
1) Using the ATM
Instead, exchange using an ATM machine with your bank card. Be sure to contact your bank first, so you'll know any associated fees with using a foreign ATM machine.
2) Wiring Money to the Casino
For some big poker tournaments, the casino allows you to wire money to their (poker)cage before you leave home. Be sure to verify all the information you need to send money. In most cases, you'll need to get the following information from the casino you want to send money to:
Aba/Routing Number
Swift code
Bank name
Bank address
Beneficiary:
Account Number:
Sometimes, you'll need to add special instructions to make sure you can pick up the money without any hassle. This can include your full name, a loyalty card number, and or for which events you're sending the money. Always contact the poker tournament in question before you're wiring the money. Banks will impose a fee on all wires send.
3) Swap Money With other Poker Players
A lot of poker players circumvent the banks entirely, and instead make deals with each other to change currencies. A note in advanced is to solely do this when you fully trust someone, and have noi trouble carrying around big sums of money in cash. Using the current exchange rate (checked via XE.com or similar sites), poker players agree to swap certain amounts of cash.
Example: an American poker player coming over for the EPT Grand Final in Monaco gets €10,000 from a European poker player attending the same tournament. When that same European poker player goes to the WSOP in Las Vegas the next month, he or she gets $11,588 (or whatever the exchange rate dictates at the moment of agreeing to the deal) in cash back. Again, only do this with people you fully trust.
Where Can I Play Online Poker in the United States?
Unlike in many countries in Europe, online poker has been severely restricted in the U.S. So if you're lounging by the pool and thinking you can just fire up your favorite online poker site, you'll be out of luck. Only a few states (New Jersey, Delaware, Nevada) are now allowing online poker, but more are considering legalization. If you're not in those states, your best bet might be a casino poker room.
In Which States Can I Play Poker in the United States?
Following up on that previous note, Europeans might not realize that not every state in the United States has casino gambling. And some have only tribal casinos, but may still have a nice poker scene. In Florida? You're in luck as there are many places to play poker. In Texas? Surprisingly, Texas Hold'em is named after a state with no casinos. Hawaii? It's a no too, but hey – it's still Hawaii!
How Old Do I Have to Be to Play Poker in the United States?
American casinos and laws differ depending on state. Most casinos are only open for players over age 21, with some exceptions. Some states and tribal casinos allow players to gamble at age 18 (Oklahoma being one of those). Those looking for a cocktail under age 21 will find that the legal drinking age in the U.S. is 21 across the board. If you're under 21, don't worry, there is plenty of Red Bull available to keep you hyped.
How and Where Do I Buy Poker Chips to Play Poker in US Poker Rooms?
You've got your cash and now you're ready to hit the felt. At the casino, there is often a host area with that day's action underway. Players can decide the stakes they want to play and get on the list, or hopefully, there is an open seat right away.
To buy chips, head to the cashier (or cage) in most poker rooms. This is also where you will cash in at the end of the session. If a run of bad luck has you low on chips, a floor person can usually take your cash to purchase more and bring them to you. Tipping a $1 chip or two for this interaction is welcomed, but not required. In some poker rooms, most notably in Las Vegas, you don't have to buy chips at the cage but you can go to the table and exchange your notes for chips there. When you haven't received your chips yet, but you are seated at the table, often you're allowed to play regardless. When the hands begins, you're "playing behind." When you loose money in the hand, you'll have to make that up as soon as the floor or chip runner returns with your chips. In most cases, the dealer will keep track of how much you owe by placing chips from the pot in front of you. You're not allowed to touch or take these chips, they're solely there to keep track.
Most casinos also have regular tournaments and if that is more your style, check the casino's website for a schedule. For bigger tournament series that may require bigger buy-ins, it could be important to plan ahead. Ask how to register to fund buy-ins via wire transfer from your bank to avoid carrying massive amounts of cash, mostly for safety reasons.
Do $100 Bills Play at the Poker Table in the United States?
In most casinos, poker is played for "table stakes." The cash or money in front of a player is at stake in any game. That means that not only your chips play but high-denomination notes play as well. Usually, only $100 bills play when you have them on the table.
Players can't take it off the table until they're done playing – all players have an opportunity to win that amount on the table. As Robert Woolley notes in his story on poker for beginners: "This is to prevent people from squirreling away winnings and only keeping minimal amounts at risk. The idea is that after you've won, the winnings have to remain available for opponents to win back, until you declare yourself done for the day."
A workaround for this rule is that most casinos have some rule about how long you have to be picked up (quit playing) until you can get back on the list, usually one hour. If you ask for a transfer to a game with different stakes, you can buy in for any amount between the minimum and maximum for that game.
Can I Charge my Phone at the Poker Table in the United States?
Trying to recharge that iPhone? It's important to note that the electrical system in Europe is a bit different from the U.S. when it comes to voltage and shape of the plug. American appliances use 110 volts and European appliances use 220 volts. A simple adapter solves this problem and will keep those favorite apps running as you battle it out at the tables. The same goes for your laptop of course, you'll need a converter for your power plug to make sure you don't run out of juice.
In a lot of the modern poker rooms, a USB socket is available in the rail or underneath the table. Simply bringing your charger cable is enough in that case, USB is, as the full name tells you, is universal so there's no difference between the cables in the United States and elsewhere in the world.
Can I Use My Phone at the Poker Table in the US?
Speaking of cell phones, the use of them at the tables seems to vary a bit by property. Some will allow texting while playing, but not talking on the phone while playing. Others allow quick conversations in the middle of a hand. But there seems to be no hard and fast rules. When in doubt, ask a dealer to clarify before you unknowingly break a rule and get a dead hand as a result.
Should I Sign Up for a Reward Scheme When Playing in the US?
Most American casinos have players clubs, which allow players to accrue points for free meals, comped rooms, and other rewards. Take a few minutes and get a card if you intend on playing for a long time. But remember – these clubs are designed to keep players gambling longer. Wager only what you can reasonably afford to lose. A free backpack or jacket from those reward points is probably not worth the risk of losing a few more hundred dollars. If you're playing somewhere for more than a day or two, you'll usually be able to squeeze a free meal from the hourly comps you rack up at the table.
At some properties, you can get a discounted rate - often dubbed 'poker rate' - when booking your room. This rate will only go into effect when you log a certain amount of hours at the poker tables. This is worth considering, but be sure to do figure out exactly what the requirements are.
Do I Have to Pay Resort Fees in the United States?
You've booked that great vacation, packed your bags, and your poker bankroll is ready. The plane has landed and you're ready to check into your hotel. And then – what's a resort fee? Many casinos (especially in Las Vegas), now charge a resort fee that is not usually listed in the cost of the hotel room. The resort fees for some properties can even be more than the price of the room sometimes. This fee supposedly funds the cost of wifi, phone service, pools, etc., and is usually due upon the time of check-in.
The resort fee has become the enemy of many travelers, who often feel ripped off because this added fee is not being included in the quoted price of a room. Nevertheless, this fee has become the norm in Las Vegas and visitors should be aware. An internet search can help find the fees at your selected hotel. Many properties actually raised these fees in 2018 according to the L.A. Times, and there has even been a website created called KillResortFees.com.
Unfortunately, the fees are mandatory so it's buyer beware. But at least knowing what you're getting into will help when heading to Sin City.
How Do I Get a Hotel Upgrade in Las Vegas?
It sounds like an Urban Myth, but there really is such a thing as the $20 trick in Vegas Casinos. It's legal bribery; simply slipping the front desk clerk a $20 note when asking for a 'Complimentary upgrade' can land you a nice deal.
There's no downside to trying this. If they can't help you there's no shame in pulling back your $20.
If you're staying at the hotel for a few days, and there's no massive convention in town, odds are you can get a nice upgrade. A better view, a bigger room, a room closer to the elevator, there are a lot of opportunities. Check out frontdesktip.com to learn more.
Sean Chaffin is a freelance writer in Crandall, Texas. His work appears in numerous websites and publications. Follow him on Twitter @PokerTraditions. He is also the host of the True Gambling Stories podcast, available on iTunes, Google Play, TuneIn Radio, Spotify, Stitcher, PokerNews.com, HoldemRadio.com, and TrueGamblingStories.com.