The 2018 Grosvenor Casinos Goliath is Almost Here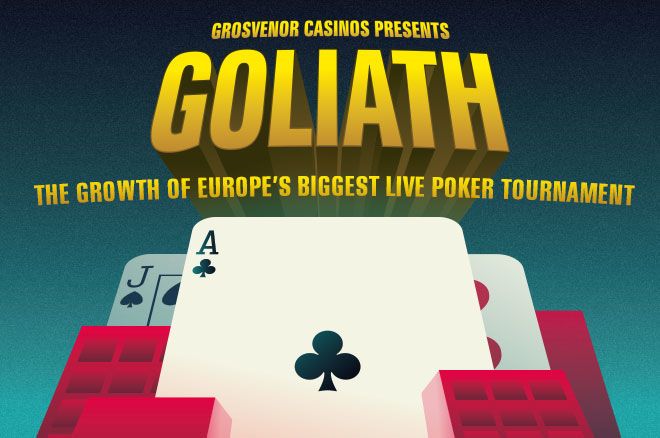 The 2018 Grosvenor Casinos Goliath tournament is less than three weeks away and it is going to be nothing short of massive if previous editions are any indication.
When Grosvenor Casinos ran the Goliath in July 2017, it broke the record for the largest live poker tournament ever held outside of Las Vegas; it broke the record for number of unique entrants and the number of re-entries purchased.
A staggering 4,022 unique players turned out for the 2017 Goliath and they made 2,363 re-entries among them, taking the total attendance to a casino-filling 6,385 entries. Each of these entries was worth £120 so the total prize pool weighed in at £638,500, which is impressive to say the least.
Some 682 places were paid in 2017, but it was Elliott Marais who walked away with the lion's share of the prize pool, namely a cool £85,760 for his £120 investment.
2018 Goliath Schedule
The 2018 Goliath schedule has been released and it looks eight days of poker fun. Obviously, the flagship of the festival is the £100+£25 Goliath Main Event, which this year guarantees its champion will secure a £100,000 payout.
It is the Grosvenor G Casino in Coventry's Ricoh Arena that plays host to the 2018 Grosvenor UK Poker Tour Goliath festival between July 25 and Aug. 5. The Main Event features seven starting flights, each of which are re-entry, and is complemented by a whole host of side events suited to players towards the more recreational end of the scale.
| Date | Time | Tournament |
| --- | --- | --- |
| Wed 25 July | 7:00 p.m. | £225 NL Hold'em National 25/50 Online Flight A |
| Thu 26 July | 7:00 p.m. | £225 NL Hold'em National 25/50 Flight B |
| Fri 27 July | 7:00 p.m. | £225 NL Hold'em National 25/50 Flight C |
| Sat 28 July | 10:00 a.m. | NL Hold'em Flip n Go |
| | 11:00 a.m. | £125 Goliath Main Event Day 1A |
| | 12:00 p.m. | £95 NL Hold'em Redtooth |
| | 7:00 p.m. | £225 NL Hold'em National 25/50 Flight D |
| Sun 29 July | 10:00 a.m. | NL Hold'em Flip n Go |
| | 11:00 a.m. | £125 Goliath Main Event Day 1B |
| | 11:00 a.m. | £35 NL Hold'em Redtooth Vegas |
| | 1:00 p.m. | National 25/50 Day 2 |
| | 6:00 p.m. | £58 Grosvenor UK women's poker championship |
| | 7:00 p.m. | £40 NL Hold'em Win the Button Redtooth |
| Mon 30 July | 10:00 a.m. | NL Hold'em Flip n Go |
| | 11:00 a.m. | £125 Goliath Main Event Day 1C |
| | 5:30 p.m. | £38 Omaha 4/5/6 card seven-max |
| Tue 31 July | 10:00 a.m. | NL Hold'em Flip n Go |
| | 11:00 a.m. | £125 Goliath Main Event Day 1D |
| | 5:30 p.m. | £38 NL Hold'em Win the Button |
| Wed 1 Aug. | 10:00 a.m. | NL Hold'em Flip n Go |
| | 11:00 a.m. | £125 Goliath Main Event Day 1E |
| | 2:00 p.m. | £110 ECOAP by APAT |
| | 7:00 p.m. | £76 NL Hold'em Tag Team |
| Thu 2 Aug. | 10:00 a.m. | NL Hold'em flip n Go |
| | 11:00 a.m. | £125 Goliath Main Event Day 1F |
| | 5:30 p.m. | ECOAP by APAT Day 2 |
| | 7:00 p.m. | £58 Joker is Wild |
| Fri 3 Aug. | 10:00 a.m. | NL Hold'em Flip n Go |
| | 11:00 a.m. | £125 Goliath Main Event Day 1G |
| Sat 4 Aug. | 11:00 a.m. | Goliath Main Event Day 2 |
| | 5:00 p.m. | ECOAP by APAT |
| | 7:00 p.m. | £335 NL Hold'em Super High Roller |
| Sun 5 Aug. | 11:00 a.m. | Goliath Main Event Final Day |
| | 11:30 a.m. | Super High Roller Final Day |
| | 12:00 p.m. | ECOAP by APAT Final Day |
| | 12:30 p.m. | £58 ECOAP by APAT Team Event |
| | 1:00 p.m. | £58 NL Hold'em UK Senior poker championship |
| | 2:00 p.m. | £58 NL Hold'em Deep and Steep |
Win or Secure Your 2018 Goliath Seat
This event is likely to reach capacity at some point, but you can guarantee your seat in it by downloading Grosvenor Poker and buying into one of the holding tanks for £125. Alternatively, there are plenty of satellites running at Grosvenor Poker leading up to the Goliath shuffle up and deal. Check out the table below:
| Day | Date | Time (BST) | Tournament | Buy-in | Seats GTD |
| --- | --- | --- | --- | --- | --- |
| Everyday | Everyday | 9:30 p.m. & 10:30 p.m. | GOLIATH FLIP | £1 Freeze | 1 |
| Thursday | June 28 | 9:00 p.m. | GOLITH Super Sat | £5 R/A | 5 |
| Sunday | July 1 | 9:00 p.m. | GOLIATH Pros Special | £30 Freeze | 30 |