Pitch Perfect: Dealers Recognized, Daniel Harris Named Dealer of Year

Sean Chaffin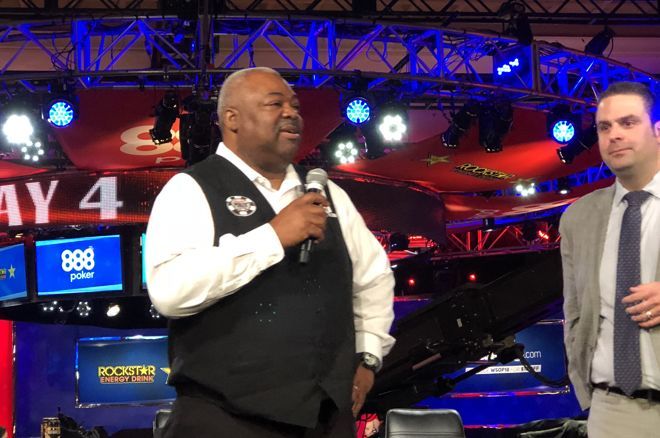 Good dealers control the table, keep the action moving, and act as an occasional impartial referee. It's not always an easy job, and they often "deal" with more than just cards – attitudes, long hours, an exhausting summer schedule, and the occasional player who's had a bit too much to drink.
As Day 4 of the Main Event got underway on Sunday, WSOP vice president and tournament director Jack Effel made note of all the dealers who pitch cards day in and day out as part of an unofficial dealer and staff appreciation day.
"Let's take a moment to acknowledge all the dealers and floor staff working today," he said. "We want to give our heartfelt thanks and pay respects for their efforts all summer long. Without them, we would not be able to put on this series of poker tournament. There is an art to dealing, and being able to excel in all facets required makes you among the elite."
"It is his upbeat and positive attitude at all times and his willingness to go above and beyond that helped earn him this award."-Jack Effel
Effel then announced that Daniel Harris, who is dealing his first WSOP, was named as the annual dealer of the year. Along with nice remarks from supervisors, Harris also received complimentary comments from players about his attitude and ability to deal a clean game.
"He can deal all games and do so amazingly well," Effel said. "But it is his upbeat and positive attitude at all times and his willingness to go above and beyond that helped earn him this award."
Harris was thrilled with the distinction and thanked other dealers and floor supervisors in the Rio for their hard work all summer.
"It's really exciting," he said. "It's a great honor."
Harris has been dealing WSOP Circuit stops for 14 years, and got his start at Harrah's New Orleans. He says dealing at the Rio was a much different task than his normal dealing gigs. How was that first day of action at the Rio?
"I've dealt almost everywhere, but this is a different experience," he says. "I wasn't nervous, I deal all the time. This is just a much bigger platform. This is kind of like the Super Bowl of poker and I had never dealt it."
A resident of Wiggins, Miss., Harris works as a county commissioner back home when not dealing cards. He is currently in his fourth term in office and has become affectionately known as "The Governor" for his dealing prowess and his service to his community. In poker, even dealers sometimes earn nicknames.
"I don't let anything really bother me."
At the tables, Harris is a consummate professional, according to supervisors, and doesn't let occasional negative attitudes or issues get to him.
"I don't let anything really bother me," he says. "I try to keep it cool and keep the action going. If we have a problem, just get the floor. I'll call them and let them work things out because you don't want to be the bad guy."
Harris is married and the father of three grown daughters. With another week or so left at Rio, he'll be focused on his work. But there is another big event in his future – he plans on running for a fifth term as county commissioner in 2019. If Harris campaigns like he deals cards, re-election should be a shoo-in.
For a look at how dealers are chosen to deal at the WSOP, click here for an article from earlier in the series.
Sean Chaffin is a freelance writer in Crandall, Texas. His work appears in numerous websites and publications. Follow him on Twitter @PokerTraditions. He is also the host of the True Gambling Stories podcast, available on iTunes, Google Play, TuneIn Radio, Spotify, Stitcher, PokerNews.com, HoldemRadio.com, and TrueGamblingStories.com.