Cash Game Festival Returns to Bulgaria August 8-12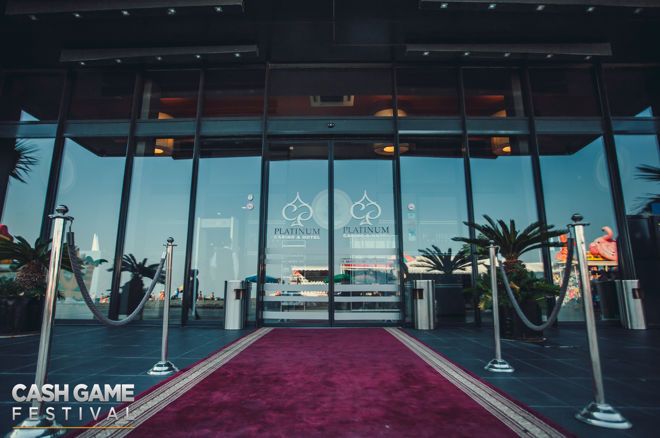 The ever-popular Cash Game Festival returns to Platinum Casino, located steps away from the sand and surf of the Black Sea in Sunny Beach, Bulgaria, from Aug. 8-12 for five straight days and more than 120 hours of nonstop poker action.
This marks the third year the Cash Game Festival returns to the seaside resort town with both previous years featuring tons of excitement both on and away from the felt. Whether or not more prop bets will take place for a third straight year remains to be seen, but PokerNews has already heard rumors that a big one could be in the works.
"I was in Sunny Beach in July for the MPN Poker Tour, and I'm excited to return for the Cash Game Festival."
The Cash Game Festival provides action for all types of cash action across a variety of games and stakes. Stakes begin at just €1/€2 and go up from there. While most of the games will be in no-limit hold'em and pot-limit Omaha, any game is possible. Players at prior festivals have enjoyed plenty of action in Sviten Special (aka drawmaha), H.O.R.S.E., Open-Face Chinese poker, super dealer's choice, and many other poker variants.
One of the draws of the Cash Game Festival is that it hosts televised feature tables on its Twitch channel at stakes low and high, meaning any player can participate. As was the case during the last Cash Game Festival in London earlier this month, PokerNews Editor Jason Glatzer will be joining Cash Game Festival's Henry Kilbane and George Sandford in the commentary booth. PokerNews will also be hosting the action on its Twitch channel and in its coverage of the event.
To add to the allure of the feature table, the Cash Game Festival awards a trophy and a prize to the player that wins the most big blinds at any of the ten feature tables. Both Cash Game Festival Co-Founder Martin "Franke" von Zweigbergk and Norwegian poker pro Jon Kyte will be on hand to try to become the first player to win three Cash Game Festival trophies.
Many players will be attending the event through satellites won at Cash Game Festival partners 32Red Poker and Unibet Poker. Both partners are currently running promotions to the Cash Game Festival Bratislava, which will take place on Sept. 12-16 at Banco Casino Bratislava.
The 32Red Poker Manager Nick Diaz is a huge supporter of the Cash Game Festival for what it brings to his players and is excited about the upcoming festival in Sunny Beach.
"I was in Sunny Beach in July for the MPN Poker Tour, and I'm excited to return for the Cash Game Festival," said Diaz. "I can't let the cat out of the bag, but with our Team32Red players, who won €1,500 packages in our special CGF Leaderboard Freerolls, being able to take a break from the cash game action whenever they like, there are loads of amazing activities planned."
In addition, others will come with a package valued at €1,500 through winning promotions taking place at previous Cash Game Festivals including Carmen-Elina Vist, Cash Game Festival Dublin trophy winner Kevin Malone, and Unibet Poker Ambassador Rauno "Estonian Jesus" Tahvonen.
Tahvonen shared with PokerNews he is excited about heading to Sunny Beach and plans to hitchhike to Sunny Beach from the Unibet Open Bucharest that takes place just before the Cash Game Festival with James Simms, Von Zweigbergk, Kilbane, and others from the Romanian capital.
"What I have learned from road trips is that it is better not to have expectations," said Tahvonen. "Let it come as it is and go with the flow."
Cash Game Festival qualifiers and others with the hospitality package are in for a treat as the festival organizers always have something extra special planned for its events away from the tables. The package at a minimum will include welcome drinks, a VIP dinner, a players' party, a city tour with a twist, and a sporting event.
If you can't make it to Sunny Beach, rest assured there is another exciting festival less than a month later at Banco Casino Bratislava on Sept 19-23 with tons of packages available at 32Red Poker and at Unibet Poker. This will be the second time this year the festival visits the Slovakian capital with players boasting how great the action was in the poker room and about the fun away from the tables as well.
Head to the Cash Game Festival website for more information about both of these stops and to book your spot on the televised feature tables.
Here is a look at some of the highlights from last year's Cash Game Festival Bulgaria.