WSOP Day 29: Elezra, Hellmuth, Negreanu Return in $1,500 PLO Hi-Lo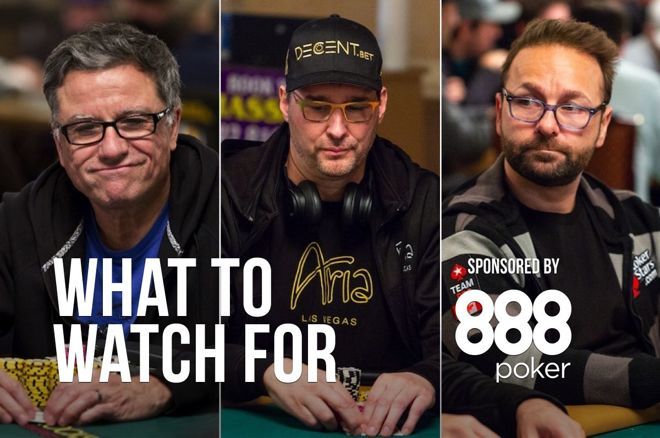 A busy Wednesday at the WSOP finds Eli Elezra, Phil Hellmuth, and Daniel Negreanu all returning for Day 2 of Event #53: $1,500 Pot-Limit Omaha Hi-Lo 8 or Better, while Event #48: $1,500 No-Limit Hold'em MONSTER STACK comes back for a fourth day with Vitor Rangel as chip leader and only 29 players left.
Team dynamics also return to the Rio with the start of the Event #55: $1,000 Tag Team No-Limit Hold'em, and lowball fans will be pleased with the kickoff of Event #56: $10,000 Razz Championship.
---
The Monster Stack marathon continued on Tuesday when the field was whittled down to 29 players all hoping for the $1,037,451 top prize. Vitor Rangel has the lead to start the fourth day with 8,910,000 followed by James Carroll (8,165,000), Harald Sammer (7,170,000), Rittie Chuaprasert (5,785,000), and Michael Benko (5,250,000).
This event attracted 6,260 entries for a prize pool of $8,451,000. Others still in contention include Colin McHugh (4,310,000), James Salmon (4,210,000), two-time WSOP bracelet winner Steve Billirakis (4,145,000), and Jimmy Chen (4,000,000).
The monstrous fourth day begins at 11 a.m. and PokerNews will be there throughout. Click here to follow along with the live updates team.
---
Only 29 players also return in this event after two days of bounty hunting, led by Ranno Sootla with a stack worth 1,500,000. From Estonia, Sootla has just over $325,000 in career winnings and this would be the biggest score of his career if he takes home the bracelet, as the player coming out on top will earn a $272,504 first-place prize.
Following Sootla are Ryan Leng (1,381,000), 2013 WSOP Main Event runner-up Jay Farber (901,000), Jamie Oconnor (901,000), and Russell Rosenblum (730,000). Others still remaining include Mikhail Semin (677,000), Marvin Rettenmaier (316,000), and Justin Liberto (337,000).
Play resumes at 12 noon and PokerNews will be tracking all the bounty hunters. Check back for all the updates.
---
This big buy-in limit hold'em event continues for a third day on Wednesday with Dan Zack returning as chip leader after bagging 1,217,000 last night. Zack has just over $480,000 in WSOP cashes, but is seeking first bracelet. Only 14 players remain from an original field of 114 with a top prize of $296,222 going to the winner.
Just behind Zack are Matt Szymaszek (561,000), Nick Schulman (499,000), Anthony Zinno (493,000), and Christopher Chung (487,000). Others also surviving include bracelet winners Scott Seiver (467,000), Michael Moore (368,000), Benny Glaser (215,000), and Brock Parker (167,000).
The tournament restarts at 2 p.m. and PokerNews will have all the live updates. Poker Central will be streaming the final table via Twitch as well — click here to watch.
---
Split-pot Omaha returned to the Rio on Tuesday and Brad Albrinck leads the field after Day 1 with 137,100 chips. The event attracted 935 entries with only 191 returning for Day 2. The winner will win the bracelet and $244,370 from a prize pool of $1,262,250.
Albrinck is followed by Bryce Yockey (131,900), Dustin Pattinson (129,100), Eli Elezra (102,600), and Kyle Miaso (86,800). Other notables advancing to Day 2 include Phil Hellmuth (67,400), Daniel Negreanu (81,100), 2017 winner Nathan Gamble (42,000),
Mike Matusow (76,800), Joseph Cheong (27,600), and John Racener (40,100).
The PLO hi-lo resumes on Wednesday at 12 noon. Check back with PokerNews to stay updated with how the tournament progresses.
---
After 10 levels of play, Fahredin Mustafov ended Day 1 as the chip leader with 205,000 chips in this one. Just behind him are Jordan Young (203,000) and Luciano Hollanda (162,100). A total of 1,020 entries created a prize pool of $2,754,000 with only 252 returning for play on Wednesday.
Other players returning include Uri Reichenstein (164,000), Kristen Bicknell (132,900), Connor Drinan (100,000), Frank Kassel (99,700), Scotty Nguyen (95,500), Kathy Liebert (60,700), Calvin Anderson (58,400), and Michael Gathy (45,000).
The big blind anteing resumes at 2 p.m. in this three-day event and PokerNews will have it all covered. Click here to follow.
---
Event #55: $1,000 Tag Team No-Limit Hold'em
From the British Bulldogs to the Fabulous Freebirds to the Road Warriors to the Hardy Boyz, tag teams are a big draw and that has been true of the WSOP the last few years.
In this event, teams of two to four players will compete and teams must register together. (By the way, no WSOP Player of the Year points are awarded in this one.) Teammates must play at least one round of blinds at some point in tournament or the team will be disqualified. Players may tag a teammate anytime the player is not in an active hand.
Teams will begin with 10,000 starting chips and levels will last 60 minutes. Late registration is available for eight levels, but there will be no breaks, including dinner, in this event except for color-ups. Last year's winning team featured Aditya Sushant and Nipun Java, who split the top prize of $150,637. The cards go in the air at 11 a.m. and PokerNews will have all the tag team fun.
---
Event #56: $10,000 Razz Championship
After the $1,500 Razz event got going earlier in the week, the championship lowball event gets underway on Wednesday. Players start with 50,000 chips and will play 60-minute levels, with late registration available through the start of Day 2.
Last year's winner was James Obst, who took home $265,138 and his first bracelet. The event begins at 3 p.m. and PokerNews will have every wheel and missed draw.
---
Sean Chaffin is a freelance writer in Crandall, Texas. His work appears in numerous websites and publications. Follow him on Twitter @PokerTraditions. He is also the host of the True Gambling Stories podcast, available on iTunes, Google Play, TuneIn Radio, Spotify, Stitcher, PokerNews.com, HoldemRadio.com, and TrueGamblingStories.com.