Vlogs From the 2018 World Series of Poker

Pamela Maldonado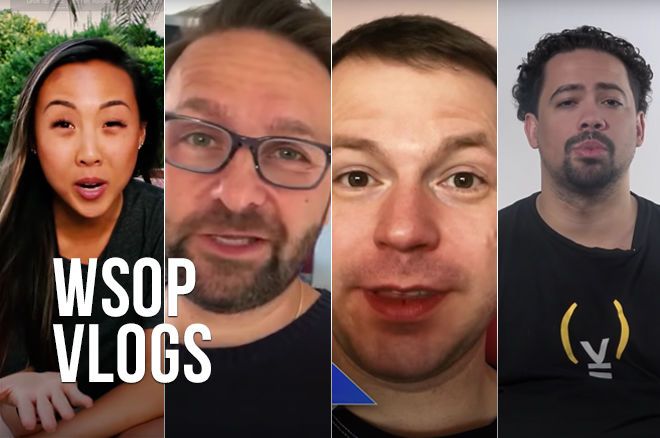 2018 is definitely the year of the (poker) vlog and the 2018 World Series of Poker is no exception. There is endless content out there that gives you insight into the life of a grinder during the biggest tournament series of the year. If you ever wanted to get a feel for what it was like to play cash games in Vegas or to play a WSOP final table, you can now get a glimpse into those experiences because of the hours and dedication players have put forth to create useful, entertaining, yet still relatable content for the masses.
Got to hang with a few of the poker Vlog OG'S tonight! All real and genuine AF @andrewneeme @killogram @JohnnieVibes https://t.co/OP7tWYD0AV

— Kristy Arnett (@KristyArnett)
So what happens when you get a bunch of vloggers in the same city at once? A whole bunch of vlogs, of course with the occasional 'let all get together' selfie. With all that is available, we decided to put together some of the vlogs that have been released during the early weeks of the WSOP. Take a look.
---
Daniel Negreanu
In case you've been living under a rock, Daniel Negreanu has been putting out video blogs daily! Yup, each day he is publishing 10-15 minutes of content on the ins and out of his day from tournament events, the Knights Stanley Cup Finals loss, to an inside look at the high stakes cash games in Bobby's Room. You'll want to bookmark his YouTube channel because it's pretty much a guarantee that you'll get something new each day.
---
Jonathan Little
Let's be honest — Jonathan Little is a machine when it comes to producing poker strategy content. Just recently he took a 6th place finish in the World Poker Tour Tournament of Champions for $74,520. Of course, he documented some hands and a bit of his run.
---
Kristy Arnett
Our girl Kristy Arnett is quickly rising to the top for vlogs. I mean, have you seen her videos? Not only are they well produced but you can get some serious poker inspiration from these things. What is so powerful is how she tied in trying the "impossible." Of course, sometimes not we won't reach our exact end goal but the journey is all worth it when done correctly. Even more powerful: How she broke down the word IMPOSSIBLE into "I'M POSSIBLE." So simple but it helps to hear things and be reminded that results are worth the effort.
---
Solve For Why
If you're looking for a heavy strategy vlog, Solve For Why is for you.
---
TheTrooper97
Are you watching The Trooper? You should be. WSOP events, cash games, Vegas shennanigans, he has it all.
---
JohnnieVibes
Let's be real, you just get a good vibe when you watch JohnnieVibes. In this episode he was able to catch up with fan favorite WinoPoker and hang out with her in Vegas for her birthday.
---
Jeff Gross
How can you not love Jeff Gross? He's easy to root for and just makes poker better.
---
Andrew Neeme
Andrew Neeme, everyone. No need for the introduction.
---
Ben Deach
You may already have all these vloggers on tap but there's others out there that are maybe worth a watch - even if they aren't at the WSOP. After scrolling through the YouTube channels, we came across a few.
Living in Reno, Ben Deach is a broadcaster, cash game grinder, and according to his Twitter profile, a rookie vlogger. His videos are definitely relatable and well produced and he seems to have an active viewer base.
---
Milko van Winden
In Vegas for the first time, and loving it so far it seems. Dutch poker reporter Milko van Winden shows what's he up to in between reporting hands at the WSOP for PokerNews.
---
MrBill
Texas represent! Hailing from Dallas, Texas, MrBill claims to be an "avid amateur poker player, coach, vlogger, student of the game, and enthusiast." He's just starting out in the vlog scene but hey, it's a supportive community, right? Check it out as both him and his son make the trip to WinStar for tournaments and cash games.
---