The Muck: Reilly vs Palma, Brunson vs Gorodinsky, and a $200K Video Poker Score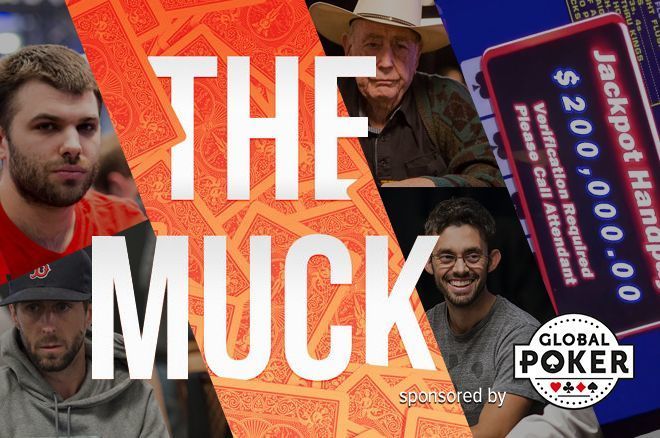 We're only a few events into the 2018 World Series of Poker and already a lot has happened. One player nearly became the first double bracelet winner of the summer, Phil Ivey entered and bagged the $565 COLOSSUS (still scratching our heads over that one), and now the poker community calls out another pro for guess what... owing money.
Tim Reilly Calls Out Nicholas Palma
It all started on Sunday, June 3 with this post to Twitter from Tim Reilly. In his tweet, Reilly says that his "post is long overdue" and that he needed to "do the right thing and get the word out."
This post is long overdue. It's time we take a stand against people that hurt our community. Do the right thing and… https://t.co/dnvnMK7iA5

— Tim Reilly (@TimReillyPoker)
His post contained three screenshots from his phone, which he thoroughly explained the situation via Notes. Reilly starts by saying that he had been backing Palma and "buying his action out of compassion" and that Palma approached Reilly "as a human and needed help."
Reilly claims that Palma was five figures in makeup and that it only continued to grow.
The other claim is that Palma was also buying action of other players while also owning money to multiple investors, including Reilly. Reilly does state, however, that Palma paid $5K but still owes "a lot more."
Alex Foxen, who has been making a name for himself over the last year, quickly replied to Reilly's post by staying that he too was a victim.
@TimReillyPoker Sad to say I was another victim of this. Thought it was a one off event and warned those whom I kne… https://t.co/NK9fqu3hpz

— Alex Foxen (@WAFoxen)
Michael Wang chimed into the conversation that Palma had owed him money but that it was a "loan that he couldn't repay after going broke." Palma did respond to that:
@miw210 @ClaytonJiang @TimReillyPoker ill comment on this one real quick and the rest later i owed mikey like 25-30… https://t.co/oENCPpCbGk

— NICKY P (@nicholas_palma)
So where does that leave the money he owes other players? YouStake, the online site where you can buy action of other players, even took a stance on the entire situation by placing a ban on Palma. In a tweet posted by YouStake, they stated, "We have never had an instance of YouStake backers not being paid and want to keep it that way."
With that they also posted, "Palma used our site one time, for one tournament, three days ago. He played the even and did not cash. Based on today's new information from the community, we will be promptly refunding all investors that bought pieces of his event on our site. We didn't know of any shady past dealing, but we have now excluded him from the site."
Palma followed up not once but twice.
@YouStake @TimReillyPoker I sold 62 percent of this event and played for 38 percent and can show who invested in me… https://t.co/WDTc3kOmNh

— NICKY P (@nicholas_palma)
@YouStake @TimReillyPoker Nice of you to refund your investors but no wrong doing was done

— NICKY P (@nicholas_palma)
Kevin Martin even joined in on the action, claiming that he's been trying to get paid for almost a year and warns "not to do business" with Palma.
Still seem like all too much to follow? Palma gave a full breakdown of what he owes to who.
@SuperSerda @WAFoxen @sheetspwns i can explain anything to anyone who cares. i messed up ive been paying money towa… https://t.co/UkA5mEwF1T

— NICKY P (@nicholas_palma)
Now seems like a good time to plug in a recent article, "Restoring Honor Amongst Thieves."
Bart Hanson Wins $200K in Video Poker
Why grind hours of poker when you can just bink $200K playing a round of video poker, right? I mean, it's time to hit those games. Bart Hanson posted that he was "pissed" about busting the $10K Omaha 8 or Better tournament so he made his away over to the casino and boom! Binked an even $200,000 from playing $50 video poker and hitting a Royal Flush.
I was so pissed about busting in the $10k O8 tourney last night I decided to let off some steam...#… https://t.co/IJc4C1uFob

— Bart Hanson (@BartHanson)
Hanson isn't the only player making bank off the felt. In fact, last year Kyle Cartwright went on a video poker heater, hitting a royal flush three times in just over two months. That's 3 x $100,000 on video poker, with $25 pulls.
What's even more insane, is that the odds of hitting a royal flush on a video poker machine are 40,390 to 1.
One day after Hanson's big score, another player posted their big winnings.
It's not a Royal Flush and it's not $50 pulls but hot damn, scoring $40,000 is still pretty great. Where do I sign up? And who's going to write the first strategy book or post the first strategy vlog on video poker?
Justin Bonomo On a High Roller Heater
We're just going to leave this right here.
Ok so you might not believe this, but I just won the Aria $25k high roller again. I don't know what's happening anymore.

— Justin Bonomo (@JustinBonomo)
Brunson vs. Gordo
This just in; Doyle Brunson is still killing it on Twitter.
Doyle has not entered any poker tournaments at the World Series of Poker so far, and we don't envision him doing so in the remainder of the series with tournaments taking several days. But if he does show up at the Rio one day, we might see a showdown between the living legend and the 2015 WSOP Player of the Year.
Max late-registered the 10k Omaha 8 today before the start of day 2 and drew feature table with @phil_hellmuth… https://t.co/E0g88lWGQ1

— Mike Gorodinsky (@gordoMG)
Why waste your time and money with these tournaments? Since you insulted me and called me an old broke down poker p… https://t.co/0sByvxlMvC

— Doyle Brunson (@TexDolly)
Ow, in case you were wondering, the two are actually good friends.
Saw Gordo yesterday. He told me some people are actually taking our joshing seriously. It's hard to believe because… https://t.co/3CLtBs91tR

— Doyle Brunson (@TexDolly)
PokerNews' The Muck is brought to you by Global Poker.