The Chip Race Launches its Sixth Season with Big Guests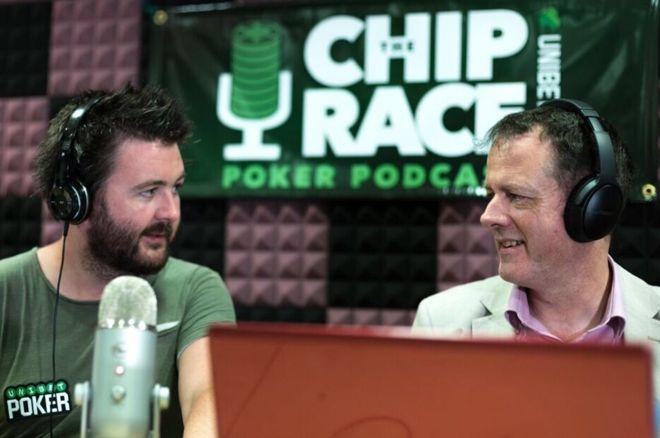 The Chip Race just launched its sixth season. The popular poker podcast is hosted by Irish poker players Dara O'Kearney and David Lappin and is sponsored by Unibet Poker.
Each season is broken out into seven episodes and hits on hard and fun topics while also bringing in some poker strategy. A few months ago, PokerNews interviewed O'Kearney and Lappin about the history of The Chip Race during the podcast's fourth season, which you can read more about here.
The first episode of Season 6 is out and available for free on SoundCloud and iTunes. You can also listen to all previous episodes and check out some clips and highlights on The Chip Race YouTube channel.
"We both feel very privileged to have such a loyal and enthusiastic listenership and Unibet as sponsors who let us do our own thing without interference."
Guests for the opening episode included high roller regular Sam Greenwood, sideline reporter Laura Cornelius, and Deepstack Open creator Alex Henry. In addition, O'Kearney discusses set-mining in a strategy segment from a key hand from his recent eighth PocketFives Triple Crown.
Lappin gave PokerNews a preview of what is to come on the other Season 6 episodes. The second episode will be available on May 22 featuring guests Adam Owen and Maria Ho. One of the major topics will be the preparation and routines for a big online series while the strategy portion will feature a mixed game tip from Owen.
On May 29, the third episode will be released featuring WSOP Twitter Czar Kevin "kevmath" Mathers, big-time poker streamer Ben "spraggy" Spraggs, and Allen Kessler. Unibet Poker Ambassador Daiva "Baltic Blonde" Byrne will also appear to discuss a hand from the recent Unibet Open Malta.
The fourth episode will be released on June 5 with Chad Holloway and Benny Glaser as guests. The show will also discuss a hand played by Unibet Poker Ambassador Fredrick Bergman.
The rest of the season is not yet finalized, but according to Lappin, it will likely be easier to get A-list guests than it was in the past with the show growing in popularity.
"In seasons past, we've had to work hard to secure A-list guests, but this season so far, everyone has been quick to respond and excited about coming on," said Lappin to PokerNews. "I think it's a sign of how the show has grown in popularity. Maria and Sam got back to me within minutes, and Allen Kessler asked us if he could come on the show! Naturally, we were delighted. We still have a few doors on which to knock to complete the guest list for Season 6 and a few unconfirmed, so I won't jinx it by mentioning them."
"the challenge was to regain that audience and also offer something to international poker enthusiasts."
O'Kearney expanded on the challenges to snag big guests and to keep the show fresh and exciting. The Chip Race first began for the Irish poker audience before it took a break and was revived with Unibet Poker as a sponsor to be directed to an international audience.
"When we started, the challenge was to try to reach an Irish audience," said O'Kearney. "When we came back last year, the challenge was to regain that audience and also offer something to international poker enthusiasts. We were very lucky that friends like Jennifer Tilly and Jake Cody did us a massive favor to come on the show. That gave us credibility to get other big names like Phil Hellmuth and Phil Laak last season. The challenge now is to keep a much larger audience than we ever expected to get while keeping it fresh and unformulaic. We both feel very privileged to have such a loyal and enthusiastic listenership and Unibet as sponsors who let us do our own thing without interference."