WATCH: Tsoukernik Destroys partypoker The Big Game, Kirk Loses $4.7 Million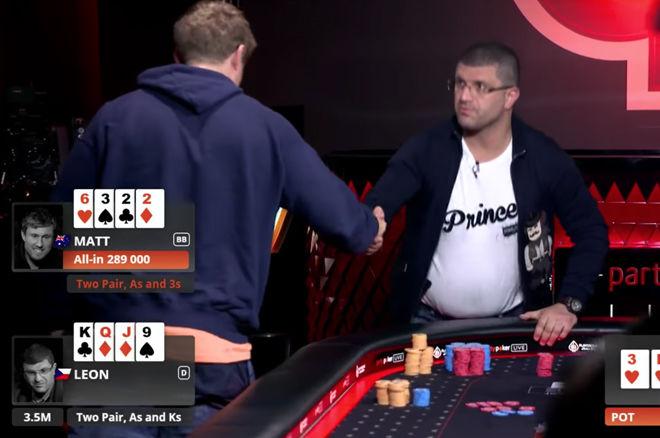 It's some time ago that poker fans first got a glimpse into the world of High Stakes Poker as the similarly titled tv show started airing on GSN.
These days, no proper tv-show is broadcasted anymore, but fans of the game still get plenty of content as partypoker tapes and live streams their The Big Game on a semi-regular basis. During the partypoker LIVE MILLIONS North America at Playground Casino Montreal last week, it was on again and this one really got high stakes fans' blood flowing as the stakes got higher than ever shown on tv before.
Here are the links to the episodes:
| Episode | Stakes* | Players* | Start | Finish |
| --- | --- | --- | --- | --- |
| 1 | NLH$100/$200 | Joao Simao, Jonathan Duhamel, Kirsten Bicknell, Sam Chartier, Lauren Roberts, John Savidis | 0:42:24 | 6:21:43 |
| | PLO $100/$200/$400 | Leon Tsoukernik, "The Wolf", Matt Kirk, Sam Trickett, Lauren Roberts, Rob Yong, John Savidis | 7:07:17 | 11:54:56 |
| 2 | PLO $100/$200/$400 | Leon Tsoukernik, "The Wolf", Matt Kirk, Sam Trickett, Rob Yong | 2:15:05 | 11:22:40 |
| 3 | PLO $500/$1,000/$2,000 | Leon Tsoukernik, "The Wolf", Matt Kirk, Sam Trickett, Rob Yong | 1:56:52 | 11:51:07 |
* Starting line-up and starting stakes
After a no-limit hold'em cash game with stakes of $100/$200, the game transitioned to PLO. For the next two days, the game of choice would remain the 4-card game with some massive pots. At one point, the stakes were up to $4,000/$8,000 with straddles to $16,000 and $32,000.
The PLO game started with King's Casino Rozvadov owner Leon Tsoukernik, Dusk Till Dawn Nottingham owner Rob Yong, Rozvadov regular "The Wolf", professional poker player Matt "Aussie Matt" Kirk, partypoker sponsored pro Sam Trickett, regular high roller Lauren Roberts, and local poker aficionado John Savidis of leanandfit.ca.
Matt Kirk and Leon Tsoukernik seemed to be on friendly terms during the game. Last summer, the two had a widely published feud over an unpaid debt by Tsoukernik of $2,000,000. They both filed lawsuits but, according to a post on poker forum 2+2, they settled the matter out of court.
What started as a $100/$200/$400 game, soon exploded as the stakes got up to $500/$500/$1,000 game with straddles to $2,000 and $4,000. If you would have to explain that concept to anyone outside of poker, you'd have a hard time.
WSOP bracelet winner James Dempsey, known online as "MKKMOO" or "Flushy", was the lead commentator in the game, with Mike Sexton joining him in the booth for some stints as well. The game ran for several days in a row, with only small breaks in between. Some of the highlights of the game:
---
Leon Tsoukernik Wins a $763,000 Pot off Sam Trickett ($500/$1,000/$2,000/$4,000 PLO 4-handed)
(10:48:45) Tsoukernik straddles to $2,000 in the cutoff holding




, Trickett restraddled to $4,000 on the button with




, and Matt Kirk in the small blind called with an undisclosed hand. Big blind Rob Yong called with




and action was on Tsoukernik again. The Czech casino owner potted for $20,000 and Trickett repotted for $68,000.
Kirk wasted no time calling, trying to get back to even after getting buried in the game, leaving himself $132,000 behind. Yong, with $458,500 behind, folded his queens and sevens. Tsoukernik called to create a pot of $208,000.
The flop came



and Kirk checked. With $674,000 behind and a gutshot straight flush draw, Tsoukernik potted for $208,000. Trickett shoved for $277,500 with his aces. Kirk folded and Tsoukernik called for $69,500 more.
| Player | Hand | Equity on |
| --- | --- | --- |
| Leon Tsoukernik | | 57.56% |
| Sam Trickett | | 42.44% |
The

hit the turn in the $763,000 pot with both players now standing up out of excitement. Trickett, while behind when the money had gone in, was now a 70% favorite to win the hand, but it wasn't his night. Tsoukernik needed a five or a diamond and got just that with the

completing the board. Tsoukernik made his winning flush, Trickett reloaded for $100,000.
---
Rob Yong Wins a $941,000 Pot off Leon Tsoukernik ($500/$1,000/$2,000/$4,000 PLO 4-handed)
(10:57:55) Just minutes later, a new record would be set as Rob Yong and Leon Tsoukernik tangled.
Matt Kirk straddled the cutoff for $2,000 with




and Rob Yong restraddled from the button for $4,000 with




. Leon Tsoukernik, in the small blind sitting on over $1.2 million with




, called and Sam Trickett with




showing called as well. Kirk, having straddles with single-suited aces, potted for $20,000 with the graphic showing he had $74,000 behind, but he had just rebought an extra $100,000 at the start of the hand. All three of them called to create a $80,000 pot going to the flop.
Tsoukernik, Trickett, and Kirk all checked to Yong who bet $30,000. Tsoukernik potted, making it $170,000. Trickett and Kirk let go of their hands immediately and action was on Yong who had $401,000 behind. He tanked for some time before eventually moving all in. Tsoukernik called instantly.
| Player | Hand | Equity on |
| --- | --- | --- |
| Leon Tsoukernik | | 45.49% |
| Rob Yong | | 54.51% |
While Tsoukernik had the nuts, Yong was the favorite with his open-ended and flush draw in the $941,000 pot. The

on the turn didn't do much but the

on the river sure did. The biggest pot in the history of partypoker's The Big Game went to Rob Yong.
The game ended for the night with Yong being up $735,500 and Tsoukernik up $565,500. Trickett was down $118,000 for the night according to the graphics and Matt Kirk was down $644,000.
---
Leon Tsoukernik Wins a $770,000 Pot off Mat Kirk ($4,000/$8,000/$16,000/$32,000 PLO HU)
(11:44:52) After a long day of poker where everything had gone wrong for Kirk, he was visibly distressed. Presumably being up for several days in a row must not have helped either, as he stared ahead with a look of desperation in his eyes. "Take it take it take it, it's yours," Kirk could be heard mumbling, wanting to double or go bust in what was decided to be the last hand of the night.
"Beautiful country but I'll never be back," Kirk said with a wry smile as the dealer got underway dealing for the last time in the game.
With the stakes at $4,000 and $8,000, and both players straddling ($16,000 and $32,000), it wasn't hard to get the stacks in.
Tsoukernik, sitting on a stack of $3,100,000, raised the button to $96,000 with




. Kirk, starting the hand with $385,000, defended with




. With $192,000 in the middle, the flop came



and Kirk potted, leaving himself $97,000 behind. Tsoukernik shoved and Kirk called to create a $770,000 pot.
| Player | Hand | Equity on |
| --- | --- | --- |
| Leon Tsoukernik | | 58.29% |
| Matt Kirk | | 41.71% |
While Kirk had a fighting chance having flopped a pair, it wasn't going to be a late-night double. Instead, the

on the turn and

on the river were effectively blanks and Tsoukernik won all the money on the table. The two shook hands and the show was over.
---
As the closing credits started rolling in, Dempsey said Matt Kirk was down $3,700,000 for the day, which would make his overall loss in the neighborhood of $4,700,000. Leon Tsoukernik was up $2,8000,000 for the day, making his total profit for the combined sessions close to $3.5 million.
Joey Ingram did a 3-hour show on the game, you can watch that right here.