Bringing the PokerNews 2018 WSOP Team Together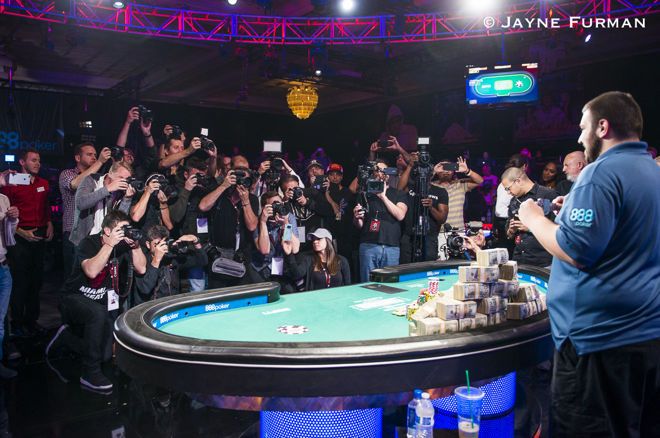 Yesterday, the 2018 World Series of Poker will finally kicked off! For all of you, the PokerNews live reporting team that covers every move in the next seven weeks is the result of months of careful planning. Aside from raising a little girl, it's the most responsibility I've ever had to deal with, but it makes me humbled and excited to be a part of something as monumental as this.
On March 2016, I found myself on one of life's proverbial crossroads. After being a professional poker player for eight years, including playing the WSOP Main Event in 2010 and 2012, I wanted to move away from the felt and pursue other endeavors. While I've been doing poker media in Holland on the side for years — writing is my passion — none of this would compare to the turn my life was about to take.
The WSOP was hiring, and I had the fortune of being asked by Rob Kirschen for a spot in his 2016 team. That summer, the next chapter of my life would kick off in a big way. It was an amazing month that has a lasting impact and kickstarted my way into international poker media.
Now, two years later, I have the honor of putting this year's WSOP team together.
In 2017, PokerNews and the WSOP announced a renewed partnership. After being part of the team that worked the 2017 Series, I fully signed with PokerNews in October last year. It quickly became clear that the responsibility of preparing the 2018 WSOP would mostly fall on my shoulders this year.
It's a monumental, daunting task and a massive puzzle to work out. Check out below what needed to be worked out, with every color representing a different reporter.


Quite the jigsaw, right? It gave headaches at times, as different preferences, skill sets, and necessary off-days all had to be taken into account, but it all worked out in the end. We've got an amazing team of poker reporters lined up to take on this year's series, no matter which games are on tap. The vast majority of them have previous WSOP experience, knowing the ropes and the challenges this series brings. People like Mickey Doft and Tim Duckworth already have more than ten (!) WSOP's under their belt in and I'm proud to call them team members again. From all over the world, several new, enthusiastic people are on board as well, such as Milko van Winden, whose enthusiasm will be contagious.
There are three key things I strive for at PokerNews:
Quality
Consistency
Accuracy
Posts being pleasant to read on top of it is a big plus as well. To achieve all of this — apart from the reporters — our editorial squad will be checking on every post, making sure all cards, suits and names are correct. As you can imagine, fields can be massive at the WSOP and a few reporters can't keep track of all 2,000 players in a $1,500 event all the time. The PokerNews MyStack app is a great way to update your chip count making it easier for the both of us, and for loved ones to keep track of your bracelet quest.
Even with all this, striving for perfect coverage in the fast-paced nature of poker reporting comes with its challenges, and mistakes are bound to happen. At PokerNews, we always own our updates; if there's something inaccurate, please let one of our reporters know or send a tweet to @PokerNews, and we'll have it swiftly sorted.
Besides the live reporting squad, our experienced team further consists of PokerNews' Head of Content Frank op de Woerd, senior editors Mo Nuwwarah, Valerie Cross and WSOP bracelet winner Chad Holloway, who'll make sure whatever happens in Vegas ends up on our front page. The video department will once again be led by Sarah Herring and shoot daily vids from the floor. Photos will once again be shot under the watchful eye of Joe Giron, capturing those moments that bring stories to life. Last but not least, Pamela Maldonaldo's fantastic social team will once again make sure your Twitter timeline, Facebook, or Instagram feed will be filled with the best bits from all of our WSOP content.
PokerNews also has several great partners lined up for the WSOP in order to deliver the best possible coverage. We would especially like to thank 888poker and Global Poker for their support. In addition, PokerNews will be partnering up with ShareMyPair. Using ShareMyPair's replayer, key hands at final tables will come to live in the coverage. Download the ShareMyPair app for iPhone or Android and look out for PokerNews among ShareMyPair's card sharks to watch the key hands of this year's World Series of Poker!
Ultimately, it's all about keeping the fans at home and in the tournament rooms up-to-date with the best coverage. We'll be working hard every day to bring you the latest news from this monumental event in Las Vegas. Enjoy 2018 WSOP coverage right here on PokerNews!