Scott Margereson Crowned WPT Seminole Hard Rock Champion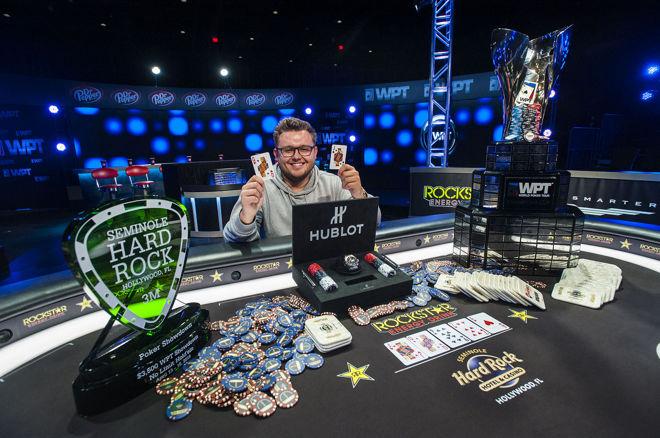 The United Kingdom's Scott Margereson has more than doubled his live poker tournament winnings thanks to winning the 2018 WPT Seminole Hard Rock Poker Showdown Main Event for $696,740.
2018 WPT Seminole Hard Rock Poker Showdown Main Event Final Table Results
| Position | Player | Country | Prize |
| --- | --- | --- | --- |
| 1 | Scott Margereson | United Kingdom | $696,740* |
| 2 | Faraz Jaka | United States | $454,496 |
| 3 | Brian Hastings | United States | $336,466 |
| 4 | Joey Couden | United States | $251,523 |
| 5 | Matt Stout | United States | $189,880 |
| 6 | Jeff Fielder | United States | $144,775 |
* First-prize includes a $15,000 entry into the season-ending WPT Tournament of Champions.
Margereson, known as "Aggro Santos" in online poker circles where he has won almost $4.2 million from tournaments, was one of 1,309 entrants who helped create a $4,188,800 prize pool in the $3,500 Main Event.
This huge sum was shared among the top 164 finishers. Such luminaries as Harrison Gimbel (157th for $5,860), Nick Pupillo (135th for $6,076), Jonathan Jaffe (107th for $6,782), Loni Harwood (88th for $7,949), Dylan Linde (61st for $11,029), Natasha Mercier (42nd for $14,536), Jeff Gross (19th for $28,879), and Joseph Cheong (11th for $68,174) were among those who saw a return on their investment.
The players at the six-handed final table were guaranteed at least $144,775 and it was Jeff Fielder who walked away with this amount. Fielder crashed out on the 45th hand of the final table.
With blinds of 50,000/100,000/15,000a, Faraz Jaka opened to 210,000 from under the gun, Margereson called in the cutoff, Fielder called on the button and Brian Hastings called from the big blind. Hastings checked on the ten-ten-four with a single club flop, Jaka bet 325,000 and both Margerson and Fielder called. The seven of clubs on the turn saw Jaka check, Margereson bet 1,350,000 and only Fielder called. The river was the six of clubs, Margereson tanked before moving all-in, covering Fielder, who called and showed five-four of clubs for the flush, a hand crushed by the pocket fours in Margereson's hand.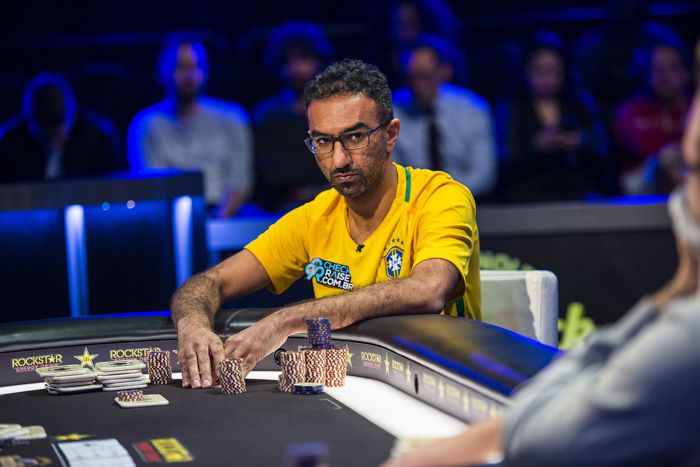 Matt Stout exited three hands later at the hands of Jaka. Stout opened to 225,000 from under the gun, Jaka three-bet to 675,000 and then snap-called when Stout four-bet all-in for 2,925,000. Stout flipped over a pair of tens, Jaka a pair of queens. Jaka flopped a set and turned quads to send Stout home in fifth-place.
Fourth-place was decided on the 114th hand of the final table when blinds were 100,000/200,000/25,000a. It was another all-in preflop confrontation with Jaka that resulted in an elimination. Joey Couden raised to 475,000 from under the gun with a pair of queens, Jaka re-raised to 1,500,000 from the big blind with a pair of red kings, and then called when Couden moved all-in for 9,600,000. The kings held on an ace-high board to reduce the player count by one.
Hastings Exits on the River
Hastings was the next casualty of the final table, falling at the hands of Margereson on hand 150. Margereson min-raised to 500,000 from the button and called when Hasting three-bet to 1,800,000 from the small blind. The jack-nine-three flop with two clubs saw Hasting initially check. Margereson made it 1,200,000 to play only to see Hastings check-raise to 3,800,000. Margereson responded with an all-in shove and Hastings called for his 9,825,000 stack.
Hasting showed ace-jack for top pair and Margereson revealed king-eight of clubs. The three of diamond on the turn kept Hasting ahead, but the flush-completing seven of clubs resigned Hastings to a third-place finish.
That hand gifted Margereson a 28,450,000 to 10,825,000 chip lead going into the heads-up battle with Jaka yet Jaka managed to pull himself back into contention and the players were exactly level on chips on the 201st hand played at the final table.
Thirty-one hands later, however, it was all over.
Blinds were now 300,000/600,000/100,000a and Margereson moved all-in with queen-jack and Jaka called off his 12,375,000 chips with ace-eight suited. Margereson flopped two pair on the queen-jack-nine-zeven-ace board and it proved enough to send Jaka to the sidelines in second pace and win the title for Margereson.
Hand information courtesy of the WPT blog. Photography by Joe Giron/PokerPhotoArchive.com.