partypoker LIVE launches partypoker LIVE $$$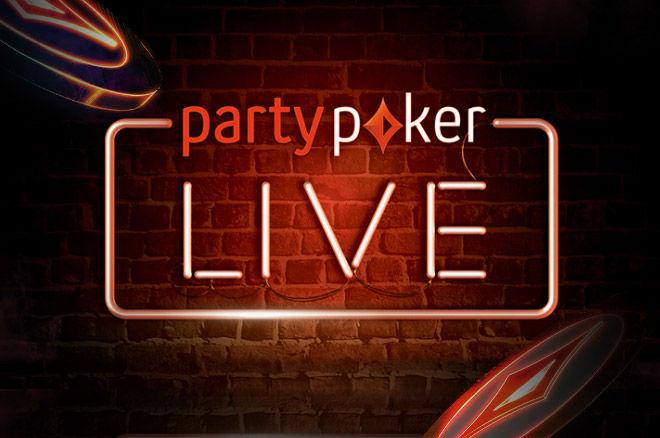 partypoker LIVE has launched a brand new satellite system for it tour that award players partypoker LIVE $$$ (PPL$$$) currency instead of traditional seats and tickets to major live poker tournaments.
PPL$$$ can be used to enter any tournaments under the partypoker LIVE umbrella, including its MILLIONS and Grand Prix festivals plus World Series of Poker events that partypoker LIVE sponsors.
Traditionally, online poker sites offer satellites to the Main Events on their live festivals, but there is often no route to winning a seat in a side event. PPL$$$ can be used for any tournament that partypoker LIVE runs, including side events, and can also be used to pay for travel and other expenses on the partypoker LIVE tour.
Daily $5.50 and $55 buy-in feeders launched online at partypoker on Apr. 8 and these fee into the thrice-weekly finals that cost $530 to enter. These finals, held on Monday, Wednesday and Saturday, guarantee 10 x $5,000 PPL$$$ will be won.
All PPL$$$ expires after 12-months
$1 million leaderboard
partypoker LIVE is running a year-long leaderboard to celebrate the launch of PPL$$$. This leaderboard runs from Apr. 16, 2018 through to Apr. 15, 2019 and awards $1 million worth of PPL$$$ to the top 100 finishers on the leaderboard. Earn points on the leaderboard by winning PPL$$$ in the thrice-weekly finals, finish 100th on the leaderboard and you'll receive $5,000 PPL$$$ while the player finishing in first-place, that is the one who has won the most PPL$$$ during the promotional period, will win $100,000 worth of PPL$$$ to spend during the 2019-20 tour.
President of partypoker LIVE, John Duthie, said: "We spent a lot of last year listening to players and one of the most common gripes about the online to LIVE satellite route has always been getting locked into specific events when circumstances may change. Enter PPL$$$. These can be used to buy into any partypoker LIVE event worldwide and to pay for travel and accommodation. You just have to spend them within 12 months. I hope you love this idea as much as I do."
Dusk Till Dawn's DTD£££
This new partypoker LIVE $$$ comes only a couple of weeks since Dusk Till Dawn, partners of partypoker, launched satellites awarding DTD£££. Like PPL$$$, DTD£££ awards a currency that can be used at the Dusk Till Dawn casino in Nottingham instead of traditional tickets and seats.
Satellites from as little as £0.10 run every day at partypoker with nightly finals costing between £27.50 and £109 guarantee to pay out between 10 x £250 and 10 x £1,000 in DTD£££.
DTD£££ Launch Schedule
| Day | PennyRolls | 7pm Feeder | 9pm DTD Pounds Sat |
| --- | --- | --- | --- |
| Monday | £0.10 (£0.50 rebuy) | £5+£0.50 | £25+£2.50 - 10x £250 GTD |
| Tuesday | £0.25 (£1 rebuy) | £10+£1 | £50+£5 - 10x £500 GTD |
| Wednesday | £0.10 (£0.50 rebuy) | £5+£0.50 | £25+£2.50 - 10x £250 GTD |
| Thursday | £0.25 (£1 rebuy) | £10+£1 | £50+£5 - 10x £500 GTD |
| Friday | £0.10 (£0.50 rebuy) | £5+£0.50 | £25+£2.50 - 10x £250 GTD |
| Saturday | £0.25 (£1 rebuy) | £10+£1 | £50+£5 - 10x £500 GTD |
| Sunday | £0.50 (£2 rebuy) | £20+£2 | £100+£9 - 10x £1,000 GTD |
Download partypoker today
Download partypoker via UK & Ireland PokerNews, enter the bonus code "UKPNEWS16" when making your first deposit and partypoker will match your initial deposit 100 percent up to £250.
Making your first deposit also makes you eligible for the remaining two PokerNews-exclusive $2,000 freerolls at partypoker, plus you will receive between 20 and 40 percent cashback on your real money play every Monday once you have opted into the cashback programme and have earned at least 25 points during the week.