Garry Stevens-Smith Cracks Aces Twice on Way to Winning GUKPT Edinburgh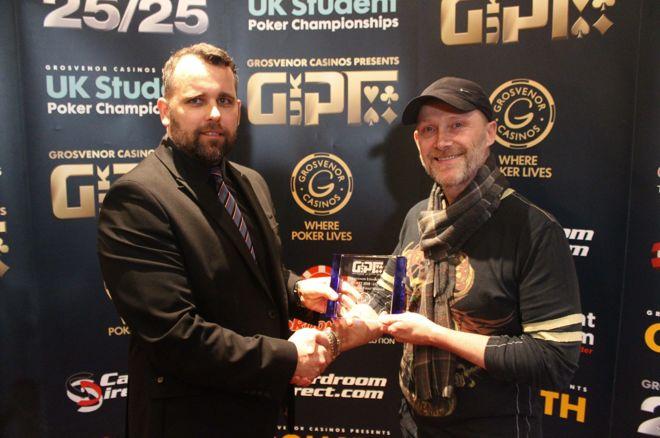 Garry Stevens-Smith is the latest player to win a Grosvenor UK Poker Tour title after he triumphed in the £560 GUKPT Edinburgh Main Event to get his hands on the winner's trophy and £36,350 in cash.
2018 GUKPT Edinburgh Final Table Results
| Place | Player | Prize |
| --- | --- | --- |
| 1 | Garry Stevens-Smith | £36,350 |
| 2 | Ian Berry | £23,850 |
| 3 | Steven Bangham | £14,850 |
| 4 | Gary Bertram | £9,550 |
| 5 | Michael O'Sullivan | £6,550 |
| 6 | Usman Ulhaq | £4,900 |
| 7 | Hayden Harman | £3,900 |
| 8 | Robert Bain | £3,050 |
| 9 | Andrew Feenan | £2,600 |
A field of 258 entries meant the £100,000 guarantee was surpassed by £29,000 and the total £129,000 prize pool was divided up among the final 26 finishers. £1,050 was awarded to those in the first level of the payout structure. This increased to £2,600 for a final table appearance and £36,350 was reserved for the eventual champion.
Seventy-four players made it through to Day 2 and they were whittled to a more manageable 14 over the course of 10 levels. The key elimination came at 8:30 p.m. on Saturday night and it was a former GUKPT champion who was involved in it.
Andy Hills, the former GUKPT Manchester champion, open-shoved for 27,000 with king-queen at the 2,000/4,000/400a level. Hayden Horman called with a pair of black queens. The ladies remained the best hand throughout the dealing of the community cards, Hills bust in 27th place and everyone else who had chips in front of them was guaranteed at least £1,050; Jeff Kimber and Jonny Gray were among the casualties to finish inside the money.
The final day's play began with 14 players yet the nine-handed final table was set within an hour of the action resuming. Ross McLeod, Sally Lawson, David Weeks, Louis Paxton, and Jacob Moss all crashed out in quick succession to leave only nine players in the hunt for the winner's trophy.
GUKPT Edinburgh Final Table Seat Draw
| Seat | Player | Chips |
| --- | --- | --- |
| 1 | Michael O'Sullivan | 1,463,000 |
| 2 | Steven Bangham | 828,000 |
| 3 | Usman Ulhaq | 374,000 |
| 4 | Ian Berry | 245,000 |
| 5 | Andrew Feenan | 350,000 |
| 6 | Hayden Horman | 251,000 |
| 7 | Robert Bain | 198,000 |
| 8 | Garry Stevens-Smith | 573,000 |
| 9 | Gary Bertram | 855,000 |
Andrew Feenan saw his tournament come to an abrupt end in ninth-place after a clash with Gary Stevens-Smith. The board read 8-9-K-Q, Stevens-Smith bet 82,000 and then called when Feenan moved all-in for 240,000. Feenan flipped over jack-ten for a straight and Stevens-Smith showed king-eight for two pair. The river card was another king, gifting Stevens-Smith a full house and sending Feenan to the cashier's desk.
Another cruel run out claimed the tournament life of Robert Bain. Usman Ulhaq and Bain clashed preflop with Bain finding himself all-in with ace-queen of diamonds against the dominated king-queen in Ulhaq's hand. Bain flopped a flush draw to improve his chances of a double up, but the king of hearts landed on the turn to gift Ulhaq the lead. Bain needed an ace or diamond on the river to stay in the tournament. The river was red, but it was hearts, the six of hearts to be exact, and Bain exited in eighth-place.
Harman has aces cracked
Hayden Harman followed the eliminated players soon after Bain's exit and again the deck was to blame. Harman got his last 10 big blinds into the middle while holding a pair of red aces and looked set for a much needed double up because Ian Berry called with queen-jack. Berry paired his queen on the queen-ten-eight flop, then improved to an unbeatable straight with a nine appeared on the turn. The inconsequential deuce of spades completed the board and confirmed Harman's elimination.
The remaining players gained some more elbow room shortly after 4:00 p.m. when Ulhaq three-bet all-in for 20 big blinds after Michael O'Sullivan had opened the preflop betting round. O'Sullivan called and turned over pocket jacks, which were way ahead of Ulhaq's eights. The knaves managed to melt the snowmen, with a little help from a third jack on the flop, and Ulhaq bust in sixth-place.
Fifth-place went to O'Sullivan despite him getting his hands on Ulhaq's stack. Steven Bangham raised to 70,000 at the 15,000/30,000/3,000a, O'Sullivan responded with a three-bet to 175,000 and Bangham called. The flop fell ace-six-jack with two clubs. O'Sullivan led for 150,000 leaving himself only 150,000 behind so it was no surprise to see him call it off when Bangham set him all-in. O'Sullivan showed ace-king for top pair, but was way behind to the set of sixes that bangham flopped. An eight on the turn left O'Sullivan drawing dead and the tournament with only four players.
Those four became three with the elimination of Gary Bertram. Berry made it 70,000 with king-ten, Bertram jammed all-in for 450,000 with the dominating king-jack and Berry made the call. A ten on the flop gave Berry the upper hand and he remained ahead through the turn and river to send Bertram home in fourth-place.
Bullets Shot Down Again
Three-handed play spanned almost two-and-a-half hours and ended with the exit of Bangham. With blinds now at 30,000/60,000/6,000a, Bangham looked down at a pair of aces and must have thought all of his Christmases had come at once as he was down to 900,000 chips. All those chips piled into the middle and he was called by Garry Stevens-Smith holding a pair of red jacks. That pair improved to a set on the flop and when the turn and river were void of aces, it was game over for Bangham.
Stevens-Smith held a 3,200,000 to 1,700,000 chip lead over Berry thanks in part to the former securing Bangham's stack. Twenty-minutes into the heads-up match, Berry was down to six big blinds and they went into the middle while he held a pair of aces. Stevens-Smith called with


which made a straight on the turn of the





board to send Berry home in second-place.
Next up for the GUKPT is a trip to Reading from Jun. 3 where another £560 buy-in Main Event with a £100,000 guaranteed prize pool takes place.
Lead image and data used for this article courtesy of the GUKPT blog.