Jesse Capps Shifts from Poker to Vlogging to Make Poker Fun Again
Everybody loves the idea of making poker fun again, but very few people are taking it on as a mission.
Enter, Jesse Capps.
Capps, a self-proclaimed "Moneymaker baby," has been entrenched in the poker world since he was a little boy. His father played poker for a living, so he was around the game growing up.
Capps has been a member of the media, a dealer, and a regular on the World Series of Poker Circuit for the past eight years. In fact, Capps currently holds the record for the most cashes without a ring.
"My focus is to show the viewer the perspective of a fun poker player."
He is also the host of a new Vlog that documents his journey as he chases that elusive ring and is thrilled to be calling the PokerNews Podcasting Network home.
It isn't your typical strategy-type vlog, though. This vlog is designed to #makepokerfunagain.
"My focus is to show the viewer the perspective of a fun poker player," said Capps. "Basically, my Vlog is my life in the poker world and the different ways I go about having fun and showing people how fun poker can be."
The daily grind, the bankroll swings, and the non-traditional lifestyle can quickly take its toll on a player.
After going broke in August, Capps realized that playing for a living is tough. It was then that he decided to shift his focus and start showcasing the fun side of poker.
Poker is Tough; Vlogging Might be Tougher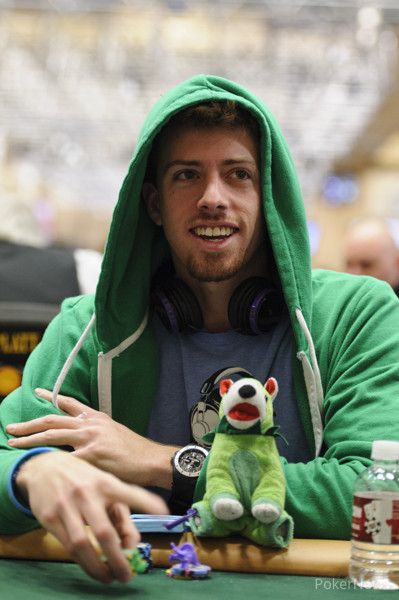 Capps may think playing for a living is tough, but it turns out Vlogging might be tougher.
"The vlogging thing is the toughest thing I have ever done," Capps admits. "I took an editing class, I had to get a bunch of different equipment and read through the whole manual. I still don't know what the hell I'm doing, but I am getting better."
And like with anything new, there have been some surprises, both good and bad, that Capps has found while navigating this new world.
"Players, for the most part, love my idea of filming at the table and the idea of #makingpokerfunagain. The reception from players in a positive manner is surprisingly rewarding.
"I am also surprised how not supportive tournament staff and casinos are about filming fun. It's frustrating because they don't understand that Vloggers are basically promoters for their casino. We are trying to increase their business. Hopefully, the future will improve this. But it sucks when a security guard comes up to you and tells you to delete the footage you took. That is hours of work you cannot get back."
Lofty Vlogging Goals
Once Andrew Neeme made poker vlogging a thing, new Vlogs have been springing up every day. Capps, however, has a specific point of view and specific goals.
"It sucks when a security guard comes up to you and tells you to delete the footage you took."
"I am trying to be a way better version of Will Kassouf or Hevad Khan. We have very few T.V. personalities nowadays," said Capps. "I miss the days of Mike Matusow taunting Phil Hellmuth. We need someone to have fun at the tables but not to do it to purposefully tilt people."
Capps admits to getting out of hand at times, but ultimately his goal is to get players to see the value of having fun by actually having fun.
Capps continued with a pretty bold statement: "If I made it to a televised table and became a household name, attendance would increase at least 3%."
Does Capps see Vlogging as a way to get to that televised table while chasing a ring?
It's too early to tell for sure, but he does think the Vlog has impacted his game.
"I definitely think Vlogging has loosened me up quite a bit. If I am filming a hand, I feel like I have to play it "for the Vlog." Also part of being a "fun player" involves giving lots of action. It would be nice just to have it next time I am drunk Vlogging live, and they put me all in. But it is for the good of the show."
What You Can Expect When You Tune In
While other grinders will find his Vlog exciting and maybe inspiring, Capps is hoping a specific type of player will tune in.
When asked who is the perfect audience for his Vlog, Capps responded while laughing, "The higher stakes community."
He goes on to say, "It has tilted me for years how many top pros play day in and day out, win a tournament, and not even celebrate. They have no one on the rail, and it's like they work an office job. In all seriousness, this Vlog is for people who enjoy the fun at the tables and want to watch a guy try to have fun instead of just grinding. So honestly everybody."
While his Vlog might look familiar in style, that's where the similarities stop. Poker strategy takes a back seat to the adventure and experiences Capps encounters as he travels the circuit.
"I am trying to be a way better version of Will Kassouf or Hevad Khan."
"There are a lot of fun little tournaments in my area that people don't know about and I show the viewer a different side of poker tournaments... the fun side," Capps shared.
As with any new venture, Capps expects his Vlog to evolve and get better over time.
"The first few episodes will be a bit more serious, as I am just getting started," Capps explained. "You can expect the Vlogs to pick up. You'll see players smiling at the tables more and a lot of bomb pots."
There will be two views into Capps world on the Vlog. Half the week, you'll get a view into what it's like to deal poker at the Bellagio, where Capps spends three days a week. The other half of the blog will be focused on "trying to turn a boring table into a fun one."
Capps is looking at Vlogging differently than most. "Basically, I'm turning poker into a hobby and Vlogging into my profession."
A Final Thought
When asked if there was anything he wanted people to know, Capps responded, "It is tough playing poker these days. Only robots win because they are studying the charts every day and have cut off their emotions. There has to be a way for players to be winning and have emotions and treat this game as a sport."
But this might be the most important takeaway from this interview, "The power of positive thinking is a real thing. And it is important for us to be positive, respectable and friendly with one another. The poker community shouldn't be divided into factions. We should be coming together and supporting everybody."
And you can do your part in supporting everybody by supporting Capps and his new Vlog debuting soon on the PokerNews Podcast Network.
Lead photo courtesy of Drew Amato