Unibet Ambassador Dara O'Kearney Thrilled Unibet Reopens to Ireland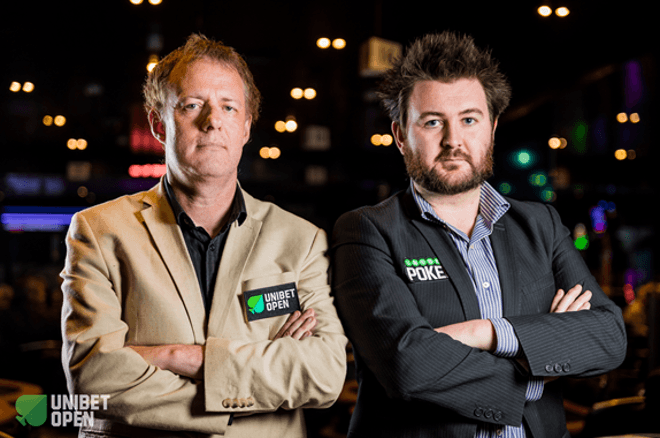 Unibet recently announced its return to the Irish online gaming market for the first time since the end of 2015. The online gaming site is operating under an Irish license for sports wagering and under a Gibraltar license for other gaming services, including online poker owned by its parent company Kindred Group.
In anticipation of its reentry to Ireland, Unibet Poker signed as ambassadors two prominent Irish poker personalities in The Chip Race podcast hosts David Lappin and Dara O'Kearney in 2017. While Lappin has been able to enjoy the games at Unibet Poker thanks to living in Malta, O'Kearney still calls Ireland his home and was left on the sidelines until recently, despite representing the brand in the many live tournaments he plays including Unibet Opens.
While enjoying the Unibet Open London in late February, O'Kearney's mind was already on playing at Unibet Poker for the first time after watching his fellow ambassadors stream their action in the past.
"Although I really enjoyed the Unibet Open in London, I couldn't wait to get home, because Unibet is finally licensed in Ireland," O'Kearney shared to PokerNews. "So the first thing I did when I got home was to download the client and sign up."
Experiencing Unibet
O'Kearney shared his first experience was enjoyable, and he particularly appreciated the site's interface design.
"I'd obviously seen it on the Twitch streams of David Lappin, Ian Simpson, Espen Jorstad and David Vanderheyden, but my first big surprise was how aesthetically pleasing the interface is," O'Kearney explained. "Most poker clients looked like they were designed by a sadist who like the right garish colors and raucous sounds that fast food restaurants use to draw you in then drive you away pretty quickly once you've eaten your slop. The Unibet interface reminds me more of a plush tastefully decorated restaurant with soft music and lights and a cultured attentive waiter. This might seem an odd thing to focus on, but when you are spending a significant amount of your time playing poker at a site, it's a real plus if it's a pleasant experience. I wish the other sites I play on would take a leaf out of their book, stop with the loud unpleasant beeps and ugly screen designs and try to make their sites more pleasant to play on."
O'Kearney understood right away that the site was designed for recreational players and attempts to "level the playing field as much as possible" from the professional players.
"Another clear differentiator between Unibet and the other sites I play is recreational players are protected from pros, like me, who use HUDs to track and exploit their tendencies," O'Kearney said. "Bad for me, but good for the recreational players who play on Unibet. Their ethos is very much to level the playing field as much as possible: cash game seating is also optimized to protect recreationals. And if you're still worried, you can set up to five different aliases to protect yourself."
"The Unibet interface reminds me more of a plush tastefully decorated restaurant with soft music and lights and a cultured attentive waiter."
O'Kearney, who has relied on HUDs on other sites, is already learning how to adjust.
"For now, I feel a bit newbish," admitted O'Kearney. "It will take me a while to get used to playing with no HUD and to pick up on population tendencies. I give my initial thoughts on these in the strategy segment of the latest Chip Race episode.
The timing of the relaunch of Unibet Poker in Ireland couldn't have come any better for O'Kearney with the first-ever online poker festival, the Unibet Online Series (UOS) taking place from Feb. 26 to March 11. The festival features 84 tournaments with combined guaranteed prize pools of €300,000, including the €100 UOS Main Event boasting a €100,000 guarantee.
"So I've really been enjoying finally playing on the site. It's also good timing with the UOS tournament series currently going on, with some great added money in leaderboard promotions," O'Kearney said. "There's going to be four of these a year after each Unibet Open. There's also some great promotions coming this summer centered around the World Cup."
O'Kearney is also thrilled to not need to keep explaining why he doesn't play at Unibet Poker.
"I'm also relieved that I don't keep having to have the same conversation over and over I've been having with Irish players since I signed as brand ambassador with Unibet," said O'Kearney before sharing what some of his conversations were like.
"I can't seem to play on the site."
"They don't have an Irish license so you can't."
"What? Then why do they have an Irish ambassador?"
"Ummmm... They actually have two."
"Oh right, I forgot Ian Simpson."
"Simpson isn't Irish. He just turns up once a year at the Irish Open to drain the economy. I meant Lappin. But he lives in Malta now."
Stan James Joins the Unibet Poker Network
Before it rebranded to Kindred Group, the Unibet Group acquired Stan James in July 2015. For years, Stan James continued to operate its online poker room on the Microgaming Poker Network (MPN), similar to what Unibet Poker was operating on until it migrated to its standalone poker platform powered by Relax Gaming in February 2014.
Now, accounts on that site are being redirected to Unibet. Though poker traffic on Stan James was relatively small, the customers moving over to Unibet could provide some kind of boost. Along with launching in Ireland, the Stan James migration comes just in time for the UOS series that is currently underway at Unibet.