Ludovic Geilich Chip Leader partypoker UK Poker Championships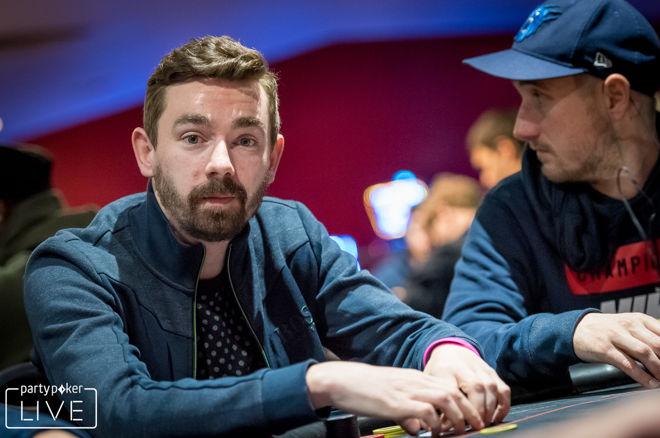 Day 1b of the partypoker LIVE UK Poker Championships £1,100 Main Event concluded with 119 entries and at the end of 12 levels of play 32 have survived the action and move forward to Friday's Day 2. Day 1a, which was played earlier on the same day, had 193 entries with 53 moving on to Day 2.
Ludovic Geilich is the only player to have built a chip-stack of more than a million after finishing proceedings with an impressive 1,028,000.
Day 1a Action
Adam Neal lead the way after Day 1a with 987,000. A stellar last level lifted him to within touching distance of a million chips. In the very last hand of the night, Neal picked off a bluff holding third pair and his stack will see him start Day 2 with over 120 big blinds.
"It's not been too bad," said Neal, who finished second in yesterday's Open event for just under £20,000. "I late regged, so came two hours late, and had a rocky start; lost half of my stack within three hands of sitting down, but it's been pretty good ever since.
"I three-bet queens and folded to a four-bet jam. I made a couple of big hero calls towards the end including on the last hand. I just picked up some live tells," explained Neal."He had ace-ten of diamonds, so a missed flush draw!"
And as for tomorrow, will he be taking it easy?
"I actually stream on partypoker, so I'll be doing that. But then back at it again on Friday!"
Other big stacks advancing to Day 2 include James Eftekhari (736,500), Fabio Sperling (588,500), Christopher Brice
(532,000) and Tom High (507,000).
Notables making it through to Day 2 are former Premier League footballer [Removed:30] (479,000), Tom Hall (314,500), partypoker Dutch Ambassador Marcel Luske (228,000), German pro Manig Loeser (196,500), and former EPT champion David Vamplew (122,000).
Also making it through is yesterday's Super High Roller champion Steven Morris, who bagged a healthy 346,000.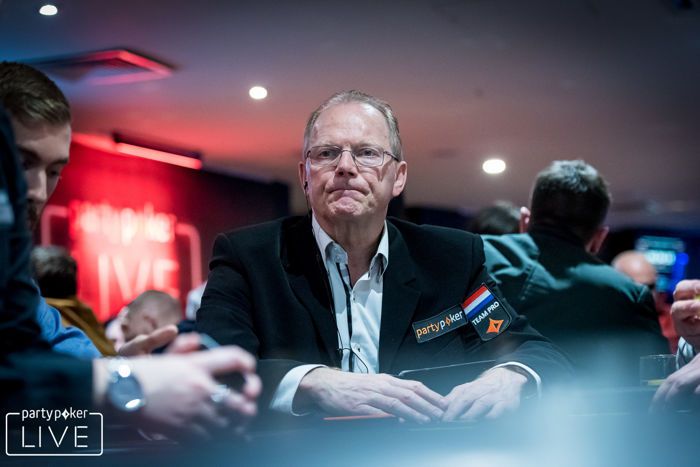 Several players from the Super High Roller joined the field including Martyn Frey, Keith Johnson, Tom Middleton, Chris Brammer, Jamie Whyte and Tom Hall. They were joined by partypoker Ambassadors Marcel Luske and Natalia Breviglieri.
Making the early going was Dritan Arapi after eliminating Frey with ace-king versus ace-ten. Meanwhile, Breviglieri was enjoying a rollercoaster day, falling as low as 22,000 and as high as almost 200,000 before succumbing midway through the day.
Arapi held strong at the top of the chip counts, with former top-flight footballer [Removed:30] joining him, but failing to overtake him. It was only until Andrew Garland rivered a two outer that someone overtook Arapi. Tim Slater was all in with ace-king on a five-king-deuce-queen board, and Garland called with ace-queen. The river was another queen, handing Garland trips and the chip lead.
Super High Roller players Brammer, Middleton, and Whyte were all eliminated from proceedings, with David Vamplew and Ludovic Geilich replacing them. Vamplew stuck around while Geilich joined Brammer and co. in Day 1b which kicked off at 5 pm earlier today.
Neal enjoyed a late surge in the penultimate and then in the final level to bag the chip lead, and will be well-placed for Day 2 on Friday. Stay tuned to PokerNews for all the live updates from Day 1b, which is still ongoing, as well as tomorrow's final two flights in the partypoker LIVE UK Poker Championships £1,100 Main Event.
Day 1b Action
The later start time of 5 pm attracted a field that included partypoker sponsored pro Natalia Breviglieri and fellow well-known British players Tom Middleton and WSOP bracelet winner Chris Brammer, but they all fell before the end of the day's play
Big names to enter the fray and bag chips include Steven Warburton (154,000), Sylvia Hewitt (785,000) and Billy Chattaway (285,000).
Hannah Swales, Karol Radomski and Nathan Webb all started well in the early play, but they had all exited the tables before the end of level eight.
The big battle of the day was between Ireland's Thomas Fitzgerald and Germany's Patrice Brandt. There were two significant pots between the two of them with Brandt claiming the first. The German was not folding to Fitzgerald's aggressive play, and when the queen of diamonds fell on the river, both players checked to showdown with Brandt's pocket-kings enough to beat Fitzgerald's ace-queen.
Not long after that hand, they were doing battle again. Fitzgerald's continued aggression concluded in him raising Brandt's 65,000 bet to 184,000 with the board reading three-jack-five-four-five. It took over eight minutes of thought from Brandt before the table called a clock on him and he eventually folded.
Fitzgerald was again not scared to put his chips in the middle, but eventually, it cost him his tournament life when Geilich called his bluff. The board read ten-eight-ten-four-six when Fitzgerald announced all-in for almost 250,000. Geilich gave himself some thinking time before making the call and tabling pocket-fives. Fitzgerald knew he was beaten and stood up from the table as the dealer turned over his queen-five hand.