Sam Greenwood Clashes with German Players over Tournament Scouting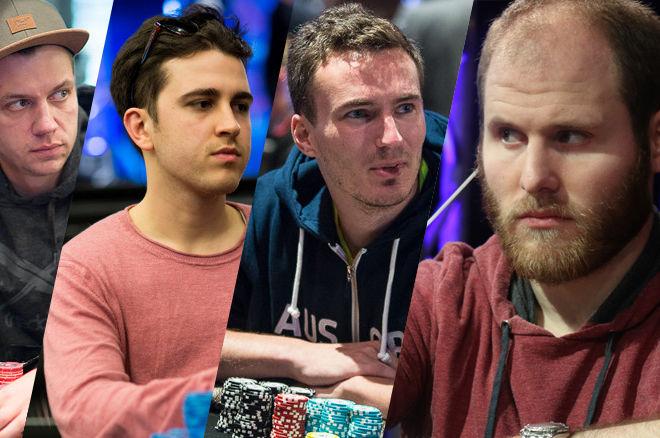 Sam Greenwood, right after winning the A$50,000 High Roller at the Aussie Millions where he beat a field of just four players, has complained on Twitter about the behavior where players linger in the tournament room and wait to sign up for (super) high roller tournaments to scout the field first.
Greenwood, a regular on the High Roller circuit with $7,336,466 in live tournament earnings, blasted fellow pros who were "milling around the tournament room, waiting to see if a High Roller 'gets good.'"
Also if you're unwilling to start games or show up on time you aren't the best in the world ##

— Sam Greenwood (@SamGreenwoodRIO)
Lingering High Rollers
A poker tournament can only get started when enough players have bought in. If a tournament starts with not enough players, the tournament could be over before the scheduled late registration closes when players get knocked out at too rapid a pace. For most regular tournaments, this isn't much of an issue as enough players sign up well before play is to get underway. For bigger buy-in events, which naturally have much smaller field sizes, this is not the case. Therefore, Super High Roller events often get underway later than originally planned.
"If you are milling around the tournament room, waiting to see if a High Roller "gets good", you should be forced to wait in a Pen of Shame."
Often enough, players who are contemplating to buy-in to big buy-in events, first want to see who's signing up before they wager their money. But with those players sitting out, some events never get off the ground at all.
Greenwood, in his somewhat angered tweet, advocated simply to start playing instead of waiting to see who (else) signs up. He not only pointed to the Aussie Millions events where he, Jan-Eric Schwippert, Alex Foxen, and Koji Fujimoto were the only entrants, he also addressed the situation in Prague. In that event, play was delayed for a bit before the event eventually got underway with just Timothy Adams, Daniel Dvoress, Christopher Kruk, Orpen Kisacikoglu, Jean Ferreira, and Sam Greenwood seated.
Greenwood found 25 twitter users liking his tweet, and three retweeting the message — among them WSOP Main Event champion Joe McKeehen, and 2010 UKIPT Edinburgh side event champion Niall Farrell. His follow-up tweet, where he declared "Also if you're unwilling to start games or show up on time you aren't the best in the world," followed by a German flag emoticon, gained another 29 likes.
The Germans React
With the German flag added in his second tweet, it left few to wonder who he was targetting with his small twitter tirade. The German contingent of High Stakes players, who we've written about extensively, reacted not too long after.
Koray Aldemir explained how some of the German high rollers weren't even in Prague, while the two that waited around had issues with the wiring of the money, and weren't scoping the field to see who was in.
Steffen Sontheimer, Stefan Schillhabel, and Dietrich Fast, all German regulars on the High Roller circuit, also replied to Greenwood on twitter:
@SamGreenwoodRIO These tweets are laughable on so many levels, Sam. While most Germans weren't even there, the 2(?)… https://t.co/2atayb8ukv

— Koray Aldemir (@kooraay90)
@kooraay90 @SamGreenwoodRIO This maybe proofs the point that you might be wrong a lot of the times.

— Dietrich Fast (@2pacnrw16)
@SamGreenwoodRIO Just wtf... still not over your limpraise against outofturn-openraiser on PCA and you start the ne… https://t.co/iT7pAftmk9

— Steffen Sontheimer (@RunGo0seRun)
@SamGreenwoodRIO @random_chu What do these people think when you chop a 6handed sng with 3 left right after they bu… https://t.co/vM1bqwdUd4

— Stefan Schillhabel (@becksundsoda)
While tournaments not getting off the ground is a sad state of affairs for poker fans, tournament organizers, and players alike, it remains a question if it would be good for tournaments if all the German players signed up from the start. As pointed out by Stevan Chew, the German players signing up from the start might not invite other players to start playing as much as Greenwood envisions.
@SamGreenwoodRIO So you think the Germans open sitting an already tough lineup is more or less likely to encourage other participants? #

— chu (@random_chu)
@SamGreenwoodRIO True, but I don't think an addition of 5 players to field size will lead to increased interest fro… https://t.co/Dm5nSL9ETA

— chu (@random_chu)
The debate continues online, and, most likely, when they see each other in person when the next big buy-in event gets underway. Later this week, the A$100,000 Challenge at the Aussie Millions is scheduled. Also, on the other side of the globe, the US Poker Open is about to get underway. PokerNews will be present at both events, bringing you live coverage from the first flop till the last river.