Kristen Bicknell and Melanie Weisner Make Splashes on Poker After Dark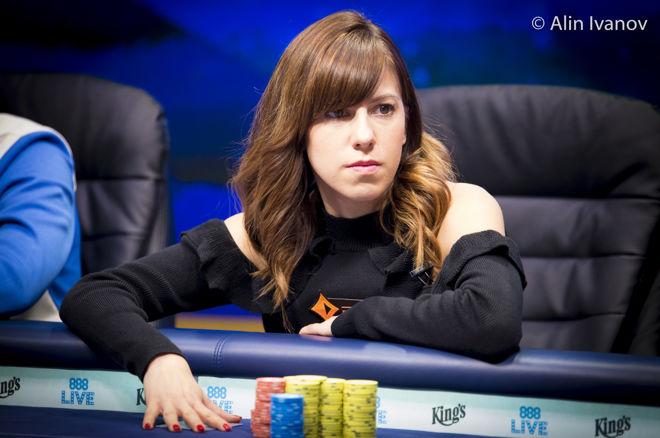 Poker After Dark's exciting comeback season continued this week with a "Femme Fatale" edition of high stakes cash streamed for viewers on PokerGO. The rare all-ladies cash game featuring stakes of $100/$200 drew some fierce competition, pleasant table talk and amazing poker.
The lineup included 2017 GPI Player of the Year Kristen Bicknell, 888poker team pro Sofia Lovgren, Melanie Weisner, Kitty Kuo, Tracy Nguyen as well as female poker legends Kathy Liebert and J.J. Liu. Of the seven, only Weisner and Liu had made PAD appearances back in the show's first run, so it would be a new experience for most.
Round 1
The first day saw no shortage of bluff attempts and chip-migration around the table and Bicknell proved that she came play, though she wasn't the only one.
Well, I got bluffed all day by this legend @pokerkat ###, but still had fun on #PokerAfterDark today! Play continue… https://t.co/Xkb8jvRxtU

— Kristen Bicknell (@krissyb24poker)
Bicknell coolered Liu for her remaining $7,200 in a queens-versus-aces situation. After getting it in on the



flop, Bicknell kindly offered they run it twice and after no queen on either run-out, Liu joked that they should run it some more times.
2017 was aces for @krissyb24poker and aces just shot the @GPI Female Player of the Year up the #PokerAfterDark lead… https://t.co/FQzPj8WAcJ

— PokerGO (@PokerGO)
Bicknell and Nguyen squared off in one of the biggest pots of the day in a blind versus blind situation. After $5,600 went in preflop, Nguyen with


and Bicknell with


, both players connected on the



flop. Nguyen opted for the check-raise to $6,400 after Bicknell bet $2,000 with her top pair, top kicker and Bicknell called.
The

turn completed Nguyen's nut-flush draw and she led out $11,400. Bicknell called with an effective stack of $44,000 behind. The

river paired the board and Nguyen put out a rather small bet of $12,400. Bicknell moved all in, putting Nguyen to a big decision, but she eventually called correctly, prompting a re-load from Bicknell.
One week into 2018, @krissyb24poker (almost) pulled off the "Bluff of the Year." ❤️ if you were rooting for the blu… https://t.co/oLrWSQ9gEz

— PokerGO (@PokerGO)
With the help of that big hand, Nguyen finished the night as the big winner, booking more than $60,000 in profit.
Weisner on Fire
On Day 2, Lovgren and Weisner got involved in a pot that bloomed to over $65,000. On a flop of



, Lovgren led out for $2,500 from the small blind with


and Weisner just called from early position with


for top set. The

turn gave Lovgren a straight and she bet $5,000. Weisner called again, needing the board to pair.
Pair it did with the

river and Lovgren thought for a while before moving all in. Weisner made the easy call for her remaining $23,100 with top boat and got a full double.
If @Sofia_Lovgren liked the turn, @melanieweisner loved the river. An over $65,000 pot builds in a flash and the "… https://t.co/6jUMTc6trX

— PokerGO (@PokerGO)
Weisner's good run continued in another hand where Nguyen had raised with


, Bicknell three-bet to $2,000 in the cutoff with


and Weisner four-bet to $6,500 on the button with


. Nguyen put in a five-bet to $14,900, Bicknell folded and Weisner called with effective stacks of $57,000 behind.
The flop came



giving Weisner the top full house once again and both players checked. Nguyen bet out $6,000 on the

turn and Weisner flat-called. The river was the

and Nguyen bet $23,200. Weisner moved all in and Nguyen let it go.
Yesterday was all Tracy Nguyen, tonight is all @MelanieWeisner. She's sitting behind a pile after winning this mas… https://t.co/SEGkUjZNtF

— PokerGO (@PokerGO)
Weisner's stack was well over $100,000 after that pot and she added to that when she called down Liebert's triple-barrel bluff on a board of





with pocket queens. You can watch the hand in the clip below in what may have been the hand of the week.
She was ## close to folding, but @PokerKat's third barrel can't get past @MelanieWeisner. Weisner is now up over $1… https://t.co/JQrO7NOpXV

— PokerGO (@PokerGO)
Weisner and Bicknell both ended the session over $100,000 in the black and several players expressed enjoyment about the experience.
Thanks for having me on #PokerAfterDark @PokerGO, was a fun time and a very memorable experience! https://t.co/hm7H2L8zr0

— Kristen Bicknell (@krissyb24poker)
Had an amazing time playing #PokerAfterDark on @PokerGO tonight with the ladies. Hope to be back soon #

— Melanie Weisner (@melanieweisner)
I enjoyed playing and chatting with @krissyb24poker and @melanieweisner and lovgren @kittykuopoker Had fun. ##‍♀️#

— Kathy Liebert (@pokerkat)
Stay tuned for more from PokerGO as they continue to provide loads of exciting poker content for your viewing pleasure. If you don't have a subscription yet, you can purchase one here.