The Muck: Doug Polk Loses Mind Trying to Analyse Drunken Poker Hand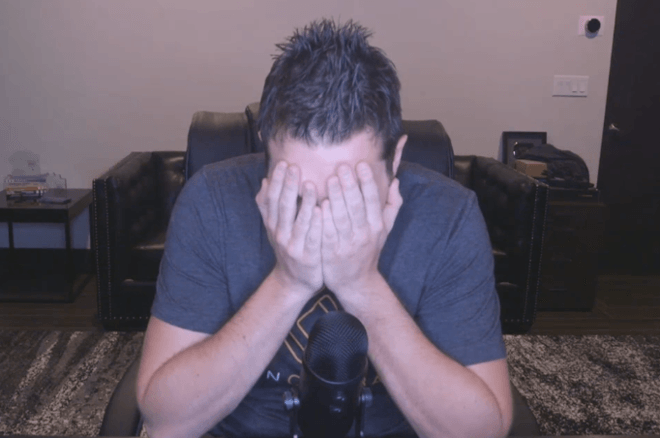 In the poker Twitterverse where we are being inundated with blockchain news and political spats, Doug Polk always seems to find the funny. And the recent addition to his YouTube channel is no different.
When it comes to entertaining video content, Polk might be in a league of his own. In fact, Polk's victories on the Internet this year are soon to be featured in a story right here at PokerNews in the coming weeks (teaser alert). But for now, we'll share this gem.
Doug Polk Delivers a Poker Public Service Announcement
"They're just not paying me enough for this sh*t. This is what I do now. I commentate on people who show their hands preflop," Polk says as he analyzes a Live at the Bike hand where a player willingly enters the pot preflop after he exposes a card.
If you want to cut to the chase, the whole video boils down to … "Don't do that."
But don't cut to the chase. The video is hilarious and you owe yourself some non-political, non-controversial (well, except for playing with a hole card exposed), and non-bitcoin entertainment.
Polk generously shares this game selection tip:
"If you're in a game where both sides of the screen are needed to display the hole cards for players reaching the flop, and you have a player showing a card preflop, you're probably in a good game."
Polk adds this nugget that certainly will get picked up for a strategy book: "Here's the thing about the implied odds with your suited one-gappers. They're less implied and more just odd when you show a card preflop."
One of the best lines from the video actually comes from the stream commentators: "If he calls, there will be tilt. If he folds, there will be tilt. The average expectation here is just tilt."
Polk's public service announcement for the day:
"Try not to show your hole cards and still go to the flop. And post flop don't represent a hand that doesn't make sense, especially if you have one of your hole cards showing."
In other words, "Don't do that."
#PokerIsDead
If there is one thing Polk's video confirms is that anyone who claims poker is dead is on the wrong side of the debate.
And to illustrate that point, WPT Five Diamond World Poker Classic decided to go out and set some new milestones.
Boom! #WPT5D from @BellagioPoker sets a new record number of entries! Next stop, 800. Registration open until appro… https://t.co/1ZspB7NHVm

— World Poker Tour (@WPT)
In the end, 812 players showed up to play, some waiting hours in line to get their chance to claim a piece of the record-setting $7,876,400 prize pool.
Of course, a huge field produced by a single Day 1 is bound to have a bottleneck in the registration process. And who better to call the WPT's attention to the problem than poker's watchdog, Allen Kessler.
If you know in advance every seat will be taken, just put every table in the mix, start 6 handed and then fill seat… https://t.co/yl7alQITyF

— Allen Kessler (@AllenKessler)
@RealKidPoker When we bagged every seat was full and word was there were about 50 more alternates. Day 2 will star… https://t.co/8N2Un6v504

— Allen Kessler (@AllenKessler)
85 alternates to start today with a line at registration. Get here soon if you plan to play @pokerkat… https://t.co/r2saKHMwl6

— Allen Kessler (@AllenKessler)
Surely long lines, huge prize pools and first and second-place prizes over $1 million is enough evidence that it's time to change the conversation to #pokerisnotdead.
And if you are someone that prefers the glass is half-empty argument and want to hang on to the belief that #pokerisdead, here are some more case studies:
Guy just folded river to an all in bet on AKQJT no flush possible, says "Think ya got me outkicked" #pokerisdead

— Shteve Buell (@UWOkid87)
The saddest thing ever is playing a 6 handed hand with 5 Limpers, 18 checks, 5 more checks, 1 raise, 5 folds.

— Daryle (@ELYRAD)
Daniel Negreanu Tests His Skill at Live Reporting
The award for the best Twitter feed of the week has to go to Daniel Negreanu who took it upon himself to wear two hats, that of player and also of live reporter in the $100k WPT World Poker Classic Super High Roller.
It started with a day 1 ending report:
Ended day 1 with 248k and happy with that considering I ran AK into @CrownUpGuy who had AA. Played more hands again… https://t.co/RhYrXjpZuv

— Daniel Negreanu (@RealKidPoker)
And he never looked back, commenting on skill levels, tweeting hands, and putting the occasional poll out there.
Blinds 2k-4k I Raise Ad Qd to 10k from middle position. Christian Christner from BB goes all in for 117k. What would you do?

— Daniel Negreanu (@RealKidPoker)
There was the obligatory "In the Money" celebration tweet:
In the money! #100kBellagio 2nd in chips with 6 left. Guaranteed $234,000 and playing for $1.4 million up top vs:… https://t.co/DYWwo3CiTM

— Daniel Negreanu (@RealKidPoker)
Giving credit where credit is due:
This is the first tourney I've played since grinding in the lab with MJ & Matt and I feel really good about what I'… https://t.co/37PzXRTMfZ

— Daniel Negreanu (@RealKidPoker)
Calling it like he sees it:
@themouthmatusow This is so foolish and insulting. You are so reckless with your a accusatons and couldn't possibly… https://t.co/fGKo7hoMDN

— Daniel Negreanu (@RealKidPoker)
And finally, the "damn, I only got second for close to a milly" finale:
Damn got it all in on a JT4 flop with QT vs AK. Turn 7. River Q made two pair and lost to the rivered straight. 5 m… https://t.co/18oggacYnt

— Daniel Negreanu (@RealKidPoker)
We aren't the only ones who noticed his multi-tasking skills on the felt and on his phone:
Listen, if @RealKidPoker ever hits a cold streak, we'll hire him on the @PokerStarsBlog. He's pretty good at live r… https://t.co/yAvtah7wPF

— PokerStarsBlog (@PokerStarsBlog)
I think we can all agree that Negreanu is known for his optimistic nature. But maybe, just maybe, he is buying into the whole #pokerisdead theory and putting together a plan B by gathering experience for his poker media resume. Nah. Who are we kidding?
To be honest, we had fun reading because it seemed like he had fun tweeting. So, let this be a lesson to you kids out there - #maketweetingfunagain.