Play the Exclusive PokerNews Freerolls at CoinPoker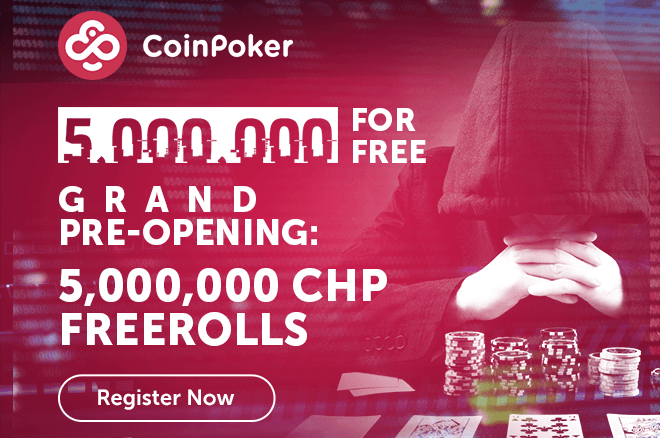 Right as bitcoin crossed the $16,000 mark, the newly launched blockchain-based online poker site CoinPoker announced a massive promotion that could be your best chance to enter the world of cryptocurrencies.
Starting from Monday, December 11, 2017, the players at CoinPoker can engage in a series of freeroll where the winners are guaranteed to take home a share of 5,000,000 Chips (CHP), a special cryptocurrency based on Ethereum smart contracts.
"We were super stoked to sell out our Pre-Initial Coin Offering (Pre-ICO) in just six days," a CoinPoker representative told PokerNews.
"CHP should start growing in value shortly after with the players competing in our opening tournaments."
"We said then that 15% of the tokens collected will be given away, and we're happy to tell you we're starting this even sooner than we'd hoped!"
With a new freeroll kicking off every 30 minutes, the players who choose to take CoinPoker for a test drive in December have 48 free tournaments a day to build their CHP bankroll and use their skills to put together a potential fortune.
"The action will continue for four weeks straight, so buckle up and get ready to start winning," the room's representative continued.
"In addition to the daily public events, we're also going to hold secret tournaments where you will head on quests to acquire passcodes. Make sure you're following us on Facebook, Twitter, or Telegram."
The "secret tournaments" on the schedule include also a series of PokerNews-exclusive events where players will play for a total of 200,000 CHP.
Here's what we can share about the tournaments:
| PokerNews Freeroll date | Prizes | Password |
| --- | --- | --- |
| Friday, Dec. 15 15:05 ET | 50,000 CHPs | pokernews2017 |
| Friday, Dec. 22 15:05 ET | 50,000 CHPs | coinpoker |
| Friday, Dec. 29 15:05 ET | 100,000 CHPs | winner2017 |
In order to join these events, you'll need to visit this page for the password on each of the tournaments, so check back on these days and compete for prizes!
How to Join the Freeroll and Win CHPs
Joining the freeroll events at CoinPoker is extremely simple.
On December 11, the poker room launched an update of their poker client to substitute the play money games with CHP ones and all the new freerolls are now available for desktop and mobile devices.
Here's how to secure a seat at these special events:
Sign up for a free account
Visit the "Tournament" tab to join the next freeroll!
As confirmed by CoinPoker, the latest updated of their software introduced also more sophisticated measures to prevent the use of bots on the platform, a new table layout, and new features on the mobile apps to make sure all the freerolls can be played from Android and iPhone, too.
An Account that Feels Like an Investment
The massive 5,000,000 CHP prize pool available in December is only the beginning of the grand plan that CoinPoker has set for 2018.
After a successful pre-ICO that sold out in only six days, CoinPoker is now getting ready for their official Initial Coin Offering (ICO) planned for late January / early February of 2018.
"Casual players should have a chance to enjoy the game again."
"We've still got CHP 275,000,000 that we're going to release, and we're expecting that we're going to have at least a few thousand new players once the ICO is finished," a statement from CoinPoker explains.
"CHP should start growing in value shortly after with the players competing in our opening tournaments."
Backed by poker player, entrepreneur, politician, and founder of PokerNews, Antanas Guoga, CoinPoker took the online gaming industry by storm when it launched in in November 2017.
"Blockchain opens so much more opportunities for the community even in those regions where fans of the game have constant payment problems, like Asia or Latin America. Players around the world can be confident that their funds will be secure, their cards will be random, and their games will be fair."
"Poker players have been crying out for games that are fun, safe and competitive. In the past, millions of poker players across the world have lost a lot of money on untrustworthy legacy poker sites. Players lost money because those legacy sites failed to properly protect player balances, and those legacy sites provided insufficient protection against cheating," said CoinPoker game security adviser, Michael Josem.
"The CoinPoker team are working hard to rebuild player trust, and are developing a series of innovative techniques to reduce the risk of cheating," said Josem. "When legacy poker operators started operations more than fifteen years ago, they were constrained by what they knew at the time. By contrast, CoinPoker is going to be able to use this industry experience to give players a great chance of enjoying safe poker games."
To know more about CoinPoker, the advantages of playing on a fair blockchain-based poker site, and to win your spot in the cryptocurrencies world, visit www.coinpoker.com