It's the Journey, Not the Result: Fedor Holz Speaks at Web Summit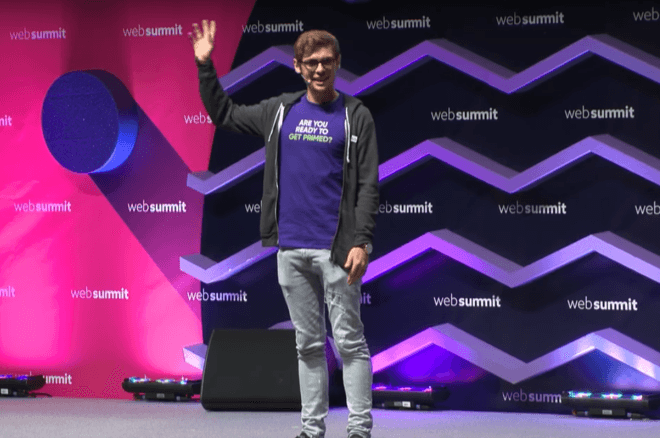 "I'm one of the most successful poker players of the new era."
That's how Fedor Holz introduced himself before giving a speech about poker and his life at Web Summit, and it is certainly true.
Dubbed the "best technology conference on the planet," Web Summit brings Fortune 500 companies, groundbreaking startups and world-class leaders to Lisbon. Holz was one of over 1,200 speakers at the conference, where he had an opportunity to speak about his startup, Primed Mind, an immersive coaching app, which he says was a large contribution to his success.
But before touching on his app, Holz dove into the story of his upbringing and background, explaining that he was often bullied in school for being "the small kid" and how his experiences from his childhood lead to a career in poker and now as an entrepreneur.
He claimed that important factor from his past was that he had interests in a lot of things but never found a passion for one thing to pursue. "I started studying mathematics because it was the thing to do because my uncle studied it and there was this expectation, this pressure in my family to just get something done, get a job and just live your life in a solid way."
Fast forward to him playing home games with friends at university, and it was then that he felt a new challenge of competition and the want to improve by building a network of people who shared similar interests. "By putting myself in that position where you have a lot of people around you that think in the same way… that also have that passion and motivation for something," it was at that point that Holz claimed is where his career in poker started.
After making his first million in poker in 2015 and skyrocketing his earnings to over $20 million through 2016, Holz explains how even with all the success, he still never had the feeling of fulfillment. To date, Holz has over $26 million in live-tournament earnings, sixteen first-place titles with his largest score being the $111,111 NLHE High Roller for One Drop in 2016 for $4,981,775.
Watch the rest of the video to see how and why Fedor made the transition from full time poker player to entrepreneur and how for him, it really was about the journey along the way and not the result.