History of WSOPE Part II: Negreanu Captures POY in Dramatic Final Event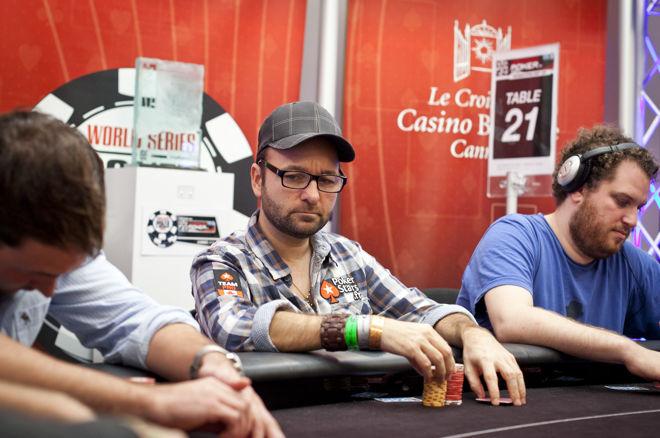 After four years in the U.K., the World Series of Poker Europe found a new home in France from 2011-13, followed by a stop in Germany in 2015. After the addition of the WSOP Asia-Pacific in 2013, the two series began to alternate years with WSOP Asia-Pacific in 2014, WSOPE in 2015, and a year off for both tours in 2016. The WSOPE is back in 2017 with a stop at King's Casino in Rozvadoz, Czech Republic, from Oct. 19 – Nov. 10.
The series will award 11 bracelets and celebrates 10 the 10-year anniversary of the first series in Europe. PokerNews will be the official live reporting outlet for the event. Here's a look at some of the series' highlights through the second half of its history. If you missed Part I, you can check that out here.
2011 (Cannes)
Vive le France! For those with an appreciation of fine wines and cuisine, also seeking some big-time poker, the WSOPE was the perfect getaway beginning in the fall of 2011. The international series moved to the Majestic Barrière and Le Croisette Casino Barrière in Cannes.
The city is home to the world-famous film festival held each May since 1946. Movies would not be on the minds of those at this festival, however, as bracelets were the top prize — seven of them in fact, as the series offered its highest number of bracelets to date. Switzerland's Guillaume Humbert claimed the first on French soil, winning the first event, a €2,680 Six Handed No Limit Hold'em event, for €215,999 (360 entrants). Event No. 2 €1,090 No Limit Hold'em attracted 771 players and was won by Australia's Andrew Hinrichsen for €148,030.
In the next three events, it would be a nice run by Americans: Steve Billirakis of Hampshire, Ill. earned his second bracelet in the €5,300 Pot Limit Omaha event; Tristan Wade of Boynton Beach, Fla. won his first bracelet in the €3,200 No Limit Hold'em Shootout; and another Floridian, Michael Mizrachi, added the second of his three bracelets in the €10,400 No Limit Hold'em (Split Format). The split format involved Day 1 freeze-out action followed by six-max action on Day 2 with heads-up play on Days 3 and 4.
In Event No. 6, Canadian Philippe Boucher broke the Americans' streak by winning the €1,620 Six-Handed Pot Limit Omaha tournament. Boucher bested a field of 339 players for a nice payday of €124,584.
When the Main Event got underway, WSOP officials were pleased to see the largest turnout for the European version to date. At a final table that included Jake Cody, Max Silver and Shawn Buchanan, it would be New York's Elio Fox and England's Chris Moorman battling it out for the title. Fox was chip leader when final table play began and would go on to claim the bracelet and a massive payday of €1.4 million.
While no Frenchmen claimed a bracelet, Barbara Martinez won the non-bracelet ladies event to provide a bit of solace for the host country. With big turnouts and big payouts, no doubt the French version of the WSOP Europe was a success. The move not only made for a change of scenery — and some nice restaurants — but also seemed to reinvigorate the series.
2012 (Cannes)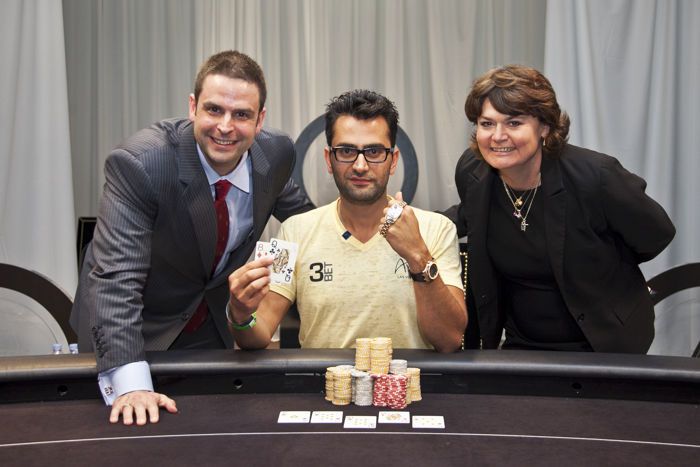 The Majestic Barrière and Le Croisette Barrière casinos played host again in 2012. French players could cheer their first bracelet on home soil when Roger Hairabedian collected gold in the series' third event, the €5,300 Pot Limit Omaha event. He outlasted 96 other players for a €142,590 payday. Another Frenchman followed suit when Giovanni Rosadoni won Event No. 4: €3,250 No Limit Hold'em Shootout for €107,614.
However, it was the success of some of poker's biggest names that brought major headlines. Antonio Esfandiari notched his third bracelet in the second event, €1,100 No Limit Hold'em, for a score of €126,207. It continued a huge run for Esfandiari, fresh off winning his second bracelet and more than $18 million in the first Big One for One Drop in Las Vegas. A few other big final table finishes made an almost $20 million year for The Magician. The One Drop and a dream trip to France made for a banner 2012.
"It was a dream come true," Esfandiari recalls of winning the One Drop before heading to Europe. "I distinctly remember the ceremony before the tournament where I told my father I was going to win that bracelet for him. My intention was very clear. Once in a while dreams come true. Mine did. No matter what happens for the rest of my life I will always have that moment. Winning the WSOP Europe bracelet a couple of months later was just icing on the cake. I was already on cloud nine from the One Drop.
"It was a great tournament located in the heart of south of France – one of the best places in the world to be! The French know their food. Being a huge foodie you can imagine how much I enjoyed it."
"It was a huge win for my career." — Phil Hellmuth
The Main Event brought poker history. Fresh off his first non-hold'em bracelet that summer at the WSOP in Vegas ($2,500 Seven-Card Razz event for $182,793), Phil Hellmuth topped 420 players to earn one of the biggest paydays of his career – €1,022,376 ($1.35 million). The win also secured the 13th of his 14 bracelets.
"It was a huge win for my career," Hellmuth says. "First, to win my first non-Hold'em bracelet earlier in the year was huge, then to back it up with one of the most prestigious bracelets – the most prestigious WSOPE bracelet – was amazing. After three second-place finishes in 2011 at the WSOP, to come back with two wins let the world know that not only hadn't I faded, but that I was the hottest player on the planet in 2011-12."
Hellmuth, who recently released his autobiography "Poker Brat," held a commanding lead when he reached heads-up play against Ukrainian Sergei Baranov. He clinched the title when his


held up over his opponent's


. According to Hellmuth, Baranov had a premonition early in the tournament about their heads-up battle.
"It was mind-boggling that Sergei, whom I had never heard of, came up to me the night before the WSOPE Main Event and said, 'You will finish first, and I will finish second in the Main Event,'" says Hellmuth. "Yeah right! There were 450 players. After Day 1, he repeated his wild prediction. Same after Day 2, 3, and 4. When we hit the final table together, I was in disbelief, but by then I was a believer. But I knew I needed to play great until the end, otherwise it probably wouldn't happen. Sure enough, we got heads-up. Freaky! Then I won, and he finished second."
2013 (Cannes)
The series expanded again to eight events, and some big names again flexed some strong skills at the tables in France. Australian Jackie Glazier kickstarted the bracelet fun with the first €1,100 Ladies No-Limit Hold'em event. She topped a field of 65 for the €21,850 first prize. In the first open event, Sweden's Henrik Johansson took down the €1,100 No-Limit Hold'em Re-Entry (659 entries) for €129,700 — his first and only WSOP cash.
Another European followed when France's Darko Stojanovic won €5,300 Mixed-Max No-Limit Hold'em for €188,160. Stojanovic won a heads-up battle with New York's Dan O'Brien, who also finished second in a preliminary event in 2012. In Event No. 4 €1,650 Pot Limit Omaha, 2012 November Niner Jeremy Ausmus won his first bracelet after coming close several times.
After taking his first bracelet in 2012 in Pot Limit Omaha, France's Roger Hairabedian made it back-to-back when he took the fifth event, this time in €2,200 No-Limit Hold'em, for €148,820 after defeating Erik Seidel heads up.
"What's better than bottom of the ninth, bases loaded … and you just got to win? I love it."
The Main Event brought a look into the future of poker when Spain's 19-year-old poker sensation Adrián Mateos topped 375 players to win his first bracelet. Mateos has become one of the hottest players in the game and went on to win his second and third bracelets in Las Vegas in 2016 and 2017, becoming the youngest in history to win three.
A new €25,600 High Roller No-Limit Hold'em event closed the series and brought in 80 players for one last shot at a bracelet and a payday of €725,000. Ultimately, Daniel Negreanu earned his sixth bracelet after also winning the WSOP Asia-Pacific Main Event that April for over $1 million. Negreanu needed a final table appearance in Europe to secure the 2013 Player of the Year title.
"I love drama!" Negreanu said after the win. "What's better than bottom of the ninth, bases loaded … and you just got to win? I love it."
The win in France capped a monster year from Kid Poker, who also notched runner-up finishes on the EPT and at the WSOP in Vegas as well as a few other six-figure scores.
2015 (Berlin)
After the 2013 event, the WSOPE was altered to rotate years with the WSOP Asia-Pacific. The European series didn't return until 2015 and with a new location – the Spielbank Casino in Berlin, Germany. The event brought 10 bracelet events and Greece's Makarios Avramidis became the first player to win one on German soil when he took down €2,200 Six Handed No Limit Hold'em for €105,000.
The second event, the €550 The Oktoberfest No Limit Hold'em, allowed re-entries and attracted a massive 2,144 total buy-ins. Austria's Dietrich Fast took his first bracelet and €157,749. Another highlight came when well-known English player Barny Boatman won Event No. 7 €550 Pot Limit Omaha for €54,725 for his second bracelet.
Also adding his second bracelet was American Kevin MacPhee, who won the €10,450 Main Event. The tournament attracted 313 players and MacPhee pocketed €883,000.
In the final event, the €25,600 High Roller No-Limit Hold'em, Canadian Jonathan Duhamel continued his massive run that included winning the $111,111 Big One for One Drop for almost $4 million that summer in Las Vegas. In Europe, Duhamel won the high roller over a field of 64 for €554,395.
After a year off in 2016, the WSOPE action resumes Oct. 19 in the Czech Republic. With 11 bracelets awarded, there should be plenty of action as battles on the poker felt are waged all in the hopes of card-playing glory.
More WSOP Europe history will be written over the next month in Rozvodov. Follow all of the biggest events right here at PokerNews.com!