Want to Turn $1 into a WSOP Europe Main Event Package at 888poker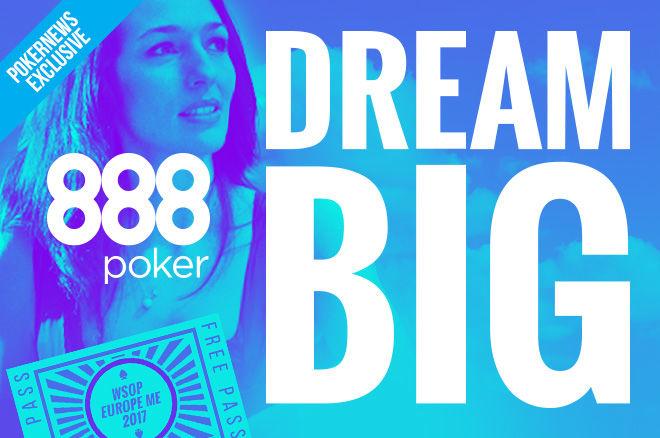 The 2017 World Series of Poker Europe Main Event has a whopping €1 million guarantee for the eventual winner and a total prize pool guarantee of €5 million. While it would be a dream for most to play for that kind of cash, the €10,350 buy-in is a bit steep for many.
But what if you could qualify for as little as $1? PokerNews and 888poker are offering a way to do just that in an event that will award one lucky player the opportunity of a lifetime as yet another reward for being a loyal PokerNews reader.
Here's How it Works
There are five qualifying events on Sept. 18, Sept. 21, Sept. 25, Sept. 28 and Oct. 2 at 7 p.m. CET. The first three events are completed, but there are still two opportunities to win the package!
***The password for the tournament on Thursday, Sept. 28.*** PNWSOPE17***
With unlimited rebuys for the first hour, there are plenty of chances to get in and build a stack. To help that cause, players who make it to the first break can also purchase an add-on of 3,000 additional chips for another $1.
The top ten finishers in each of those events will advance to the final qualifier to take place Oct. 14, also at 7 p.m. GMT. If you don't make the final ten in one of the qualifiers, you can buy in to the PokerNews-exclusive WSOPE Main Event Final directly for $55. The event is a freezeout, so each registered player will only get one shot at it (no re-buys).
Up For Grabs
The first-place finisher in the final qualifier will receive a $13,000 WSOPE Main Event package. Second will get a $109 tournament ticket, while third, fourth, and fifth place will each win a $12 ticket.
The promotion is only available for players who signed up for their 888poker account through PokerNews, so if that is you, don't miss out! If you haven't done so already, head over to 888poker now to start your account and get in on the action, for your chance to play for €1 million.
Eligible players: stay tuned for more information on how to register for this exclusive event. For the full schedule of qualifiers, click here.