The Top Five Moments from the Poker Masters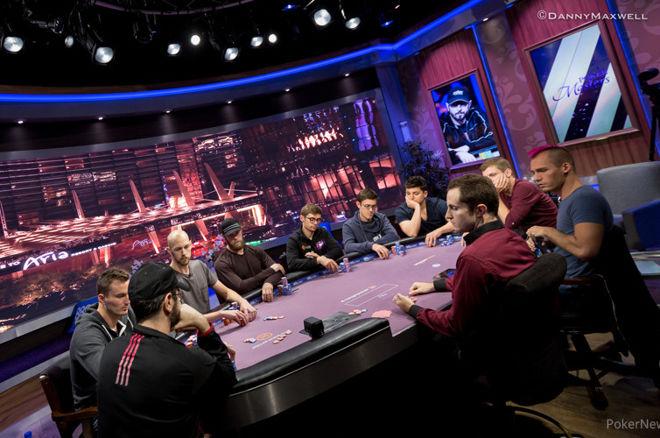 The inaugural Poker Masters at ARIA in Las Vegas lived up to and perhaps exceeded the expectations of many. The five-event high roller series drew many of the top high-stakes tournament players in poker and many great moments arose. Some of those moments stood out from the rest, and PokerNews, on hand for live coverage from start to finish, picked out the top five.
No. 5
Nick Schulman gets sucked out on so many times by Matt Hyman heads up that he begins to doubt he is supposed to win the tournament (Event #1).
With the elimination of Stefan Schillhabel in third place after he ran pocket queens into Schulman's kings, Schulman took a nearly 2-1 chip lead over Hyman into heads-up play in Event #1, but the match flip-flopped more times than Schulman would have preferred.
Early in the match, they got all the chips in, Schulman with ace-jack and Hyman with sixes. Schulman flopped trip aces on



and Hyman was down to two outs for his tournament life. The

changed nothing and Schulman was one card from winning. However, the

on the river took the wind out of his sails, giving Hyman sixes full to double up and take a 2-1 chip lead over Schulman.
They traded that chip lead quite a few times, with Schulman gaining it back, then losing it, then doubling up with king-ten suited against ace-three suited — after dodging a diamond, ace and three on the turn and river — to stay alive and soon retake the lead.
Schulman got Hyman all in and at risk again, Schulman's ace-seven against Hyman's king-ten, but Hyman found a king on the flop and the turn to double through. Hyman soon had the chip lead again until he raised with king-ten and called Schulman's large all-in bet. Schulman's ace-eight suited was ahead and he flopped an ace and turned an eight for two pair to regain the chip lead. Again.
A short-stacked Hyman then doubled with nine-eight against Schulman's jack-ten after flopping an eight and holding, and was back in the lead a bit later. By this time, Schulman seemed to be in physical pain as the moment of victory continued to elude him. Schulman took the lead back again though, and Hyman was back on the ropes.
Hyman doubled up by cracking Schulman's aces with king-queen and then he doubled again to even the stacks with jack-ten against Schulman's king-deuce suited after flopping a pair of jacks and turning a straight. Schulman stated bleakly, "This just might not be mine to win."
In the final hand, they got it all in with Schulman out in front again with


against Hyman's


. Fitting for the match, the flop came



, giving Hyman the flush draw. Some players enjoy these sweats, but Schulman is not one of them. Schulman's pain was evident on his face and body language, and after the

and the

completed the board, he showed visible relief.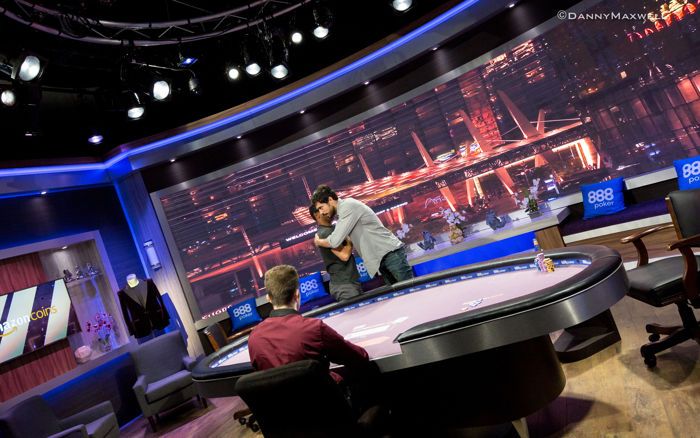 No. 4
In Event #2, Phil Hellmuth gets shown the deuce-three bluff by Tom Marchese and takes the opportunity to remind everyone that he's the best.
After raising to 85,000 at 20,000/40,000 blinds with queen-jack in the cutoff and getting calls from Fedor Holz and Marchese in the blinds, Phil Hellmuth flopped a pair of jacks on



. All three players checked the flop and Hellmuth quickly called Marchese's bet of 165,000 on the

turn, with Holz getting out of the way.
Marchese bet 400,000 on the

river. When Hellmuth folded, Marchese revealed


for the nut low and missed flush and straight draws, sending Hellmuth into a trademark rant.
The dialogue included in the live updates was as follows:
"What the f*** are they doing?" Hellmuth wondered as he stood up. "Wow. Defend with deuce-f***ing-three. I wish I could play with you guys everyday."
"We wish the same," Holz quipped.
"Really, Fedor? I have the best no-limit hold'em ROI in history," Hellmuth responded.
Hellmuth eventually gave Marchese credit for the river bluff. "The Poker Brat" eventually took fourth in that event, while Marchese finished in third.
No. 3
Daniel Negreanu eliminates Koray Aldemir with the queen-ten offsuit to take lead on Day 1 of the $100,000 event.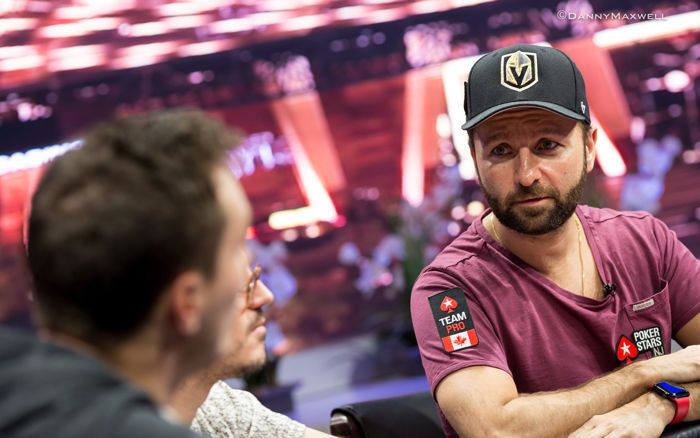 In Level 8 of Event #5 at the feature table, Aldemir raised the cutoff with pocket jacks and Daniel Negreanu put in a spicy three-bet from the small blind. Aldemir called and they saw a flop of



, giving Aldemir middle set and Negreanu an open-ended straight draw with


.
Negreanu continued on the flop for 16,000 and Aldemir just called. On the

turn, Negreanu fired 45,000 which was met with another flat. Then, things got very interesting.
The

came on the river, completing Negreanu's straight for the nuts. He bet 125,000 and Aldemir tanked, using a time extension. He eventually announced he was all in for 326,000 and Negreanu snap-called to eliminate the German from the feature table and take a massive chip lead on Day 1 of Event #5.
Negreanu lost that lead by the end of the day and ended up busting in 11th place on Day 2, short of the final table.
No. 2
Steffen Sontheimer slowrolls his friend, Holz, with quads on his way to mounting a huge comeback heads up to win Event #2 and take lead on the Poker Masters leaderboard.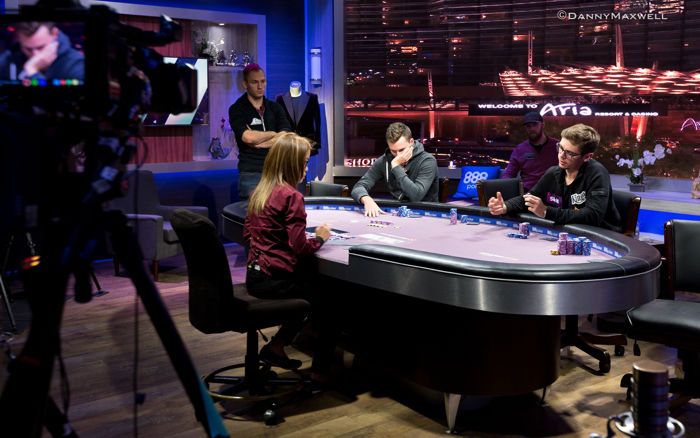 At this point in the heads-up match, Holz held a more than 5-1 chip lead over Sontheimer. After limping with


and calling a raise from Holz, who held


, Sontheimer flopped a pair on



and called Holz's continuation bet.
The

turn gave Sontheimer trips and he called again when Holz fired the second barrel. The

fell on the river to further improve Sontheimer to quads and Holz emptied the clip, going all in.
Sontheimer would, of course, call for his remaining stack, but not before almost letting his 30-second clock run out for the friendly slowroll. Sontheimer would go on to close out the event to jump to the top of the Poker Masters leaderboard, where he would remain through the rest of the series.
No. 1
The amazing Day 1 $100K feature table: Hellmuth joined Negreanu, Cary Katz, Brian Rast, Scott Seiver, and Marchese. Then, Katz was eliminated by Seiver, and Sontheimer and Alemir filled the empty seats. After Aldemir was eliminated by Negreanu, Dan Shak arrived in his place.
This feature table, livestreamed on PokerGO in the final levels of Day 1 of Event #5, was pure gold. When Hellmuth sat down, he said he wanted to get some Germans at the table, especially Sontheimer, whom Hellmuth was determined to pick off. The fates saw fit to grant his wish, as Sontheimer and Aldemir joined, though the latter would hit the rail in short order.
Many fantastic moments followed, and here are some highlights:
Hellmuth let Sontheimer know he was coming for him, telling Seiver, "I folded to him enough."

Sontheimer feeds Hellmuth his own lines back to him in casual conversation.

"He really wanted to give me the tournament, but the dealer saved him," Sontheimer joked, mocking a common line from Hellmuth tirades.

Hellmuth then brought up a hand with Sontheimer from earlier in the series.

"After he played like a goofball for three days, I had jacks and he somehow showed up with kings."

Sontheimer responded with another one of Hellmuth's lines.

"I was waiting for you all day."

Seiver approved with frequent observation that "Goose is just the best."

Steffen Sontheimer and Phil Hellmuth

Shak plays the seven-deuce game by himself.

Hellmuth opened under the gun with king-queen suited and picked up a call from Rast with nine-eight suited in the small blind. Shak woke up with seven-deuce in the big blind and put in a huge three-bet, prompting folds from both opponents.

Hellmuth did not like folding that hand, and you can imagine he also did not like seeing Shak's hand, which he of course had to show. Shak explained he did it because he was recently playing a cash game where they were playing the seven-deuce game and naturally, Hellmuth set into Shak muttering under his breath.

Hellmuth gets picked off by Rast and adds him to his list of people to berate.

At 2,000/4,000/3,000 — players took turns paying the whole ante in this structure — Rast opened on the button to 10,000 with and Hellmuth three-bet to 34,000 with . Rast called and they both checked the flop, Rast sitting best with his pair of fives. The turn was the and Hellmuth bet 45,000 with queen-high. Rast called.

The river improved neither player, but Hellmuth fired out 66,000 with 40,000 chips behind. Rast tanked, using two time extensions before making the correct call. Hellmuth responded by berating Rast about how bad his call was.