John Hesp's Poker Story Captures Attention of Hollywood Filmmakers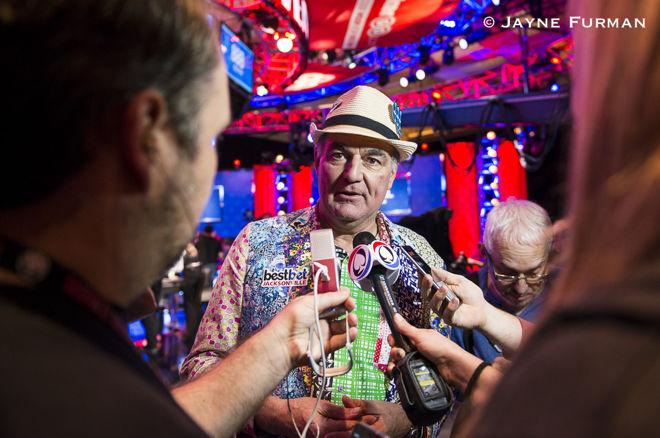 The journey of 64-year-old John Hesp became the biggest story of the World Series of Poker Main Event this summer. The alluring details of his story ran the gamut: the crazy clothes, the amateur background, a family man ready to see his wife, the uncanny poker instincts, the fun vibe, and the table talk. That list could go on and on about this player from Bridlington, U.K.
Hesp's Main Event Run
Many in the poker world identified with Hesp and his attempts to inject some fun back into the game as his deep run continued in Las Vegas – ultimately finishing fourth for $2.6 million. In a poker world dominated by young pros, even those in the game found his appearance on the scene refreshing. Even in defeat, Hesp was affable and magnanimous.
"Words can't explain the incredible excitement and wonderful, fantastic, amazing, and delightful time I've had," he told ESPN after being eliminated. "I'd have paid another $10,000 to get this far. I've loved it, I've lived a dream."
After appearing in PokerNews for the first time on Day 5, Hesp's everyman story of high school dropout to successful businessman to poker superstar resonated with poker players around the world. And now movie producers are interested in telling his story on the silver screen.
From the Felt to the Silver Screen
A new article in the Hull Daily Mail reports that Hesp has been approached by producers with plans to sign a formal deal soon.
"I got contacted by two or three producers when I was out in Vegas, including some Hollywood names, but I elected to go with a U.K.-based company," he told the Mail. "The offer is formalized in writing and I've just got my legal team sorting things out. It's about 90 percent through.
"We are talking several million pounds worth of budget for this film and they are looking at filming 25 percent over here in Bridlington and 75 percent in Vegas."
Life After the Main Event
Since his run in Las Vegas, Hesp has settled back into his life back home. Semi-retired, Hesp owns a company that rents caravan vacation homes but has a management team that looks after the company. Hesp used some of his winnings to help family members and take his wife on a vacation. However, much of his big score has remained in the bank.
Hesp has also said he would like to use some of his winnings to create a major tournament in his hometown and bring in some of the big names from the poker world.
Recently, the poker sensation returned to his home casino, Napoleon's for a bit of a party. The casino was where Hesp played about once a month in 10-pound tournaments before taking his shot in Las Vegas.
Napoleon's even unveiled a bit of Hesp-inspired furniture – a new chair upholstered with his trademark garish-patterned jacket.
"It was a brilliant night," he told the Mail. "I really want to thank Napoleon's for their hospitality and all my family and friends who have supported me all the way."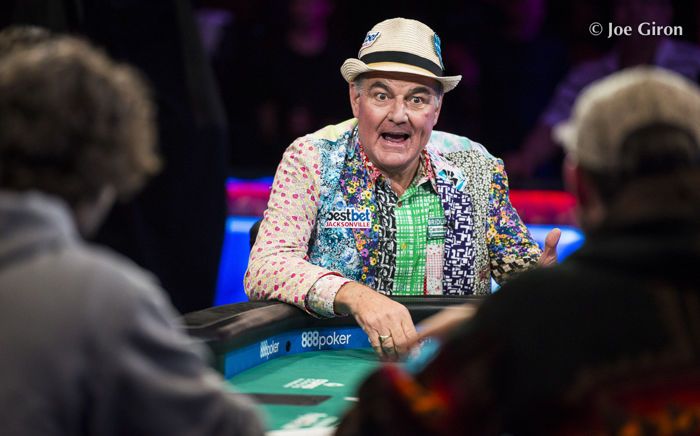 An Unlikely Contender
As one of the oldest players remaining in the field in the WSOP's latter days, Hesp was in his element playing against a group of younger, skilled players – both for the challenge and the social elements to the game.
"I love it," he told PokerNews at the time. "This is the main reason I'm playing poker. I just like people, everybody's an individual. I especially like playing with nice people, and there's a lot of nice people here."
And while many may discount his deep run as once-in-a-lifetime luck, Hesp's social skills proved an asset in reading his opponents and making them underrate his abilities.
On-Screen John Hesp?
No word yet on who might play him in a film. John Lithgow seems like a nice choice or maybe Tom Hanks. Liam Neeson? Michael Keaton? Maybe it becomes a bit more comedic and Bill Murray takes the lead? When casting begins, Hesp has his own choice to recreate his life.
"We've had a bit of a laugh and a joke about who might play me," he tells the Mail. "Personally, I would prefer George Clooney."