Mathew Frankland Takes Down the Super Tuesday for $70K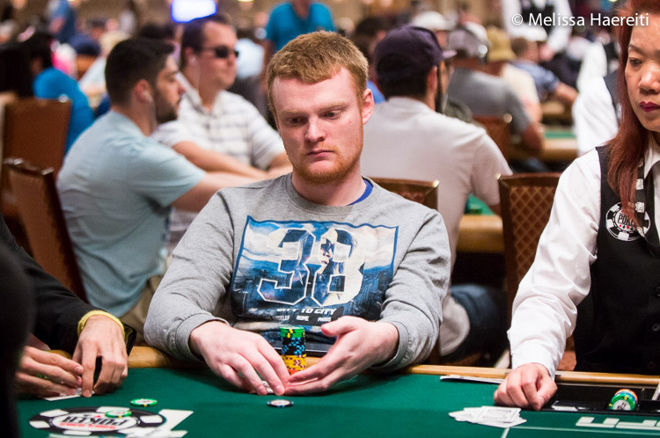 Mathew "Matfrankland" Frankland doesn't frequent the online poker tournament tables as much as he once did, but on Aug. 8 the British pro logged into his PokerStars account and bought into the $1,050 Super Tuesday. Almost 12 hours later, Frankland was the last player standing and he got his hands on the $70,135 first-place prize.
Some 387 players bought into this week's Super Tuesday and created a $387,000 prize pool. The top 55 finishers were financially rewarded for their efforts and among them were the likes of Sam "SamSquid" Grafton (50th for $2,228), Scott "Aggro Santos" Margereson (25th for $3,306), "the_snail03" (23rd for $3,306), Luke "lb6121" Schwartz (17th for $4,027) and "dawidnda" (13th for $4,906).
By the time the nine-handed final table was reached, the least amount of money anyone was taking home weighed in at $5,975 but with more than $70,000 awaiting the eventual champion, none of the nine finalists wanted to be the first out of the door.
Super Tuesday Final Table Seat Draw
| Seat | Player | Chips |
| --- | --- | --- |
| 1 | "TIITTIIT" | 945,524 |
| 2 | "Ahhh Is It?" | 526,366 |
| 3 | Govert "montecarlo13" Metaal | 726,660 |
| 4 | "Dhr. Awesome" | 2,116,330 |
| 5 | "yarik1903" | 715,467 |
| 6 | Matas "bebaimis777" Cimbolas | 554,457 |
| 7 | "toril274" | 460,452 |
| 8 | Mathew "Matfrankland" Frankland | 2,534,783 |
| 9 | "Georges B 1" | 1,094,961 |
The blinds at the start of the final table's action were 12,500/25,000/2,500a so when Matas "bebaimis777" Cimbolas looked down at


after "yarik1903" opened to 53,750 from late position, he moved all-in for 559,475. His opponent called with


, which held as the five community cards fell





.
Next to fall was "TIITTIIT" who lost two big hands back-to-back. The second hand sent him to the rail in eighth-place when he three-bet all-in for 12 big blinds with


and lost to "Dhr. Awesome" who held the dominating


.
Frankland then added to his stack by sending "toril274" to the sidelines when his


won a coinflip against


courtesy of an ace on the turn before Govert "montecarlo13" Metaal saw his


smashed by the


of "Ahhh Is It?" as the lowly pair improved to quads by the river.
Fifth-place went to "Georges B 1" who doubled up Ahhh Is It? On a coinflip then pushed the last of his chips into the middle of the felt with


and lost to Ahhh Is It? Holding


.
Ahhh Is It? Then endured a bad beat to see his tournament end in fourth-place. The UK-based player couldn't call fast enough when yarik1903 three-bet all-in in front of him thanks to holding pocket aces. Yarik showed a pair of tens with the ten of hearts, which became vital because the board four-flushed with hearts to break Ahhh Is It?'s.
A few hands later, Dhr. Awesome found himself all-in with


against he


of Frankland only to lose when a king landed on the flop.
That last elimination sent the tournament into the heads-up stage where yarik1903 held a two-to-one chip lead over Frankland, but the popular Brit didn't panic, instead, he appeared to take a more patient approach as he chipped away at his Ukrainian opponent.
Jack-ten proved to be a key holding twice for Frankland. In one hand, Frankland called down two streets of bets after making two pair and was good. In another, he turned a straight to take a commanding lead.
The final hand of the tournament saw Frankland min-raise with


and then call when yarik1903 moved all-in for 2.1 million chips with


. A final board reading





bust yarik1903 in second place and left Frankland to scoop the $70,135 first-place prize.
Super Tuesday Final Table Results
| Place | Player | Prize |
| --- | --- | --- |
| 1 | Mathew "Matfrankland" Frankland | $70,135 |
| 2 | yarik1903 | $51,552 |
| 3 | Dhr. Awesome | $37,892 |
| 4 | Ahhh Is It? | $27,852 |
| 5 | Georges B 1 | $20,472 |
| 6 | Govert "montecarlo13" Metaal | $15,047 |
| 7 | toril274 | $11,060 |
| 8 | TIITTIIT | $8,130 |
| 9 | Matas "bebaimis777" Cimbolas | $5,975 |